September 22, 2005
WORRYING
We all know that the Worry Center in my brain works overtime. Yesterday, when my husband asked me why I had bought batteries and put them in a big flashlight, I told him that when I was lying in bed I realized that we didn't have a working flashlight in the house and that we might need one in case the electricity went out or something. He chuckled and said, "So this is what you think about after I've fallen asleep."
So when the dog gets sick, my worry mode goes to eleven. Charlie has been losing it from both ends, so to speak, and I've become a nervous wreck. I've been watching him and fretting all day, and calling my two best friends constantly to ask their advice, since they both have much more dog experience than I do.
Maybe worrywarts shouldn't be responsible for another living being...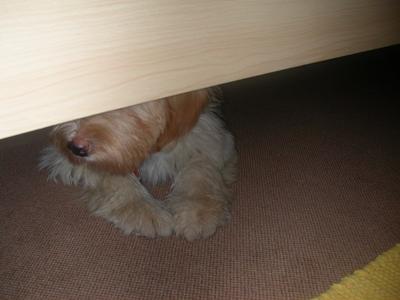 [Charlie's developed a taste for solitude under our bed.]
Posted by: Sarah at 10:39 AM | Comments (5) | Add Comment
Post contains 151 words, total size 1 kb.
Posted by: Al's Girl at September 22, 2005 01:19 PM (e8y9n)
Posted by: Toody at September 22, 2005 01:30 PM (tttRO)
Posted by: Cindy H. at September 22, 2005 02:16 PM (/y+c0)
Posted by: Nancy at September 23, 2005 03:53 AM (+pnEF)
Posted by: MajorDad1984 at September 25, 2005 10:35 AM (tdEnf)
Comments are disabled. Post is locked.
45kb generated in CPU 0.0331, elapsed 0.1504 seconds.
49 queries taking 0.131 seconds, 202 records returned.
Powered by Minx 1.1.6c-pink.