May 30, 2011
IRON MIKE
Baby Grok waving and saying hi to Iron Mike today. She's too young to know what today means, but we still took her.
Posted by: Sarah at 07:49 PM | Comments (3) | Add Comment
Post contains 25 words, total size 1 kb.
May 02, 2011
A HECK OF A WEEKEND
Last night was our last night with my husband in his hotel room.
OK, I haven't blogged in a while, I need to back up.
My husband changed functional areas again. He just left for new training. He'll be TDY for three months. So BabyGrok and I drove with him and stayed a while in his temporary lodging.
And we made a detour for the Milblogs Conference. BabyGrok was a real hit with SecDef Rumsfeld.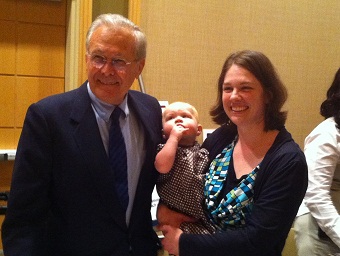 So anyway (man, there is a lot of backstory to gloss over when you only blog monthly), the whole family was sharing a hotel room. We tried to be super quiet with BabyGrok in the room, so we'd shut off our cell phones when she went to bed.
This morning my husband left for PT at 4:45. He woke me to say a final goodbye. I looked at my phone to see the clock and noticed I had missed two phonecalls in the middle of the night, one from AWTM and one from my mother.
I can't tell you how my heart plummeted into my stomach. I thought for sure one of the SpouseBUZZ authors was dead. It seemed an eternity until I got to my voicemail. First message was AWTM; all she said was, "Are you sleeping? It's time to
bake a cake
!" So I knew it was good news; some dictator had just bit the dust! I figured it was Qaddafi. Then my mom's message explained the rest.
And it was 4:45, so I could either 1) jump up and check the news or 2) stay quietly in bed and keep BabyGrok sleeping. I chose the latter.
I missed the jubilation and excitement on Facebook. It was fun to read my friends all wondering why I wasn't partaking in history.
So today was the day to bake the cake in bin Laden's dishonor.
Yes, that cake is made of bacon. Up yours, Osama.
So it was a heck of a weekend: Milblog Conference, saying goodbye to my husband, and then the news of the decade.
Plus there was cake.
Posted by: Sarah at 08:54 PM | Comments (1) | Add Comment
Post contains 351 words, total size 2 kb.
45kb generated in CPU 0.0117, elapsed 0.082 seconds.
49 queries taking 0.0738 seconds, 201 records returned.
Powered by Minx 1.1.6c-pink.