April 09, 2004
CHAIR
This photo made me start crying.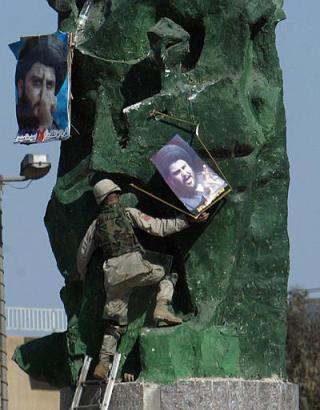 The caption at AP:
On the anniversary of the fall of Baghdad, an American soldier removes posters of Shiite cleric Muqtada al-Sadr that were hanging Friday April 9 2004 on a statue on Firdos Square in Baghdad, Iraq. One year ago, U.S. soldiers pulled down Saddam Hussein's statue from this very place. (AP Photo/Jerome Delay)
One year ago today, I was so happy for the Iraqis. I sat on the sofa at Fort Knox and cheered wildly as they tore that statue down. I wept for the Iraqis and their newfound freedom; now I weep for their newfound vengeance.
If you remember, the statue of Saddam wasn't the only thing to come down from that pedestal last year. The American flag an overzealous soldier hung up there was quickly taken down, lest the world think we came as conquerors. We were there to give Iraq to the Iraqis, and they've repaid us by burning our dead and hanging them from a bridge.
I just finished reading Nine Parts of Desire: The Hidden World of Islamic Women. It was written by an Australian woman who spent years studying Muslim women throughout the Middle East. The last chapter was the most interesting, where she recounted her frustration in dealing with women who accepted the status quo. No matter how many times she tried to point out that the oppression of women is a distortion of Muhammad's words in the Koran, the Muslim women refused to believe that the way they were living was not in accordance with Allah's will. You open the Koran and point to a specific passage, and it still doesn't help.
We can point to all the good things we've brought to Iraq -- removal of Saddam, strengthened economy, freedom of speech -- but it doesn't seem to do any good. They hate us. They chose to hate us even before we showed up, and nothing we point at will make them change their minds.
You know how Plato said that stuff about the ideal chair and the real chair? One year ago my mental Iraqi was the ideal Iraqi. I imagined that they cowered under Saddam and longed for freedom in the way I would long for it if I were oppressed. I imagined that they would be grateful to be rid of such a foul leader and ready to start anew in Iraq. The majority of Iraqis, in my mind, were the ideal. Turns out there are a lot more real Iraqis and less ideal Iraqis than I had guessed.
I look at that soldier and wonder what he must be thinking. Damn, are we here again? Full circle, with just another hateful man's face atop this pedestal? Have we made any progress at all in this past year?
This week it feels like we haven't. This week I want to say, "Give the Iraqis their al-Sadr and let's go home." This week I've lost sight of the reason all of this matters. My laser beam has burned out, my ideal chair turns out to be some junky armchair at the side of the road, and my tears are flowing for that soldier who has to climb to the top of that pedestal again one year later and tear down the image of another dangerous leader.
Posted by: Sarah at 06:36 PM | Comments (5) | Add Comment
Post contains 557 words, total size 3 kb.
Posted by: beth at April 09, 2004 07:23 PM (G7Amc)
Posted by: RobertP at April 10, 2004 03:20 AM (1+mnL)
Posted by: florian at April 11, 2004 07:37 AM (SEBm0)
Posted by: DSmith at April 11, 2004 05:18 PM (ZG0r7)
Posted by: florian at April 12, 2004 04:31 PM (WA0/w)
Comments are disabled. Post is locked.
50kb generated in CPU 0.0267, elapsed 0.1242 seconds.
49 queries taking 0.1071 seconds, 202 records returned.
Powered by Minx 1.1.6c-pink.