November 22, 2008
VI DAY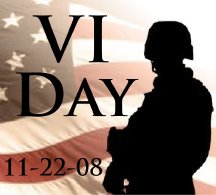 I sent an email to my husband asking him what his thoughts were on Victory in Iraq Day. He hasn't gotten back to me, so I don't have his opinion on the matter yet.
But Michael Yon's opinion counts for a lot in my book, and the fact that he left Iraq and headed to Afghanistan, saying, "The war is over and we won," well, I think that means something.
Check out Gateway Pundit's graphs, and definitely head to Zombie Time.
So today I quote from Bill Whittle's Victory:
"America bring democracy, whiskey and sexy!" said that unknown Iraqi man. This is not a trivial statement. He is saying that for the first time in thirty years, he will have his own chance for life, liberty and the pursuit of happiness. I thought his English was dead-on.

I hope these people stagger out into the sunlight of real freedom with a willingness to do those two simple things that seem to work so well: work hard, and trust each other. I think they will. They started civilization. They have earned, and well deserve, the chance to enjoy the fruits of it once again.

I hope they will resist the temptation to let oil revenues steer their future. It is not, in fact, a blessing. They are about to start to reap the benefits of the wealth of their nation. I hope they have the wisdom to channel that wealth into their people, into their education, their technical and artistic skill that was once so well represented in the cradle of law and good government. I hope for world-renowned universities in Baghdad and in An-Nasiriyah, producing respected scholars and scientists. I hope for productive farms in the Tigris-Euphrates valley, feeding the millions of the entire region, just as there were thousands of years ago. I hope for high-tech factories in Basra and Tikrit, textile mills in Kirkuk and cell-phone design firms in Mosul. And above all I hope they have the courage to read and study history, and to implement a system that looks something like the ones that allow these daily miracles in the West.

I hope that some day they might be able to forgive us the pain we had to cause them to get rid of that devil, that threat, and his evil toys. Many already do. I hope, and believe, that many more will do so in the years to come. We are still so very, very early in this long and difficult process. But perhaps, some day, they will be able to see that not only Iraqis died for a free Iraq. Americans died. Britons died. Australians and Poles and many others put their lives on the line as well. It would be arrogant and vile to expect gratitude, but I do hope, I deeply hope, that they will be able to understand why we did what we did and how much it cost us, in those poor, shattered homes across America and Great Britain.

And I have one final wish, which I know seems very unlikely, but which I will share anyway.

I fervently hope that someday, perhaps decades from now, Iraq will have a really top-notch soccer team. I hope that one day, they will get to the final round of the World Cup, and when they do, I hope it is Team USA they play for the championship.

I hope that the Americans play a tough, aggressive, masterful game, that they use all of the speed and skill and power at their command. And then I want to sit there watching TV as an old man, and watch the faces on the Iraqi people when the game is over, because I want to see that the most relieved and joyous they can conceive of being, is the day that tiny Iraq got out on that soccer field and kicked our ass.
Posted by: Sarah at 11:21 AM | No Comments | Add Comment
Post contains 652 words, total size 4 kb.
Comments are disabled. Post is locked.
45kb generated in CPU 0.0112, elapsed 0.0826 seconds.
47 queries taking 0.0748 seconds, 196 records returned.
Powered by Minx 1.1.6c-pink.