December 31, 2005
THE HUSBAND KNIT THREE ROWS
It's been a while since I put up knitting content, mostly because I've been 1) making stuff that I can't talk about until it's given as gifts and 2) knitting an all black reverse-stockinette cardigan that makes me want to fall asleep or scratch out my eyeballs every time I pick it up, it's that boring. So I don't have anything good of my own to share, but I do have a photo that makes me feel giddy: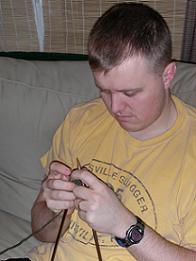 My husband has always been curious about how knitting works, but he's never had any interest in learning. But once I read At Knit's End and laughed that her husband had been knitting the same sock for years, I wanted my husband to try his hand at my favorite hobby.
Since he has no interest in making knitting his own hobby, I cast on for him and showed him a row of garter. He knit three rows on his own and then handed me the needles and said, "Yep, that's enough."
He was a really good knitter, one of my best students so far. He chugged along at a good pace, despite his surprising innate desire to purl (I've never seen anyone's hands instinctually prefer purl over knit). And I'm sure he'll never pick up another ball of yarn, but I appreciated his effort to learn my hobby.
And doesn't he look cute the way he's concentrating so hard?
Posted by: Sarah at 06:13 AM | Comments (2) | Add Comment
Post contains 247 words, total size 2 kb.
Posted by: Maggie45 at December 31, 2005 11:32 AM (mqjDG)
2
After more than 20 years of marriage, I have yet to get my husband to try knitting! Great going.
Posted by: Lucia at January 01, 2006 04:26 PM (ozFJY)
Comments are disabled. Post is locked.
42kb generated in CPU 0.46, elapsed 0.3536 seconds.
55 queries taking 0.2491 seconds, 188 records returned.
Powered by Minx 1.1.6c-pink.