December 08, 2008
THANKS A LOT, DOG
When my husband is gone, my bedtime creeps later and later. I have begun the process of pushing it back to where it needs to be to match my husband's sleep cycle. So Saturday was my last hurrah and I was going to go to bed early last night.
I let Charlie outside one last time, and I noticed he was spending a suspicious amount of time in the garden. We came back in the house, went upstairs, and he immediately crawled under the bed and barfed.
Had he mathematically calculated, he couldn't have done a better job of finding the middle of our queen sized bed. So I'm squeezed under the bed, my arm stretched as far as it will go, scooping up vomit.
Then I notice that the genius dog has also barfed all over his front paws. So into the bathtub he goes.
Guess who didn't really go to bed early last night?
Sleep shifting starts tonight...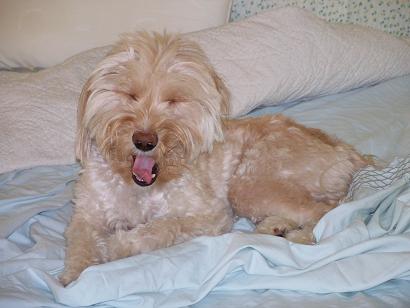 Posted by: Sarah at 03:45 AM | Comments (4) | Add Comment
Post contains 168 words, total size 1 kb.
1
I'm LMAO. I'm sorry. I really am. But that's the funniest thing I've read all morning.
Posted by: airforcewife at December 08, 2008 06:53 AM (Fb2PC)
2
I thought my canines had the corner on the doggy brain trust market. I apologize. I'm sure it was because Charlie spent entirely too much time with Henry & Annie this summer. They were a bad influence on his mojo.
Posted by: Guard Wife at December 08, 2008 11:39 AM (N3nNT)
3
Sounds like motherhood
Posted by: Green at December 08, 2008 03:01 PM (6Co0L)
4
Good thing he is so darn cute! I'm not sure it is any sillier than Moo eating a 3-pound bag of Starburst then puking on the bed. He probably just needs an extra tummy rub.
Posted by: Butterfly Wife at December 09, 2008 11:59 AM (H+5RX)
Comments are disabled. Post is locked.
43kb generated in CPU 0.0122, elapsed 0.0889 seconds.
49 queries taking 0.0821 seconds, 201 records returned.
Powered by Minx 1.1.6c-pink.