November 24, 2005
STUFFED
We cooked for six hours, and our knees and feet are killing us. And so are our stomachs! But it was worth every minute...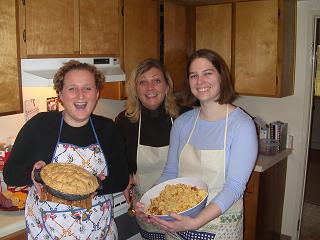 I like what Lileks said about Thanksgiving:
ItÂ's a day that stands aside from the rest, a day on which the simplest and most essential things are revealed as gifts of indescribable worth. And then thereÂ's pie.
Posted by: Sarah at 03:19 PM | Comments (5) | Add Comment
Post contains 63 words, total size 1 kb.
1
You girls look so cute! "Rachel" would be so proud of you! Happy Thanksgiving! Love, Mama
Posted by: Nancy at November 25, 2005 02:28 AM (Z+RCN)
2
I can only imagine how much fun you all had
Posted by: The Girl at November 26, 2005 03:30 AM (naaPi)
3
It's so fun to have such good friends when your family can't be close
I miss my "Germany Friends"!
Posted by: Angie D at November 26, 2005 12:49 PM (SA3c9)
4
P.S. Did the dogs have a good Thanksgiving? Miss you..
Posted by: Kelly's mom at November 27, 2005 12:17 AM (WXHIS)
5
Ahh look at my sister. You guys look great, I miss ya'll! Hopefully we'll be back over next spring. Happy holidays!
Posted by: Casey at November 27, 2005 01:38 PM (WXHIS)
Comments are disabled. Post is locked.
43kb generated in CPU 0.0148, elapsed 0.1079 seconds.
49 queries taking 0.0988 seconds, 202 records returned.
Powered by Minx 1.1.6c-pink.