April 06, 2006
QUILT
When my husband left for Iraq, I started a patchwork quilt. That was two years ago. Sewing it all together was fun and easy, but as soon as it came time to actually quilt it, I thought it was too hard. The quilt sat on a shelf for over a year, but I knew I had to finish it before we moved. I finally finished this week; it really wasn't as hard as I thought, though of course there are all sorts of mistakes that I just whatevered and kept going. I tried to take a photo of the finished product today. Naturally, everything in this house belongs to Charlie, so he grabbed it and ran down the hall with it.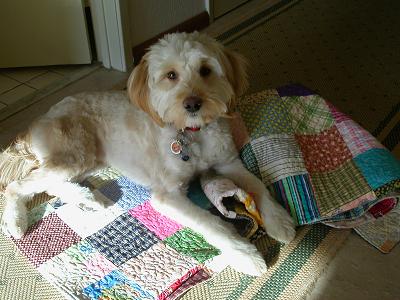 Charlie has chewed on some valuable stuff in his lifetime, but this might take the cake. Unless you count the envelope of $300 I wrestled away from him on Monday.
Posted by: Sarah at 03:19 AM | Comments (4) | Add Comment
Post contains 153 words, total size 1 kb.
Posted by: Erin at April 06, 2006 04:49 AM (GyYB2)
Posted by: Vonn at April 06, 2006 09:01 AM (dEgRi)
Posted by: Lou at April 06, 2006 09:09 AM (0+7qK)
Posted by: Will at April 06, 2006 05:57 PM (eIQfa)
Comments are disabled. Post is locked.
43kb generated in CPU 0.0137, elapsed 0.1339 seconds.
49 queries taking 0.125 seconds, 201 records returned.
Powered by Minx 1.1.6c-pink.