February 26, 2009
PUPDATE, LUCAS STYLE
In dog news, Charlie has decided that he wants to be Charlie Bronson and make a Great Escape.
Our backyard is a disaster, with dirt on one side and sand on the other. It's like a spectrum running from Mildly Crappy to Completely Worthless. Charlie recently discovered that sand is easy to dig and wriggle through. Thus, he keeps escaping. I bought those cheapy wire garden dividers, and I even strategically placed an old flowerpot so he couldn't get out again.
He still managed to escape.
To put things in Rachel Lucas terms: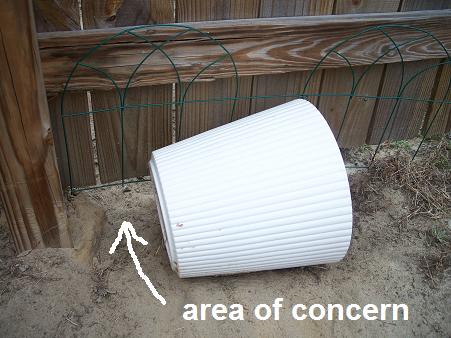 He can still manage to squeeze out of that space. This means he can't have unsupervised backyard time, which is a real pain in the neck.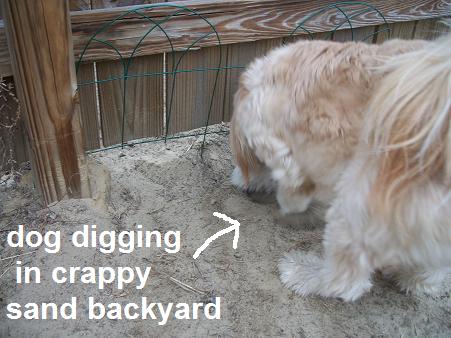 Very annoying. I will have to go steal some dirt from the construction site in our neighborhood to put on top of that sand to keep the danged dog in the yard.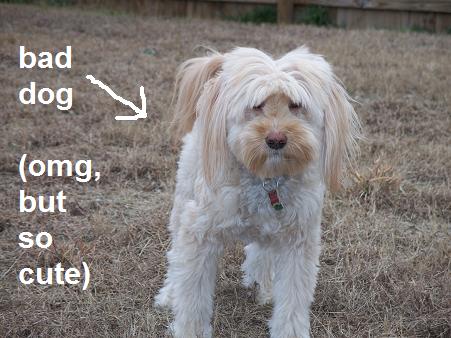 Posted by: Sarah at 04:15 AM | Comments (7) | Add Comment
Post contains 157 words, total size 1 kb.
1
aw....
We had that yard before moving on base. Mark rented one of those dohicks from home depot and tilled it and planted seed. And watered and watered and watered and watered and watered the stuff so it would grow. It still looked like crap. And we had to pay for his excessive watering. Yeah!
Posted by: wifeunit at February 26, 2009 04:37 AM (t5K2U)
2
He is so cute. He needs a puppy playdate. So does my new puppy. I have to wrestle with her and my old arms scratch so easy they are beginning to look like my mothers when she got old. But it's so much fun.
Posted by: Ruth H at February 26, 2009 05:42 AM (4u82p)
3
Thanks for the photos - and the arrows and text! More, please! Apart from the grey grass and Charlie's priceless expression, this is
exactly
what I envisioned!
Posted by: Amritas at February 26, 2009 07:14 AM (+nV09)
4
Hi, Delurking to tell you I have had the same issue with my dog. I got a ton of those wire things you are using and doubled and tripled them up. He could get under one but couldn't get under the rest. Might be worth a try. Good luck! Stephanie
Posted by: Stephanie at February 26, 2009 08:56 AM (pdrUe)
5
Stephanie -- I may definitely have to try that. CVG also suggested paving stones
Posted by: Sarah at February 26, 2009 09:06 AM (TWet1)
6
cOmrades, have you forgotten the Berlin Wall? Put up a new one - but without Checkpoint Charlie!
Posted by: kevin at February 26, 2009 09:54 AM (+nV09)
7
You can see that he's hashing a plan. It's his eyes... their shiffty!
Posted by: the mrs. at February 26, 2009 11:19 AM (NJQf+)
Comments are disabled. Post is locked.
45kb generated in CPU 0.0394, elapsed 0.1298 seconds.
49 queries taking 0.1126 seconds, 204 records returned.
Powered by Minx 1.1.6c-pink.