May 25, 2009
MEMORIAL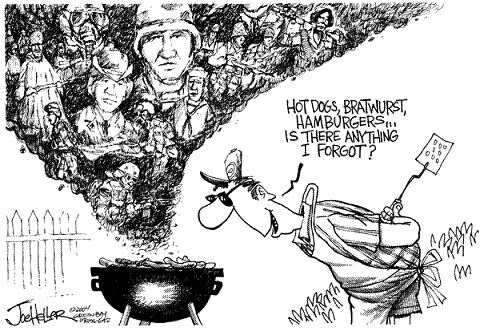 On Saturday, we went to the local military museum and listened to a presentation given by
Chester Biggs
, a WWII POW of the Japanese. The talk was very interesting, but I was disappointed that only a handful of people were there. And the majority of the people in the room were his comrades.
You know who does
not
need to hear the story of a POW?
Other POWs
.
At the end of his speech, after he had described four years in a POW camp as a PFC, someone asked him what he did after the war. He said he reenlisted and then subsequently fought in Korea. Later that night, my husband remarked that he was sure -- after hearing this apologetic man explain that he wasn't actually
in
WWII and had to learn about it later in history books -- that this man, a war prisoner, felt he hadn't done his fair share.
Mr. Biggs was one of the lucky ones to make it home...and allowed to collect his per diem of "$1 per day of imprisonment for failure to receive sufficient quantity and quality of food"
under the War Claims Act
.
Many of his comrades didn't make it home...
Today is a day to remember them. And to realize that we need to take advantage of any opportunity we are afforded to gain perspective from someone like Mr. Biggs.
Posted by: Sarah at 08:07 AM | Comments (2) | Add Comment
Post contains 231 words, total size 2 kb.
1
We will be going to our local memorial service today. We are hoping to get my sisters, 3 of them live close by, and their husbands to join us. It is the least we can do. Both of our brothers were servicemen, one in the Korean war. But instead of moaning about what Obama is doing my husband decided we had better start being proactive, not just reactive, and show our colors in a more forward fashion. I agree. We do not live in town, we live in the wilderness, but it is not a hardship to go into town to the service.
Posted by: Ruth H at May 25, 2009 09:07 AM (4eLhB)
2
My 13 y.o. son and I attended a service at the local cemetary put on by the local VFW post (only a couple of miles away--didn't even have to go to town!). It wasn't very long and involved, just a couple of short speeches, a prayer, raising the flag, 21 gun salute and singing God Bless America. What really got to me though, was a high school girl playing Taps. Every note drawn out, so pure and sweet. It choked me up so bad I couldn't even hardly sing GBA. I'm getting teary eyed just thinking of it now. Afterwards, we strolled through the cemetary looking at the stones, flags and flowers. I was surprised how many Civil War era ones there were--many deaths between 1860-64 of young men. God Bless ALL those who serve and have served for US!
Posted by: MargeinMI at May 27, 2009 07:01 AM (G9kxK)
Comments are disabled. Post is locked.
44kb generated in CPU 0.0126, elapsed 0.0915 seconds.
49 queries taking 0.083 seconds, 199 records returned.
Powered by Minx 1.1.6c-pink.