October 29, 2008
McCAIN RALLY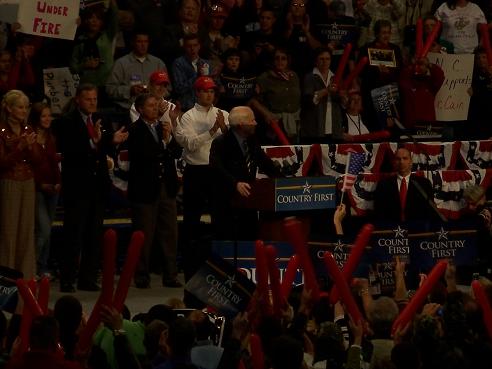 Yesterday I went to the McCain rally. We stood outside for two hours in the cold to get in, and the line was huge. It was pretty fun, clapping and booing and laughing with the crowd. Ours is a swing state, and I hope things go well for us next week. At this point, I don't know what to think.
Sadly, this isn't Ohio: I only get to vote once.
Posted by: Sarah at 04:46 AM | Comments (3) | Add Comment
Post contains 74 words, total size 1 kb.
1
That is awesome you got to go. I was hoping they would bring a rally to Illinois, but I think it would have been a lost cause on their part. I'm getting nervous but today the campaigns are within the margin of error. When Reagan won in a landslide against Jimmy Carter, at this point in the campaign Carter was up by 8 points. So I still have hope
Posted by: BigD78 at October 29, 2008 09:05 AM (W3XUk)
2
I wish I could go to sleep and wake up on Tuesday, just in time to vote (not that it'll make much of a difference in my state). Glad to hear that you had fun at the rally!
Posted by: Susan at October 29, 2008 09:30 AM (IfQM3)
3
Sounds like fun. I went to the rally when he came out to Sea-town during the primaries, right before Romney officially dropped out. I wanted to see exactly who we were "settling for". I do have to admit; I ended up liking him much better after seeing him in person. Hope your swing state swings to the right!
Posted by: Leofwende at October 29, 2008 04:42 PM (cZoqf)
Comments are disabled. Post is locked.
43kb generated in CPU 0.0149, elapsed 0.1109 seconds.
49 queries taking 0.1019 seconds, 200 records returned.
Powered by Minx 1.1.6c-pink.