March 22, 2008
HAPPY EASTER, Y'ALL
Man, my husband's friend has some sweet toys. Look what we got to do today.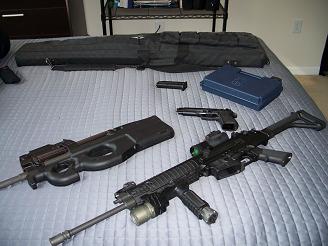 We did some pistol shooting first. I was no good with the .357 Sig, but I did better with the 9mm Beretta. I think I improved a little from my first trip to the range back in October, especially after I tried a different placement for my left hand. It made the kick a lot more manageable. But the real fun was the AR-15.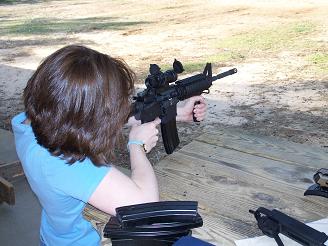 I look awkward as all get-out in this picture, I think, but I actually was pretty darned proud of myself here. (I want to submit this to the Army and see if they'll let me deploy. Not bad for my very first try.)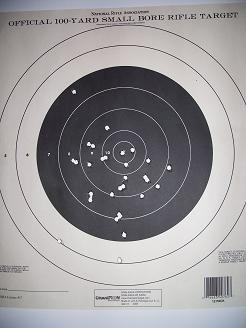 But I don't look nearly as good as my smokin' hot husband.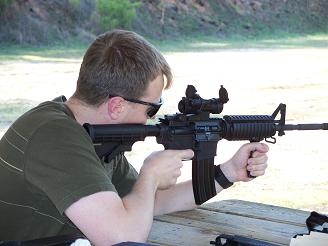 Overall, I was a lot more comfortable this time around. I had fun and improved my meager skills. And the rifle was a lot of fun, though my shoulder is already feeling it.
I'm looking forward to going back. Good thing my husband has a single buddy who's happy to exchange ammo for a home-cooked meal.
Posted by: Sarah at 06:06 PM | Comments (7) | Add Comment
Post contains 196 words, total size 2 kb.
Posted by: R1 at March 22, 2008 10:28 PM (y1Xat)
Posted by: Badger 6 at March 23, 2008 12:45 AM (P7vKl)
Posted by: Mare at March 23, 2008 04:28 AM (MVOoL)
Posted by: Erin at March 23, 2008 05:41 PM (y67l2)
Posted by: Kate at March 24, 2008 05:33 AM (JIGe1)
Posted by: Guard Wife at March 24, 2008 06:55 AM (BslEQ)
Posted by: tim at March 24, 2008 07:33 AM (nno0f)
Comments are disabled. Post is locked.
45kb generated in CPU 0.0191, elapsed 0.0838 seconds.
49 queries taking 0.0755 seconds, 204 records returned.
Powered by Minx 1.1.6c-pink.