October 12, 2007
HAND-CRAFTED COMFORT
Butterfly Wife is the queen of sending cards to the wounded at Landstuhl. She has already contributed 457 cards. I completely lay myself at her feet. She says writing the cards is like
chanting a mantra
. I too have found a troop-related activity that makes me feel this way.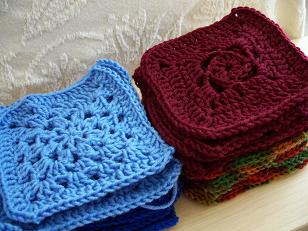 All these squares will be sent along to Hand-Crafted Comfort to be made into afghans for the wounded. I am on a roll. I made all the blue ones on the plane to Hawaii, and my goal is to make a whole afghan's worth of the autumn-themed ones: 70 total. I'm a tenth of the way there.
And yes, they're crochet. Don't judge me.
Oh, and by the way, this is hilarious. Butterfly Wife was asking for suggestions for songs to listen to during deployment. Someone mentioned "Right Here Waiting For You." Then BW's husband shows up in the comments section and says
No Richard Marx sweetie. We both don't need PTSD.
Bwahahahaha.
Posted by: Sarah at 06:01 AM | Comments (7) | Add Comment
Post contains 166 words, total size 1 kb.
1
Wow, what a cool idea to just make squares. That's a great way to get people involved who feel overwhelmed about making a whole blanket themselves. Plus a great way to use up yarn that's left-over from another project. In case there are others who read this and are interested, I managed to dig up a link from Google. Is the contact info there correct? http://www.laureloutlook.com/articles/2007/10/04/other_news/community%20news/11soldiers.txt And here's the Blankets of Hope link as well: http://soldiersangels.org/ index.php?page=blankets-of-hope I'm currently making this afghan in a very manly red.
http://pumamouse.com/crochetmyfavorite.html
Posted by: loquita at October 12, 2007 07:56 AM (kZVsz)
2
Wow! My hands hurt thinking about all that crocheting. But they'd be warm under that afghan! That is a really pretty blue, btw. I've heard lots of people mention the calming effects of knitting. Glad to hear that it does something like that for you. And Jack Bauer thinks he is funny; good thing he is cute. Thanks for the links.
Posted by: Butterfly Wife at October 12, 2007 08:09 AM (+2qii)
3
I'm cracking up at the Richard Marx reference! That's awesome! I crochet, you know. It's the little old lady in me coming out.
Posted by: airforcewife at October 12, 2007 08:41 AM (emgKQ)
4
Loquita -- Nice work on finding the link! I included it now. Heather is working on a website for the group as we speak, and I plan to feature it on SpouseBuzz soon. Heather's a frequent commenter there, and a friend of mine in real life. airforcewife -- Wanna make squares?
Posted by: Sarah at October 12, 2007 08:47 AM (TWet1)
5
Searching is one of my geek talents. I am the person who runs and gets the laptop so I can Google something the family is talking about sitting around the dinner table. :-p Oh, and I meant to comment on your earlier post about crocheting during a long flight. You should've seen the looks I got crocheting on a flight when I was in high school. It was especially funny when my ball of yarn (I always roll every skein into a ball before I use it) went rolling down the aisle to the back of the plane. Can't wait to see the website for Hand-Crafted Comforts - count me in.
Posted by: loquita at October 12, 2007 09:44 AM (XiVKO)
6
I *just* heard that Richard Marx song yesterday after not hearing it in ... many years. Weird. I didn't have any flashbacks, thank goodness.
Posted by: Anwyn at October 12, 2007 11:43 AM (dzxw9)
7
I don't judge... I crochet too. Thinking of taking up knitting, but I'll need a job first to pay for needles and a book. Now I know what to do with all those scrap granny squares I've made! Only a few are so wacky that I wouldn't send them in.
Posted by: Green at October 12, 2007 02:14 PM (VqW06)
Comments are disabled. Post is locked.
46kb generated in CPU 0.05, elapsed 0.1876 seconds.
55 queries taking 0.1577 seconds, 193 records returned.
Powered by Minx 1.1.6c-pink.