May 23, 2009
HAHA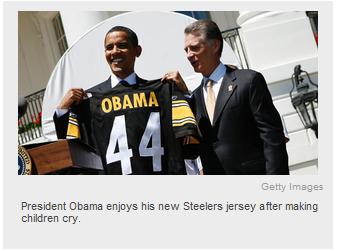 I wish I had made that caption up, but it actually came with the article
Sobbing Kindergarteners Snubbed for Steelers?
. I got a screenshot because I thought it was too funny to be true.
Keep it up, Obama. Keep making the people who voted for you mad.
Posted by: Sarah at 07:25 AM | Comments (5) | Add Comment
Post contains 48 words, total size 1 kb.
1
Well come on he had bigger and better things to deal with then allowing small children a window to our democracy. He had a jersey to receive.
What a putz.
Posted by: the mrs. at May 23, 2009 02:44 PM (NJQf+)
2
Speaking of a LOLCAT moment - that is hilarious!
Posted by: Darla at May 23, 2009 08:38 PM (LP4DK)
3
While I find this story hilarious, I have to agree with TSO at This Ain't Hell about it: you just don't show up to the White House late.
You just don't.
Remember how early we left to make sure we got there in time? And then we had to wait at the gate for an hour or more.
Unfortunately, the President's day doesn't allow for late kids. HE can be late. And it's easier for him to be on time because he has his own helicopter and traffic has to stop for his motorcade. Plus he has a wicked awesome airplane.
But you just can't be late if you're visiting the White House.
Posted by: airforcewife at May 24, 2009 08:38 AM (NqbuI)
4
AFW -- I agree that late is late and don't really care about that aspect of the story. I just love that hoopleheads are mad at Obama over this, like the quote about how he should be for the middle class but instead chose millionaires over the kids. It's 100% schadenfreude for me here.
Posted by: Sarah at May 25, 2009 11:29 AM (TWet1)
5
Hoopleheads is the best word ever. I love it. I had to google it to see exactly what it meant, but even before I did that it described everything perfectly.
Best word. Totally.
Also, apparently I wasn't paying close enough attention when I watched Deadwood.
Posted by: airforcewife at May 25, 2009 09:37 PM (NqbuI)
Comments are disabled. Post is locked.
43kb generated in CPU 0.07, elapsed 0.1761 seconds.
55 queries taking 0.1465 seconds, 191 records returned.
Powered by Minx 1.1.6c-pink.