June 26, 2009
DEPRESSED CHARLIE
Also, the dog is mad at me. Or depressed. Or scared. Something. Because he is not himself.
He supposedly had fun at the boarder. But he came home a tangled mess, so I immediately took him for a shave-down the next day. Maybe that was too much. Maybe dropping him off with strangers a second time set him over the edge.
He keeps doing this hacking thing, almost like a seizure. And he hasn't barked in two days. Normally he's perched in front of the window to bark at anything he sees, but not a peep since he's gotten home. He hides, and won't make eye contact.
Our dog has always been weird, but not like this.
Seriously, I want my Charlie back.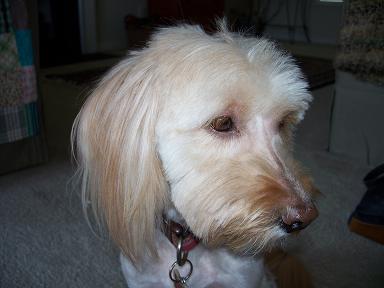 I'm never leaving him again.
Posted by: Sarah at 03:56 PM | Comments (12) | Add Comment
Post contains 130 words, total size 1 kb.
1
So you'll be taking him to work?
He's been switched!
Or maybe it's the same old Charlie but
you've
been switched and he's waiting for the real Sarah to return from Vegas.
Seriously, the "hacking thing" sounds scary. As if you being sick weren't bad enough. I hope he - and you - recover soon.
Posted by: Amritas at June 26, 2009 05:06 PM (2eQQr)
2
Mamie does that as well. She doesn't like being separated from us for too long - especially not when she has to sleep in a kennel!
Ike doesn't appreciate it, but he's boarded enough that he takes it in stride. He used to sit on us and be glued to my leg when we brought him home, even if it was only an overnight!
One thing that has changed a lot about Ike is that he used to HATE the car. We had to corner him, grab him, and throw him in. Then we boarded him once. Then he realized the car meant he was going with us and not being left behind and now he loves to go for rides.
Dogs are weird.
Posted by: airforcewife at June 26, 2009 05:17 PM (NqbuI)
3
Is it possible he's got kennel cough? I believe that is something they have medication for. As for the not looking you in the eye . . . my dog used to do that after a haircut. It was like she was embarrassed about the new doo and she would hide for a few days until she got used to it. Seriously.
Hope all is back to normal soon!!
Posted by: rc at June 26, 2009 05:30 PM (89qJF)
4
RC -- That never crossed my mind because we got him vaccinated for it, but I suppose it's entirely possible. A reading of a few websites says it's something they can get even if vaccinated. I will keep an eye on him for phlegm/mucus/etc. Thanks for pointing that out.
Posted by: Sarah at June 26, 2009 07:45 PM (TWet1)
5
My dogs have come home before doing the hacking thing as well. At the time, my vet just told me to make sure they're drinking well and if it didn't resolve itself in about 4-5 days to come in. It did go away by itself. No fun at all, though. Hope Charlie's back to his old self soon!
Posted by: dutchgirl at June 26, 2009 08:23 PM (hLAkQ)
6
wait... aren't you also coughing? Maybe it's sympathy coughing. In all actuality, it's most likely kennel cough. No matter how much fun he had, he was 1. stressed, because he isn't used to being around other dogs 2. exposed to a whole host of other germs, bacteria, etc from those other dogs 3. IN a kennel (even if it was climate controlled) that exposed him to a different temperature, humidity, and dusts/pollens/allergens he isn't used to. 4. Plus, he's
tired.
He's been playing his ass off for the last week. He needs a staycation. Fluids and rest, he'll eat wen he feels better, don't push the issue (lots of treats if he is being picky). Baby him (more than usual) and he'll be his old self in a day or two. I could bring Major over for a playdate if you like... you busy Saturday?
Posted by: Chuck at June 26, 2009 08:53 PM (aY7Ir)
7
Sarah, Chuck's points 1-4 could more or less apply to you too. Not that you were in a kennel, but you are stressed, you were exposed to germs, etc. in Las Vegas and the airport, you were exposed to a different climate, and you are tired. Staycate yourself too!
Posted by: Amritas at June 26, 2009 08:59 PM (2eQQr)
8
Yikes, I just realized all four of Chuck's points could also apply to
me
and explain why I'm sick. My staycation is slowly helping me to recover.
Posted by: Amritas at June 26, 2009 09:07 PM (2eQQr)
9
If Charlie likes to bark, he may have barked a lot at the kennel and his throat is tired. Definitely would keep an eye on it, though! Poor little C-man.
Maybe he's just p-o'd he missed out on the saucy shows and bacon?
Posted by: Guard Wife at June 26, 2009 10:51 PM (UIGsI)
10
If he's hacking AND attacking his face with his paws, get him checked for a bad tooth or jaw infection.
Posted by: Oda Mae at June 27, 2009 01:01 AM (qTjVS)
11
Well, Obama is depressing.
Posted by: tim at June 29, 2009 07:58 AM (nno0f)
12
Poor little puppy boy, he looks so sad. He missed his mommy and daddy. And he may make you pay. Dogs are pretty good at that. But he also may have kennel cough. So like everyone else says, watch him closely.
We had two visitor puppies over the weekend, one old little one and one little young mini dachshund who has not been neutered. I wanted to do it myself because he just kept after my little lady Yorkie, who has been spayed, every single minute. My son in law finally swatted him with a newspaper he was reading. It didn't hurt him but got his attention and he let up a little. Of course that was two hours before they left. Our Sally had a bath first thing this morning because he would just grab her hair (it is more like hair than fur) in his mouth and pull her around the room, getting her all slobbery and dirty. But she enjoyed the running around and chasing they could do when outside. She is only 14 months old so she needs a playmate occasionally.
Posted by: Ruth H at June 29, 2009 01:57 PM (KLwh4)
Comments are disabled. Post is locked.
49kb generated in CPU 0.0124, elapsed 0.0674 seconds.
49 queries taking 0.0593 seconds, 209 records returned.
Powered by Minx 1.1.6c-pink.