August 18, 2007
CRAFTING AMBIDEXTERITY
I've been tempted by the Dark Side.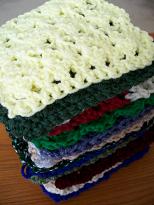 Craft-minded readers will notice that this stack of squares is not knitting but...gulp...crochet.
A friend of mine is compiling afghans for a charity. She asked for 6x6 squares, and she goaded me into trying my hand at crocheting them. At first I hated it with a passion, starting and ripping and starting and ripping. I did more un-crocheting than crocheting. But eventually I got the hang of it and figured out how to read the patterns. I got a lot of practice in on these squares, and boy howdy does crochet use up a lot of yarn. Stash depletion for a good cause = awesome.
I picked up my knitting again last night, and it sure felt good. But I think I will venture into crochet again sometime in the future. Especially to make the Exchange Bag from the Happy Hooker book.
And this girl's octopus is turning out waaay cuter than mine. Mine, I fear, is going to look more like a real octopus than a cartoon one (i.e. ugly and scary). I have images of my infant wrapped up in it à la 20,000 Leagues Under the Sea. Maybe once I put a smile on him, he will seem like a friendly overbearing monster...
Posted by: Sarah at 05:51 AM | Comments (4) | Add Comment
Post contains 217 words, total size 2 kb.
Posted by: airforcewife at August 18, 2007 12:30 PM (emgKQ)
Posted by: Mare at August 18, 2007 12:53 PM (NVYkg)
Posted by: Green at August 19, 2007 07:52 AM (HFGqC)
Posted by: Andi at August 20, 2007 04:53 AM (41i5Y)
Comments are disabled. Post is locked.
44kb generated in CPU 0.0205, elapsed 0.1121 seconds.
49 queries taking 0.0987 seconds, 201 records returned.
Powered by Minx 1.1.6c-pink.