December 28, 2007
BUSY AS A...LADY KNITTING FOR TOO MANY BABIES (WAIT, THAT'S NOT CATCHY)
The other night, I couldn't fall asleep because I have too much knitting stress. For pete's sake, Erin's baby gets here in a month and I haven't even started! Not to mention the other babies popping on the scene in early 2008. I have knit myself into a corner and need to get out fast.
So I got out of bed and worked from midnight to 0200 to finish the project I had so selfishly started for myself.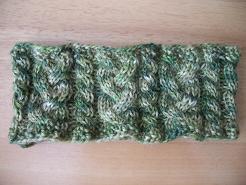 (It's Nakiska from Knitty, unblocked of course because blocking takes time.)
Now that that's out of the way, I'm on a strict baby knitting schedule, five or six hours a day. My husband looked at me today and said, "I think maybe you shouldn't knit so much." He means well, really he does, but I don't know what he was thinking when he said that. He says he only meant that it's a hobby and I shouldn't get so stressed out about an activity that's supposed to be fun and doesn't even bring us any income.
But Erin's baby can't knit for himself.
Back to work.
Posted by: Sarah at 06:59 AM | No Comments | Add Comment
Post contains 208 words, total size 1 kb.
Comments are disabled. Post is locked.
42kb generated in CPU 1.21, elapsed 2.0635 seconds.
53 queries taking 1.9633 seconds, 185 records returned.
Powered by Minx 1.1.6c-pink.