May 30, 2005
BRICK
I had the chance to briefly instant message with
Mrs. Sims
today. She sent me the most wonderful Memorial Day photo of her son and his father's memorial brick at Texas A&M.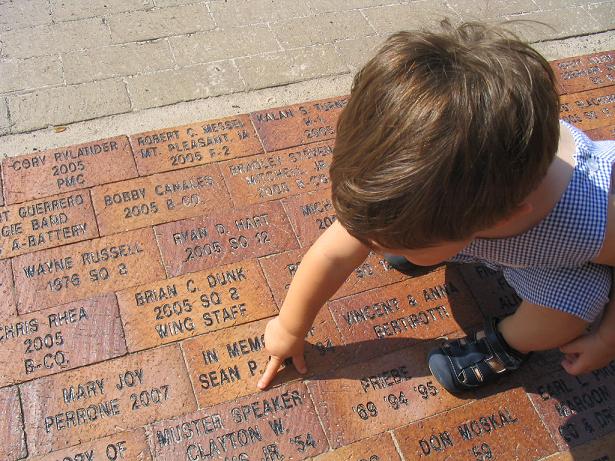 I think about Mrs. Sims all the time. She and I weren't even that close; we went to dinner a few times together, but that's about the extent of our friendship. I hesitate to write about how much she is constantly in my thoughts because I'm certain there are people on this post she was closer to. I don't want her to think that I've become some zany stalker who's deified her into everything that Memorial Day stands for...but I guess I have.
Mrs. Sims is absolutely everything that an Army wife should be: gracious, humble, and dedicated. She remains optimistic and proud in the face of the worst experience anyone could ever have. And she's always on my mind. She's the first person I think of when I feel down or grumpy. She was the first person my husband and I thought of when our cruise tablemates were being obtuse. And she was the first person I thought of when I woke up this Memorial Day.
You see, the Memorial Day post I wanted to write is how much the Sims family is always present in our household. It took that photo of their son to get the words to come out.
I'm sure Mrs. Sims feels weird about the pedestal I've put her on. She's just a regular person dealing with an extraordinary challenge. I hesitated to write the post I wanted to because I don't want to exacerbate her pain. But I want her to know how I really feel, that to me she's everything that Memorial Day represents: the day when we remember those who gave up everything for our country. And I am keenly aware, every day, that CPT Sims gave his life for the very freedom I enjoy. I want her to know that I will never forget that, as long as I live. I never knew her husband, but I will never forget him. Even if she and I drift apart, I will remember the Sims family on Memorial Day and every other day for the rest of my life.
I will remember.
Posted by: Sarah at 11:41 AM | Comments (5) | Add Comment
Post contains 384 words, total size 2 kb.
Posted by: Nancy at May 30, 2005 12:40 PM (UyF3I)
Posted by: Ruth H at May 30, 2005 05:09 PM (Fk2Vt)
Posted by: Beth at May 30, 2005 07:38 PM (lZ8lX)
Posted by: Wallace-Midland Texas at May 31, 2005 12:28 PM (e/Kh6)
Posted by: Subsunk at June 01, 2005 01:50 AM (dT4Ud)
Comments are disabled. Post is locked.
46kb generated in CPU 0.0134, elapsed 0.0941 seconds.
49 queries taking 0.086 seconds, 202 records returned.
Powered by Minx 1.1.6c-pink.