November 27, 2006
BATTLE BUDDIES
My friend Angie had her third boy this year. Since they're an Army family through and through, I made her newest addition a camouflage teddy bear. But apparently I ushered an era of fighting into her home. Her oldest stole the bear from the baby.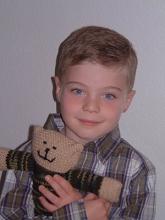 So adorable. Except for the constant fighting. Apparently the boys fight over who gets to sleep with the bear every night. I feel so bad that I did something to contribute to discord in their house. So the Army teddy is getting some friends.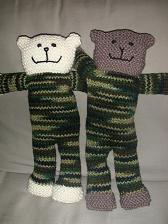 Now they have their own little multicultural squad. (I should make one more so they'd have a whole tank, but then they might fight over the extra bear!) Hopefully this helps lessen Angie's stress. And I learned a valuable knitter's lesson: never make something for one kid in a family.
Posted by: Sarah at 04:36 AM | Comments (6) | Add Comment
Post contains 143 words, total size 1 kb.
Posted by: Sabbrielle at November 27, 2006 04:40 AM (C0EP2)
Posted by: armywifetoddlermom at November 27, 2006 05:12 AM (4V65g)
Posted by: Sarah at November 27, 2006 05:44 AM (7Wklx)
Posted by: Angie at November 27, 2006 02:53 PM (ec43W)
Posted by: MaryIndiana at November 29, 2006 03:24 PM (V5Xp/)
Posted by: Kate at December 02, 2006 10:06 AM (h/MYc)
Comments are disabled. Post is locked.
44kb generated in CPU 0.0108, elapsed 0.0721 seconds.
49 queries taking 0.066 seconds, 203 records returned.
Powered by Minx 1.1.6c-pink.