October 13, 2009
A NEW SPOUSEBUZZ POST
Last week I got to explain to my relatives how important it is for us to keep
living our lives
while our husbands are deployed.
Posted by: Sarah at 08:38 AM | Comments (1) | Add Comment
Post contains 29 words, total size 1 kb.
October 12, 2009
BOOK LIST IV
I hit George Bush's total for 2008, so now I am racing to catch Rove. I also got lazy about writing my reviews as soon as I finished the book, hence some of the short ones.

40) Misunderestimated (Bill Sammon)
In honor of passing Pres Bush's book total for 2008, I read a book about him. A good book. I really liked this.

39) The Forgotten Man: A New History of the Great Depression (Amity Shlaes)
The book was a bit dense and slow going, but I enjoyed parts of it a lot, especially the chapter on Andrew Mellon's art collection.

38) A Thousand Splendid Suns (Khaled Hosseini)
AirForceWife lent me this book, and I read it very quickly and cried all through the last segment. It was a good, though horrifying, story.

37) The Girlfriends' Guide to Pregnancy (Vicky Iovine)
I got a few laughs out of this book, learned some things, and especially appreciated the chapter on what to pack to take to the hospital. It also saddened me to keep reading about all the things a husband should be doing during a pregnancy...

36)
The Quest for Cosmic Justice
(Thomas Sowell)
I didn't realize this was a collection of speeches when
Leofwende recommended it
, but it was good...as Sowell always is.
35) Class 11: Inside the COA's First Post-9/11 Spy Class (TJ Waters)
I really enjoyed this book and thought it was super interesting, but I am still shocked that he was allowed to write it. I learned many things that I supposed I wouldn't be allowed to learn about the CIA.

34) Bold Fresh Piece Of Humanity (Bill O'Reilly)
My mom wanted this book for Christmas, so she brought it back so I could read it. I have never been the biggest O'Reilly fan, but this book rounded out his personality for me and made him more of a complete character than just his show does.

33) Showdown (Larry Elder)
Larry Elder always challenges me to think more libertarian.

32) Takedown (Brad Thor)
Another good one, as usual. I especially liked the idea of inventing a second attack on the US after 9/11. And I love Jack Rutledge as president.

31) A Red State of Mind (Nancy French)
I have known about this book for a long time, and Nancy French has even commented here a couple of times, but I just finally got around to reading it. I thought it was charming as all get-out. And if I ever thought I was irritated by Kerry voters in 2004...
Posted by: Sarah at 01:39 PM | Comments (6) | Add Comment
Post contains 431 words, total size 4 kb.
October 11, 2009
HE WON WHAT?
While at my grandmother's, I had dial-up for a few days. And then, we exhausted her monthly usage. Take a moment and turn your mental clock back waaay to when you paid per minute and only got a certain number of hours per month. On dial-up. Oy. We knocked it out in no time flat. So come Wednesday morning, I had no more internet for the week.
Friday my husband called and said that he didn't have access either, though for a sadder reason than I. He then said that he thought a buddy was pulling his leg by saying that Pres Obama had won the Nobel Peace Prize.
I was at the lunch table with several relatives. I could've asked them if they'd heard about this news, but honestly,
I thought it was too absurd to repeat out loud
. I would've felt more serious asking, "Hey, have you guys heard that some people see Elvis at 7-11?" I mean, I just thought it was too stupid to repeat.
Really.
I hung up the phone and everyone at the table wondered what my husband had asked me about. So I had to say it.
And then found out it was true.
Let me repeat for emphasis: I thought the mere fact of
asking
my relatives if Pres Obama had won the Nobel Peace Prize was
too embarrassing
.
Imagine my embarrassment when I found out he did.
Man, I missed a good day to be on the internet. I hear people had
mad jokes
.
Posted by: Sarah at 04:44 PM | Comments (6) | Add Comment
Post contains 256 words, total size 2 kb.
October 03, 2009
PLAYING SPACEMAN
I'm leaving today to check off some more states on my
list
. I'm headed to visit my grandparents for a week. They have dial-up, so I probably won't be around much.
I plan to ask my grandmother umpteen more questions about birthing and raising 13 children in the 1950s and 60s.
(Rats, I can't embed
this
.)
Posted by: Sarah at 06:54 AM | Comments (4) | Add Comment
Post contains 58 words, total size 1 kb.
ROOSEVELT'S WAGER
A great paragraph from my book
The Forgotten Man
. I think it applies to today just as easily, and I think it captures my frustration with why the system is not what I believe it should be:
But the critics had another reason to be loud -- their own frustration at the genius of Roosevelt's wager. Roosevelt, they saw, had understood something that the Republicans had not. The contest now was not Democrat versus Republican but rather this classical republic versus the classical democracy. Government was less a representative republic than it had once been, more directly controlled by the people. The change had started back in the 1910s with the constitutional amendment to permit the electorate to pick senators directly, rather than through their state legislatures. Suffrage for women had accelerated it. And the Depression had accelerated it again -- people who might not have had an interest in government before now found that hunger concentrated their minds. Instead of asking what government was doing on behalf of the general welfare, voters were asking in a very democratic way what Roosevelt was doing for them.

Posted by: Sarah at 06:32 AM | Comments (2) | Add Comment
Post contains 188 words, total size 1 kb.
October 02, 2009
ALMOST HALFWAY THERE
I had a doctor appointment today. I thought it was just a regular appointment, but it turns out it was my Type II ultrasound. Wow, that was the first time that a medical snafu has turned into a fun surprise instead of me wanting to set someone on fire.
I am so used to early ultrasounds, seeing a teeny blob in a big uterus. My first reaction was how big she was. My second was how developed she is.
She looks great.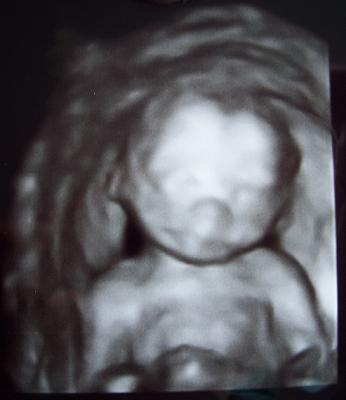 She had the hiccups and was clapping her hands and rubbing her face.
And everything is perfect: normal heart, normal spine, normal piggy toes.
She's jammed in there so snug...why can't I feel her yet?
Posted by: Sarah at 01:29 PM | Comments (19) | Add Comment
Post contains 120 words, total size 1 kb.
"SPOIL THE IMAGE OF SUCCESS"
Krauthammer
:
On September 24, Obama ostentatiously presided over the Security Council. With 14 heads of state (or government) at the table, with an American president in the chair for the first time ever, with every news camera in the world trained on the meeting, it would garner unprecedented worldwide attention.
Unknown to the world, Obama had in his pocket explosive revelations about an illegal uranium-enrichment facility that the Iranians had been hiding near Qom. The French and the British were urging him to use this most dramatic of settings to stun the world with the revelation and to call for immediate action.
Obama refused. Not only did he say nothing about it, but, reports
Le Monde
, Sarkozy was forced to scrap the Qom section of
his
speech. Obama held the news until a day later — in Pittsburgh. I've got nothing against Pittsburgh (site of the G-20 summit), but a stacked-with-world-leaders Security Council chamber, it is not.
Why forgo the opportunity? Because Obama wanted the Security Council meeting to be about his own dream of a nuclear-free world. The president, reports the
New York Times
, citing "White House officials," did not want to "dilute" his disarmament resolution "by diverting to Iran."
Diversion? It's the most serious security issue in the world. A diversion from what? From a worthless U.N. disarmament resolution?
Yes. And from Obama's star turn as planetary visionary: "The administration told the French," reports the
Wall Street Journal
, "that it didn't want to 'spoil the image of success' for Mr. Obama's debut at the U.N."
"Spoil the
image
of success." Not
real
success, but the image.
Our president is a narcissist.
Posted by: Sarah at 08:28 AM | Comments (4) | Add Comment
Post contains 278 words, total size 2 kb.
89kb generated in CPU 0.038, elapsed 0.1204 seconds.
54 queries taking 0.0975 seconds, 251 records returned.
Powered by Minx 1.1.6c-pink.