May 10, 2009
THE WEEKEND IN PICTURES
Charlie's best friend came to visit for the weekend.
AirForceDog showed up for wrasslin' and tomfoolery. He's got a few pounds and a lot more muscle on Charlie, so most fights end like this: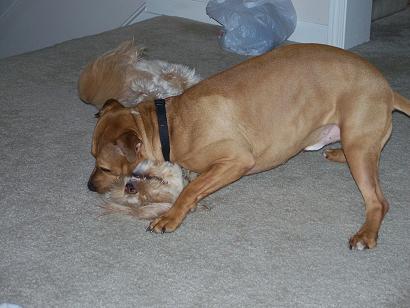 But Charlie gives as good as he gets. You can't imagine how disappointed I am that this photo isn't in focus:
It was a fun visit, but it made me content that we only have one dog.
We also sadly lost a pet this weekend. Our betta fish, honorifically named Bunker, passed away from old age. I had seen it coming for weeks now, and I'm glad I didn't have to
help him along
like I did my last fish.
He was a beautiful fish and his empty bowl makes me a little sad.
So it's Mother's Day, and it's been a little bitter for me to receive the blanket "Happy Mother's Day!"s that I have been getting at work this weekend. But I got an email today that made me feel better. It was from the de facto president of our knitting group, who is also childless.
Even if you have no children or grandchildren, to me, we are all mothers and grannies when we knit, crochet, quilt or sew our items to donate to preemies and babies.

Amen to that.
Plus, I have my own mother still, while others do not. I am grateful for that and am choosing to focus on that today.
I
wrote cryptically
about it when it happened, but my second miscarriage showed me what it means to be a mother. My mother was right there in the bathroom with me, holding my hand, coaching me on, and even (close your eyes, squeamish people), reaching in to pull stubborn uterine lining out for me when I panicked. She didn't ewww, she didn't rush to wash her hands, she just helped me and never made me feel like what I was having to go through was weird or gross. It was amazing. Either she would've had an excellent career as a nurse, or she was just
being a mom
. No one else could've filled those shoes that day. I got to see as an adult that I will always be her child and that she will always be there to help me. And that mothers clean up bodily fluids for their kids whether they are 3 or 30.
I said I had a similar reaction when
my father lent me his eyeglasses
. I have learned so much about parenting from my own parents in these recent years. And every year, I just want to give my parents grandchildren on Mother's and Father's Day.
Happy Mother's Day, Mama. I'm still working on getting you the biggest present of them all.
Posted by: Sarah at 10:10 AM | Comments (4) | Add Comment
Post contains 462 words, total size 3 kb.
Posted by: Ruth H at May 10, 2009 03:27 PM (hBAQy)
Posted by: Mare at May 11, 2009 06:57 AM (y9A8i)
Posted by: kannie at May 11, 2009 11:29 AM (S6srO)
Posted by: kannie at May 11, 2009 12:17 PM (S6srO)
Comments are disabled. Post is locked.
45kb generated in CPU 0.04, elapsed 0.1476 seconds.
48 queries taking 0.1307 seconds, 174 records returned.
Powered by Minx 1.1.6c-pink.