August 28, 2006
HEALTH CARE
It's usually pretty easy to gripe about the military health care system, so I wanted to write and say that I had the most
wonderful
visit this morning. My doctor was so helpful and scheduled me for all sorts of follow-ups and treatments for various things. The whole thing -- from appointment to lab work to pharmacy -- took one hour. It was amazing. Yay for the people here at our hospital!
And I've lost ten pounds since I moved here too!
Posted by: Sarah at 06:09 AM | Comments (4) | Add Comment
Post contains 86 words, total size 1 kb.
August 26, 2006
BE PREPARED
Yesterday I stopped in at Goodwill to check out their book section. I left with tons of books, including fifty cent copies of
What to Expect When You're Expecting
and
What to Expect the First Year
. I've heard these are popular books for pregnancy reading, and I didn't want to pass up such a good deal when I know I'll want them someday. Anyway, they caught the eye of the girls working the checkout counter, who got really excited for me. I realized it's a tad embarrassing to be explain that you're not pregnant but you're buying books about pregnancy.
Of course, anyone who knows me well is probably laughing, because they know there's no way on earth I'll get pregnant until I've read both books cover to cover and used different highlighters to color-code important information within. My husband and I are the ultimate planners. We spent months researching the type of dog we wanted, for pete's sake. My husband did so much research on our Mazda5 that he knew more about it than the salesman (an advantage which helped him get it at invoice). Right now he's been spending all his free time making intricate spreadsheets comparing different mortgages and the time value of our money to see how we can save $300 over the next five years. We're pretty intense people when it comes to Decisions That Affect Our Future, but heck, we even consult Consumer Reports to decide which dishwasher soap to buy. So while it might've seemed funny to the girls at Goodwill, those who know us aren't shocked that I bought pregnancy books for the baby we'll probably have in 2008.
Which is actually starting to freak me out a little. In Germany we always said that we'd wait until our next duty station. That was two PCSes away, so it seemed safe. But now we move in just over three months, and the reality of "we're buying the house where we'll have our first baby" is starting to freak me out. It's not going to be anywhere near Angie, and she's supposed to be my nanny!
I better start reading those books soon...
Posted by: Sarah at 04:42 AM | Comments (11) | Add Comment
Post contains 364 words, total size 2 kb.
August 23, 2006
SMELLS
I've heard that the best human sense for recall is not sight but smell. I got a new air freshener for the car today that was supposed to smell like "fresh cotton." Either I was misinformed as to what cotton smells like, or this air freshener should've been labeled "old timey bottle of Bayer." I instantly thought of
my MuMu
. She always kept aspirin and Mentholatum by her bed. What's interesting about the nose is that I didn't really remember that my grandma smelled like aspirin until I smelled that air freshener. And though Bayer is not the best smell for the car, I think I will keep it. And think of her when I drive.
Posted by: Sarah at 09:58 AM | No Comments | Add Comment
Post contains 118 words, total size 1 kb.
August 22, 2006
SOS
Oda Mae --
I don't know if my emails aren't reaching you. At least one got kicked back. Anyway, I need your address to send your bear to you. See if you can email it to me.
Posted by: Sarah at 09:00 AM | No Comments | Add Comment
Post contains 39 words, total size 1 kb.
August 19, 2006
LAME
Let me just say that I loathe myself for falling into that age-old trap of trying to lose weight a month before your high school reunion. I can't believe I'm playing that dumb game, but I am. I'd like to consider it Incentive, since I know I need to get better at exercising anyway, but I feel like it's more like Panic than Incentive. So I've been working out, probably my second least favorite thing to do behind getting a sonogram.
Don't you hate when you go to the gym and get on the machine next to SuperWoman? It's happened to me two weekends in a row. I'm not sure men care so much, but the first thing a woman will do is look at her neighbor's screen and compare. And the girl next to me goes harder, longer, and farther than me. By a long shot. I feel like Rocky Balboa if I can do 30 min, but this girl does an hour at a faster pace. And it's all I can think about the whole time I'm exercising: all the excuses for why I haven't decided to deal with the 20 lbs I've gained since high school until a month before it matters.
Plus I'm a liar. It's probably more like 25.
God, I hate exercising.
Posted by: Sarah at 05:01 AM | Comments (3) | Add Comment
Post contains 220 words, total size 1 kb.
August 18, 2006
August 16, 2006
WHEW
Mom and brother are fine, of course.
More tomorrow; we have
House
to watch.
Posted by: Sarah at 03:16 PM | Comments (2) | Add Comment
Post contains 16 words, total size 1 kb.
August 09, 2006
WHEEZIE
My husband's family's cat passed away today. I am not a cat person at all, but I loved this little critter. She had spunk and major personality. They named her Wheezie because of the funny way she breathed, but no animal could ever have acted more of Wheezie Jefferson. This cat had attitude.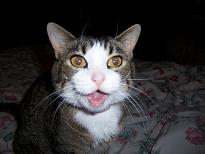 We'll miss you, Wheezie.
Best. Cat. Ever.
Posted by: Sarah at 09:50 AM | Comments (1) | Add Comment
Post contains 62 words, total size 1 kb.
August 02, 2006
HOORAY
Conversation heard in our house this morning:
Husband: I'm gonna sip Bacardi like it's my birthday. Hey, do we have any Bacardi?
Me: I don't give a f*k; it's not my birthday.
[Much laughter]
The husband's now officially closer to 30 than to 20. We're celebrating at Dollar Hot Dog Night at the ballgame.
He's still as cute as he was at 19. Still fits in the same pants too. Jerk.
Posted by: Sarah at 04:59 AM | Comments (5) | Add Comment
Post contains 71 words, total size 1 kb.
62kb generated in CPU 0.0924, elapsed 0.1692 seconds.
53 queries taking 0.153 seconds, 211 records returned.
Powered by Minx 1.1.6c-pink.