December 31, 2005
2005
2005 brought my husband home from Iraq. If he has any say in it, this won't be the end of our family's involvement in the miraculous changes taking place in the Middle East. I'm glad to have him with me whenever I can, but I'm proud of him no matter where he is in the world.
2005 also brought Charlie into our life. We have good days and bad, but every day he gets a little better, and there's nothing like realizing the dog just stole an Italian sausage link out of the fridge to make you laugh.
2005 brought the hope that I might be published. I'm not holding my breath just yet, but it's exciting just to be asked to join in Blackfive's Milblogs book.
But 2005 also took something from me, something I miss every day. It's been six months since Bunker's passing, and I still think about him all the time. His absence is a big void in my blogosphere.
2006 will bring two PCS moves and a return to the US for our family. I'm anxious to get the adventures of this coming year started.
So long, 2005...
Posted by: Sarah at 03:24 PM | Comments (2) | Add Comment
Post contains 195 words, total size 1 kb.
December 25, 2005
CHRISTMAS MORN
Last year I felt a little lame opening presents under the tree by myself, so this year was much more fun. We all had a merry Christmas...especially Charlie, who ate the nose off his brand new toy in under a minute.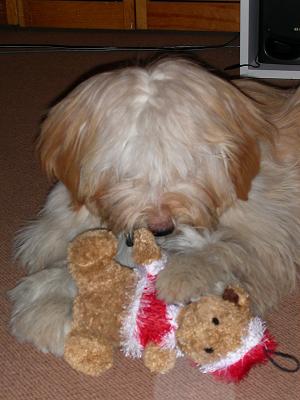 Posted by: Sarah at 06:40 AM | Comments (2) | Add Comment
Post contains 45 words, total size 1 kb.
December 24, 2005
DISAPPOINTMENT
We choose to go to the moon in this decade and do the other things, not because they are easy, but because they are hard.
I've been having a nagging feeling lately that I wasted my education chances. I had excellent grades in high school, and I got a full ride to college. I could've done anything with my four years that I wanted to, and I had two paths I could've followed. I could've studied French, which was easy for me and fun. Or I could've studied physics, which I found extremely interesting but took more work and application of my brain. I chose French.
As I sit in Germany with no job, I realize that neither degree would've done me much good here. I only use French to write Christmas cards to my elderly French relatives. By the time we move to our next duty station, it will be time to start discussing plans for children, so I'll never have much going for me in the way of a career. I can't help but feel that if my degree is only going to end up being for my personal enrichment, then I made the wrong choice.
I always thought it was strange that European youngsters are pigeonholed into careers far earlier than we Americans are. There's really no such thing as an "undecided major" in Europe. But even though I waited until the ripe old age of 19 to decide my major, I still feel now at 28 that I should've chosen wiser. I chose French because it came so easily to me, and because it was the smallest major at my college, which would afford me more electives to play around with. I looked into the physics minor, but it turned out to be more hours than the French major, impossible if I studied abroad. So I let it go, and now I'm disappointed in myself.
28-year-old Sarah can't get President Kennedy out of her mind. I wish I'd chosen physics because it was hard. I should've worked and stretched my brain and forced myself to acquire new skills. I should've tried to do something I really wanted to do instead of taking the lazy route.
I should be an out-of-work physicist instead of an out-of-work French speaker.
Posted by: Sarah at 05:48 AM | Comments (10) | Add Comment
Post contains 383 words, total size 2 kb.
December 23, 2005
TRAILER
I watched the
Superman Returns trailer
. OK. I'm too big of a fan of the originals to know how I'm going to react to the new movie. It looks too...um...
good
for me. I want my Superman in a technicolor suit, not a murkier gotham-city getup. I want my Clark Kent bumbling and my Lois Lane snotty. But we'll see; you know I'm gonna see it anyway. And if luck is on my side, we'll see it in the USA.
Posted by: Sarah at 05:49 AM | Comments (1) | Add Comment
Post contains 81 words, total size 1 kb.
December 22, 2005
WORD CHOICE
I've been working on my relationship with Heidi for a year now. I've felt uncomfortable with the fact that the reason we became friends is because her husband was killed. I'm slowly getting over that, but today I was once again struck by how much I hate that our relationship is littered with eggshells.
I was writing something to her, and I wrote, "I am scared to death of" before I stopped and realized I had chosen my words poorly. Every time I write to her, I find myself backspacing over all sorts of stupid expressions: "I could've just died when I said", "that joke killed me", "I love her to death." I feel like some dumb sitcom character who stutters like an idiot because he just asked a blind girl if she saw something. When do you get over that? When will I stop having to police myself so I don't say something stupid? When will our friendship just feel normal?
Posted by: Sarah at 06:14 AM | Comments (2) | Add Comment
Post contains 166 words, total size 1 kb.
December 04, 2005
CHARLIE AND ELWAY
Remember those puppies who were born about two months ago? Well, Charlie got to meet little Elway this weekend. We managed to take a funny series of photos called
Charlie Bullies the Newborn
:
Scene 1: After several minutes of being oblivious, Charlie notices Elway has his bone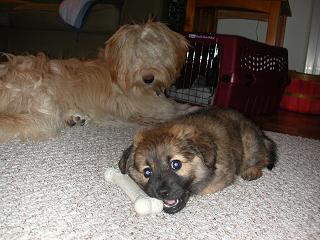 Scene 2: Charlie comes to see what he can do about it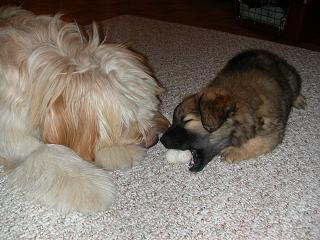 Scene 3: Despite Elway's best efforts, Charlie gently pulls the bone away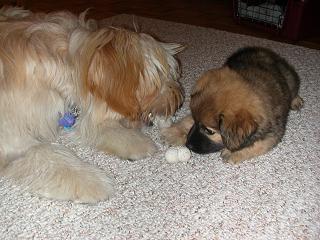 Scene 4: Elway stands by dejectedly as Charlie reclaims his bone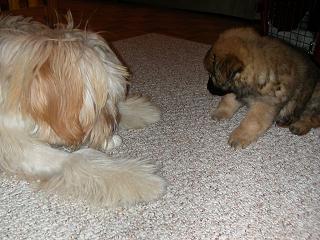 Scene 5: Charlie is a victorious jerk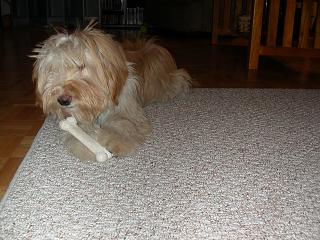 Despite the fact that Elway holds his own with my friend's 120 lb. dog, he was a bit timid around Charlie. We're hoping that they might do better together in a few more weeks, but from the look of things they may turn out to be friends after all...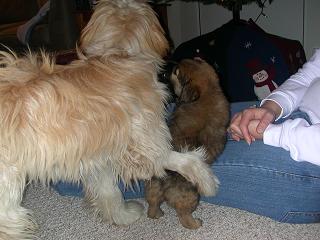 Posted by: Sarah at 04:15 PM | Comments (6) | Add Comment
Post contains 144 words, total size 1 kb.
December 01, 2005
71kb generated in CPU 0.027, elapsed 0.1092 seconds.
53 queries taking 0.0952 seconds, 204 records returned.
Powered by Minx 1.1.6c-pink.