December 30, 2006
A CAKE FIT FOR A DICTATOR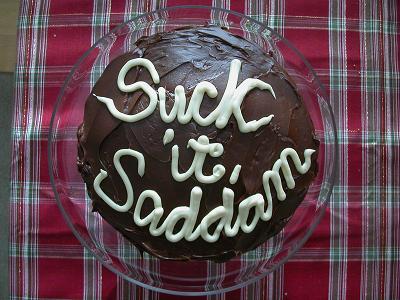 Posted by: Sarah at 09:46 AM | Comments (9) | Add Comment
Post contains 12 words, total size 1 kb.
December 21, 2006
CHRISTMAS
I can't believe it's almost Christmas.
This holiday season really got lost in the move. I chuckled yesterday when I was unpacking boxed that hadn't been opened since Germany and I thought, "Wow, it's just like Christmas! Oh wait..." In the rush to buy a washer and dryer, a fridge, a sofa, two armoires, new brakes, and a host of other house needs (still no blinds -- that's today), I haven't even thought about Christmas. Not to mention that it's warm here, so how can my brain process it when a store clerk wishes me a merry Christmas and I'm wearing short sleeves? Does not compute.
Also my husband's present is lost somewhere in the house. I had hidden it in the computer room in the apartment, but I've opened all the computer room boxes here and it's nowhere to be found. I came across his present to me, which he had hidden in his underpants drawer. I told him that was maybe not the best place to hide it considering it was laundry day. Thankfully I didn't really see what it was, because I had an a-ha moment that maybe I shouldn't investigate further.
I have to shop for Christmas dinner. But first I have to clear away eight thousand glasses and dishes and bowls and tupperwares off the countertops.
Posted by: Sarah at 04:21 AM | Comments (3) | Add Comment
Post contains 223 words, total size 1 kb.
December 20, 2006
PHONES
After six months in billeting at OBC, three years in Germany, and six months of just cell phones, we have our first home phone in a very long time. We've had it three days, and already I'm sick of the telemarketers. We've gotten so many pre-recorded phone calls that I can't even believe it. How freaking annoying.
Posted by: Sarah at 07:39 AM | Comments (5) | Add Comment
Post contains 59 words, total size 1 kb.
December 19, 2006
HOUSE
So here's the latest. The showers had some sort of child-proof anti-scalding contraption, but someone went way overboard with it. So instead of anti-scalding, it became anti-warm. Plumber came out and it's fixed; thank heavens because it was my third day without a shower! Dishwasher is fixed too, so now we can start washing all these dishes that have been in boxes since Germany. I'm still sitting on a folding chair in front of the TV, but we should find a solution to that today. Oh, and the brakes went out on our car, so that was another fun activity to pass the time.
All in all, I can't complain. Except for the fact that we spent about a thousand dollars today. And we still have bedsheets tacked over the windows.
Posted by: Sarah at 12:23 PM | Comments (4) | Add Comment
Post contains 133 words, total size 1 kb.
December 17, 2006
UPDATE
We're here.
We're a day late on internet connection due to a busted ethernet card, but now we're back in the saddle. Oh, and we've also discovered that our dishwasher is somehow not hooked up to any sort of water supply, and our shower doesn't have any hot water. And none of our furniture can fit through the doorway into our rec room. It's been a busy and fairly annoying two days.
But it's eight days before Christmas and the temps are still in the 70s. So we're lovin' that.
Also Charlie is completely freaked out by the move. He won't leave our side, which is unusual for the dog who hates to be touched. But he spent the first day walking around the house crying, so at least we're past that.
Five moves in four and a half years of marriage. Sheesh.
Posted by: Sarah at 12:48 PM | Comments (3) | Add Comment
Post contains 145 words, total size 1 kb.
December 05, 2006
63 MORE THINGS
When I wrote my 100 Things post, some guy commented that I was narcissistic for talking about myself so much. I cracked up, because isn't that the very point of a 100 Things post? I found a post on Keeping the Faith at Fort Carson called
63 Things You Never Cared to Know About Me
. If you really don't care, skip it. If you want, read the extended entry.
Posted by: Sarah at 11:12 AM | Comments (5) | Add Comment
Post contains 1446 words, total size 8 kb.
December 04, 2006
WAITING
I'm sitting here waiting for the movers to show up. Back in April, I was so stressed about the move that I started planning and packing about six weeks in advance. This time, I was so loath to go through the process again that I started packing on Saturday. Whoops. But I guess we're ready to go, as soon as the guys get here.
And I just found out that Conservative Grapevine is back in business! I loved this site because it was a great way to read blogs I'd never seen before. Check it out if you're looking for a directory of interesting blog posts.
Posted by: Sarah at 03:51 AM | No Comments | Add Comment
Post contains 108 words, total size 1 kb.
December 01, 2006
BAMBOOZLED
AWTM is collecting
holiday cookie recipes
. I have a story to go with my favorites...
I sent lots of cookies to my boys during the deployment. Usually I'd buy those bags of pre-measured stuff and send cookies down to my husband and his platoon, and also to Red6 and his guys. But one time I had to make "real" cookies for an event back home, so I set aside a few and sent a little baggie to my husband and to Red6. And I got the following letter back from Red6:
I used to be bamboozled by the Terminator paradox...you know, Reese being the father of John Connor but also being sent back by John Connor? Well, now I'm bamboozled by your cookies. How the heck did you make those? They were incredible. I couldn't figure 3 cookies 16 ways, so I ate 'em all myself.
So now we lovingly refer to these as The Terminator Cookies.
2 sticks butter, softened
1 cup creamy peanut butter
1 cup light brown sugar
1 cup sugar
2 eggs
1 tsp. vanilla
3 ½ cups all purpose flour (sifted)
1 tsp. baking soda
½ tsp. salt
1 package Dove candies
Combine the butter, peanut butter, and sugars using a mixer on a medium to low speed until light and fluffy. Slowly add eggs and vanilla until thoroughly combined. Then mix in flour, salt, and baking soda. Cover and chill dough for 2-3 hours. Unwrap all the candies. Remove dough from refrigerator. Divide into 1 Tbsp balls and flatten. Place a candy in the center of each piece of dough and form the dough into a ball around the candy. Place on a greased cookie sheet and bake at 300° F for 15-17 minutes or until tops of cookies start to crack. Let cookies cool on a baking rack or waxed paper.
Enjoy the bamboozling deliciousness.
Posted by: Sarah at 10:47 AM | Comments (4) | Add Comment
Post contains 314 words, total size 2 kb.
64kb generated in CPU 0.0237, elapsed 0.0903 seconds.
53 queries taking 0.073 seconds, 215 records returned.
Powered by Minx 1.1.6c-pink.