October 30, 2008
WTF?
In personal news, I have done all the normal fertility testing that they do. There's nothing wrong with me. There's nothing wrong with my husband. But we still don't have a baby. Fantastic.
Posted by: Sarah at 09:07 AM | Comments (7) | Add Comment
Post contains 35 words, total size 1 kb.
October 27, 2008
I'M A COUGAR AND I DIDN'T EVEN KNOW IT
So there's a stock boy at my new job -- I'm gonna peg him at about 18 years old -- who I suspect has a crush on me. Last week he followed me all around the store, gave me a "how you doin'?", and wanted to know how old I am. The look on his face was priceless when I told him. And I figured that would be the end of it, but today he asked me if my band is just a ring or if I'm married.
I've probably been married since he was in middle school.
One of the girls at work says that makes me a cougar.
You know, when I was 16, I worked at a concert arena. I was one of the only females, and I was a good 30 years younger than most people working there. I can't tell you how many times gross 23-year-old roadies would come on to me. I used to get so annoyed at the unwanted attention at work.
And now, shoot, I want to hug this kid.
It has been years since someone has shown an interest in me. It is sincerely the most flattering thing that's happened in a long time. I am just tickled pink that this kid even remotely thought it would be appropriate for me to talk to him. I have been giggling all day.
Now there's an ego boost. Heh.
Posted by: Sarah at 10:34 AM | Comments (5) | Add Comment
Post contains 254 words, total size 1 kb.
October 20, 2008
NO RETURN OF THE SALAD DAYS
how can I explain personal pain
how can I explain my voice is in vain
how can I explain the deep down...driving
I had myself convinced that I was going to have triplets. I had them named, and at night before bed I would have visions of myself corralling toddlers. I was kind of excited that we might breed at more than replacement rate. Twins was also acceptable. I got comfortable with the idea of multiples. Shoot, one was feeling like a let-down.
But I never prepared myself for zero.
Sure, I knew it could happen. Just like I knew two years ago that it was possible to have fertility problems. But it's one of those things that happens to other people. It wasn't going to happen to me. Because everyone I know who did the treatment I just did got pregnant. And since I have been pregnant twice before, and we know it's biologically possible, I figured this was the boost we'd need to make this work.
I never put any energy into thinking it wouldn't.
I feel so much frustration and ire today. I feel emotionally incredulous. I feel biologically sickened.
I feel like a failure. Squared.
I want to have my husband's baby. He's handsome, strong, tall, and fit. He's super smart. He's only been sick once since I've known him. He has perfect vision and nice eyebrows. His genes belong in the pool.
And we've been ready for two years. We have a stroller. We have a the paperwork for a rider on our life insurance. We have the baby names we picked out eight years ago. And yes, though it's been mocked, we have a nursery filled with knitted stuffed animals and blankets.
We still see ourselves like the end of Raising Arizona. But it's just as cloudy for us to imagine as it was for H.I. McDunnough.
One year ago today, I told you all that I was pregnant. Little did I know that we too would have "no return of the salad days." And last Christmas, I consoled myself with the hope that we'd have a baby in the house by this Christmas. Not even close.
And, you know, I am always the first person to try to keep things in perspective. To be grateful that I have a great husband and a nice home and plenty of things to be thankful for. But today that's just not enough. Today I'm not content with the blessings I already have.
And I probably should stop listening to The Violent Femmes, because that's not really helping anything.
Posted by: Sarah at 10:13 AM | Comments (14) | Add Comment
Post contains 444 words, total size 3 kb.
October 19, 2008
AT LONG LAST
At the Milblogs Conference, during the tribute to our fallen, I mentioned
Bunker Mulligan
. Or, I tried to: I immediately choked up and barely managed to sob the words out.
It's been three years since the death of a man I never met, and it still hurts that much.
A while back, I found this old comment he left:
There are just too many things in this country I haven't seen to go wandering around the world looking for more. I still haven't been to the Black Hills, and I want to see Yosemite again. Washington is one of my favorite cities in the entire world--so much to do there. I've been four times and still want more.

I keep trying to plan a road trip from Corpus Christi through Big Bend to Vegas, then back along the northern route to the Grand Canyon, Painted Desert, then back to Corpus across the Llano Estacado and Comanche Country.

There will be time for golf when you get back!
He didn't get to do these things. We didn't get to play golf.
Mike is buried in San Antonio, and I had to see him while I was there. We located his marker and my friends stayed in the car as I got out to pay respects.
The sobbing started even before I saw his name.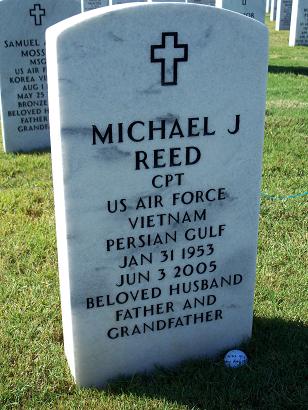 I had tried to think of something I could leave there for Mike, but I couldn't come up with anything and was empty handed. My fellow SpouseBUZZ author Toad surprised me with the most perfect idea: he had brought a golf ball and a Sharpie for me.
I left Mike a little note on the golf ball and then sat there and wept.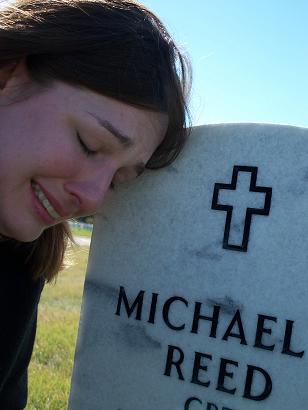 I still miss him so much.
And I want this blog post to be better, because he deserves better, but I just don't know what else to say.
Damn, this weekend was rough.
Posted by: Sarah at 04:17 PM | Comments (8) | Add Comment
Post contains 325 words, total size 2 kb.
October 03, 2008
FEELING BETTER
I am feeling better emotionally tonight, especially after a great chat with my husband. I told him that I really miss him and that, while I have had fun watching the debates with his friend, it's not the same. He said:
Husband says:
well when you've been in love as long as we have personalites start to merge
Husband says:
you become more or less one person
Husband says:
it's like talking to yourself
Yep, I miss my better half.
On the physical side, I feel terrible. I was told I might have "some cramping," but this is nearly as bad as the miscarriage. I did not expect to hurt this much. I hope it doesn't feel like this tomorrow.
Posted by: Sarah at 02:24 PM | Comments (2) | Add Comment
Post contains 124 words, total size 1 kb.
68kb generated in CPU 0.354, elapsed 13.0398 seconds.
51 queries taking 12.9436 seconds, 212 records returned.
Powered by Minx 1.1.6c-pink.