February 21, 2006
BISCUITS
As you know, I've been feeling guilty about Charlie's accident. I've never even had stitches, but I made my dog have to get them! So I've been spoiling him rotten for the last few days. Today I decided to make him some homemade dog biscuits. The recipe said it would make three dozen, so I decided to double it. Would someone mind telling me when three dozen turned into 100? I've got 200+ dog biscuits here now! So everyone's getting some:
Winston
,
Lewis
,
Elway
, and any other dog I can think of. They seem to be a hit; the whole time I was baking, Charlie was doing this: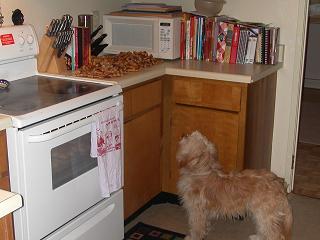 Don't be fooled by the silence of your computer; he's howling his fool head off in this photo. That's all he did for two hours. Except of course when he was trying to think of a better way to get at the biscuits: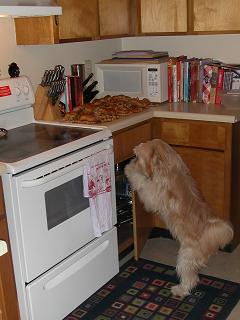 That dog is just too dang much.
Posted by: Sarah at 12:38 PM | Comments (7) | Add Comment
Post contains 160 words, total size 1 kb.
February 15, 2006
13 THINGS
I saw this on
MQ's site
: 13 Things You Wouldn't Guess By Looking At Me. I don't know if I can come up with 13, but I'll try.
Hmm, I am anal and compulsive. I bet I could come up with 13 ways my best friends make fun of me for it.
1. I measure everything when I cook. I can't do pinches and handfuls and dabs. I measure everything out perfectly, even if it's something I've made ten times.
2. I researched and read books for months before we got a dog. I panic every time he does something out of the ordinary; both Erin and Kelly have gotten frantic calls about all sort of bodily functions.
3. I also write everything on the calendar: when Charlie had his last bath, when I cleaned his ears. I obsess about this dog so much that I know there's no way I'm ready to have a kid.
4. All of our movies and music are alphabetized. So are our books. I used to have them alphabetized within categories (e.g. fiction, travel, etc), but that became too difficult to maintain.
5. I even organized all my husband's field manuals. That was before I realized he's never once looked in one.
6. I also organize greeting cards into a file folder by event.
7. My friends tease me that I was even anal about my relationship: six years ago today my husband and I sat down and decided to be a couple. No spontaneity here.
8. But here's a few they might not know yet: I only turn the TV volume to an even number.
9. Also I color coordinate my shampoo and body lotion with what I'm wearing that day.
10. And I coordinate different detergents and fabric softeners with different loads of laundry.
11. I also coordinate my dishes with the food we're having. I guess that's why I have five place settings.
12. My old roommate and I used to share expenses in our apartment down to the last cent. If one of us bought a roll of paper towels, the other would hand over a quarter.
13. And as all of you already know, I stress out about using up spices, canned goods, and beauty products before we move. I lie in bed and fret about the bottle of Worcestershire sauce that will never be used. And it cost one dollar.
There. 13 things that might make you want to reconsider getting too close to me.
Posted by: Sarah at 02:53 AM | Comments (12) | Add Comment
Post contains 421 words, total size 2 kb.
February 14, 2006
TRADITION
As I sing to my husband every year:
I was working in the lab late one night
When my eyes beheld an eerie sight
For my monster from his slab began to rise
And suddenly to my surprise

He did the mash
He did the monster mash
The monster mash
It was a graveyard smash
He did the mash
It caught on in a flash
He did the mash
He did the monster mash
I choo-choo-choose you.
Posted by: Sarah at 08:17 AM | Comments (2) | Add Comment
Post contains 79 words, total size 1 kb.
February 10, 2006
OVERNIGHT
Well, we got dumped on this morning. We seem to have gotten about seven inches of snow overnight, so the most logical thing to do was to send Charlie out in it.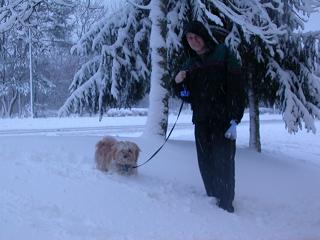 He had a blast, but then when we came in we noticed that he wasn't obeying his sit command. Maybe it had something to do with this...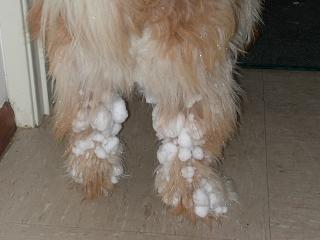 Poor puppy. But after a quick rinse in the tub, he was good as new.
Posted by: Sarah at 03:32 AM | Comments (2) | Add Comment
Post contains 76 words, total size 1 kb.
February 06, 2006
EXHAUSTED
The Superbowl didn't start here until after midnight, but my husband and Charlie stayed up for the whole thing. And now Charlie has been a complete wreck: he hasn't eaten a single thing all day and he didn't even pee until 1900! His system is a mess. Apparently our pup needs a strict bedtime...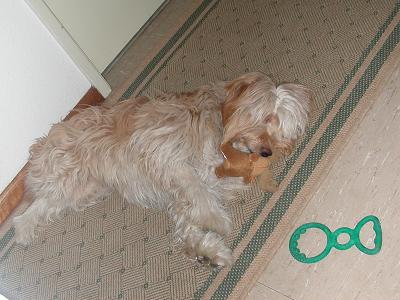 (Our exhausted pup, snuggling with his stuffed moose)
Posted by: Sarah at 03:33 PM | Comments (3) | Add Comment
Post contains 64 words, total size 1 kb.
February 03, 2006
NOT TAGGED
Nobody tagged me, but I'm gonna do this one anyway...
4 Jobs You Have Had in Your Life
1. paperboy
2. jewelry salesperson
3. English teacher
4. The Girl's secretary
4 Movies You Would Watch Over and Over
1. The Royal Tenenbaums
2. South Park: Bigger, Longer & Uncut
3. True Romance
4. Raising Arizona
4 Places You Have Lived
1. Germany
2. France
3. Sweden
4. Texas
4 TV Shows You Love to Watch
1. Smallville
2. Alias
3. Futurama
4. Numbers
4 Places You Have Been on Vacation
1. Wyatt Earp's house
2. The Alamo
3. Bolzano, Italy to visit the Iceman
4. Cuba, NY
4 Web- sites You Visit Daily
1. LGF
2. After that I bounce around a lot
3.
4.
4 Favorite Foods
1. steak
2. peas
3. turkey cutlets with rosemary-tomato sauce
4. broccoli-rice-cheese casserole
4 Places You Would Rather Be Right Now
1. Las Vegas
2. In my husband's office
3. Talking with Bunker
4. Anywhere in the USA
Posted by: Sarah at 02:54 AM | Comments (6) | Add Comment
Post contains 171 words, total size 1 kb.
63kb generated in CPU 0.0155, elapsed 0.087 seconds.
52 queries taking 0.0764 seconds, 210 records returned.
Powered by Minx 1.1.6c-pink.