July 26, 2006
AWESOME
My dad fishes every single day he can. Christmas too. But he got his biggest catch ever over the weekend: a 22-pounder!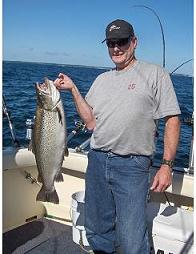 Now he just has to catch one as big as Kelly's dad's fish.
Posted by: Sarah at 11:54 AM | Comments (2) | Add Comment
Post contains 37 words, total size 1 kb.
REUNION
Lileks attended his
high school reunion
this weekend; I recently bought a plane ticket to my own. It was really hard to fill out the survey about what you've been doing since. When you know you're moving two months after the reunion, what do you put for address and phone number? What do you say your job is, what you did before or what you hope to do next? And when they ask how many places you've lived since high school, it's surreal to write 9.
I'm excited to go see people I haven't seen in at least six years, but the impending reunion has made it hard to get high school off my mind; I keep replaying stuff from school and wondering how I'd do it differently. I wouldn't want my life to turn out any differently now, but sometimes I wish I'd taken a different path to get here.
My school even has a reunion website. You can see me dead center, my eyes peeking out over the word "going". The bearded guy directly below me is now a Special Forces soldier; my husband and I are going to Bragg to visit him next weekend before he deploys again. And the girl up in the far left corner surprised my brother by being his doctor last year. It will be interesting to find out what everyone else has been up to.
Posted by: Sarah at 02:37 AM | Comments (2) | Add Comment
Post contains 235 words, total size 1 kb.
July 17, 2006
PUPDATE
Let's have some pupblogging to get our minds off the news, shall we? Charlie has graduated to sleeping outside of his crate most nights. He dives under the bed while we're brushing our teeth and stays there until I get out of bed in the morning and coax him out into the world. There's nothing cuter than seeing him emerge yawning and stretching...except for when he doesn't quite make it all under the bed in the first place. Every once in a while, this is what we find peeking out from under the bed: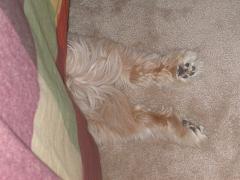 Posted by: Sarah at 05:44 AM | Comments (4) | Add Comment
Post contains 96 words, total size 1 kb.
July 14, 2006
OLD
Dear Will,
OK, then by
your definition
, I'm old. I don't ever "pretend to get wild," and I honestly don't care whether the shows I watch or the music I listen to is cool. I have no intention of ever going to a club again in my life, and I can't ever remember what I liked about them in the first place. I'm far happier reading in bed at 9:30 than most club-goers and drug-takers are when they're out on the town. And it makes me snicker that you think I've let something "slip away": I am so looking forward to turning 30 that it'd make your skin crawl. But you have fun with your piggyback rides and drugs; I'll just sit here in my home with my maxed-out Roth and the teddy bear I'm knitting for charity and enjoy being old.
Oh, and I never drink Heineken, just Budweiser from the can.
Posted by: Sarah at 04:51 PM | Comments (8) | Add Comment
Post contains 155 words, total size 1 kb.
July 11, 2006
SADNESS
One of our best friends from college is from India, and he's in Mumbai right now. I hope he's OK. I feel something special in my heart for India as a country, and I hate that this has happened.
And I guess I missed the memo that we were all going to start calling it Mumbai instead of Bombay. When did that happen? I guess at the same time we started calling Qatar "Cutter". Let me know when we're supposed to start calling Japan Nihon.
Posted by: Sarah at 07:26 AM | Comments (2) | Add Comment
Post contains 87 words, total size 1 kb.
July 06, 2006
WASTEFUL
I've been making my way through boxes all day. I just can't stand to have the house like this, so I'm working myself to the bone trying to get it all organized. Before we left Germany, I was too overwhelmed to go through our closets and get rid of stuff that doesn't fit or that we've had for ten years. I started doing that today, and the more boxes I open, the worse I feel. I have so much
junk
. We lived for two months out of a suitcase; I had something like seven shirts and five pair of pants, and that clothed me every single day. Now that I have boxes and boxes of clothes, I just feel wasteful and ridiculous. Why on earth do I have 14 pairs of flip flops? I've already re-boxed four boxes of stuff to send to Goodwill, and I'm trying to figure out what else I can get rid of. And I also realized that I've knitted myself to a very full closet; I have more sweaters and scarves/hats than I know what to do with. I need to do some give-away knitting for a while...
Posted by: Sarah at 12:45 PM | Comments (3) | Add Comment
Post contains 195 words, total size 1 kb.
July 05, 2006
FIRST DAY DONE
Well, it's been one day and I've already got the CD cabinets alphabetized. The house is shaping up, sort of. There's still a lot to do, but at least we have the microwave out; leftovers have never felt so easy. We also spent a month watching a 14 inch TV, so now our 28 incher feels like the front row at the movie theater! And I am
so
looking forward to sleeping on a bed for the first time in a month...
Posted by: Sarah at 02:38 PM | Comments (1) | Add Comment
Post contains 88 words, total size 1 kb.
BUSY
Our house is stuffed to the gills right now; our household goods finally showed up this morning. I have never been so excited to sit on a sofa!
Posted by: Sarah at 10:26 AM | Comments (1) | Add Comment
Post contains 30 words, total size 1 kb.
July 04, 2006
HOME FOR THE 4th
Today was a special day because our pup became an American. Since Charlie was born and raised in Germany, we have been joking since we got home that we should officially make him a citizen. So we chose today to have his naturalization ceremony. He raised his right hand and swore an oath of citizenship, which was uproariously funny at the time.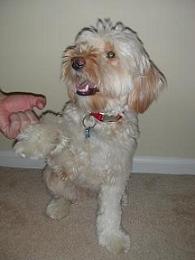 And because it was such a special day for him, we let him eat with us. Charlie got to eat a waffle and a hamburger! What a day...

And then this evening my husband and I did the most American thing we know: we went to a baseball game. The Blowfish played a great game, and then they had fireworks over the stadium. I know we had fireworks on post in Germany, but these were close enough to smell! And it just felt so good to be in a stadium full of people wearing red, white, and blue and listening to Lee Greenwood. I couldn't wipe the stupid smile off my face the whole fireworks display.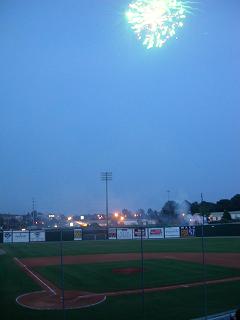 It's so good to be home...
Posted by: Sarah at 05:20 PM | Comments (6) | Add Comment
Post contains 192 words, total size 1 kb.
ANTICIPATION
This is my first 4th of July in the United States in three years. I thought I'd write something this morning about how it feels, but I think I'd rather write at the end of the day. We have big plans to do the most American things we can...
Posted by: Sarah at 03:36 AM | Comments (2) | Add Comment
Post contains 51 words, total size 1 kb.
65kb generated in CPU 0.0187, elapsed 0.0895 seconds.
56 queries taking 0.078 seconds, 217 records returned.
Powered by Minx 1.1.6c-pink.