June 30, 2005
SWEET
Now here's some destructive puppy behavior that we fully support!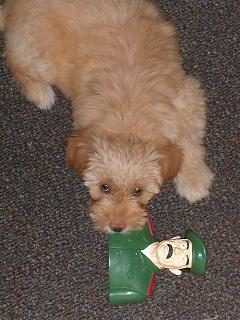 (Saddam chew toy via Political Pet Toys. We get a real thrill out of seeing the dog attack that scumbag.)
Posted by: Sarah at 10:00 AM | Comments (4) | Add Comment
Post contains 32 words, total size 1 kb.
June 29, 2005
CHARLIE UPDATE
Dog rearing is moving along nicely. Over the weekend Charlie met his "cousin" (my husband's brother's dog) and managed to hold his own despite being a fourth of his size.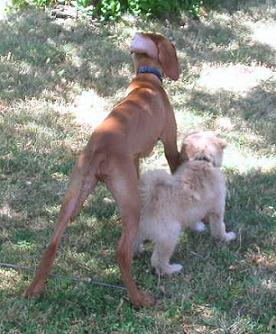 Last night we hit a milestone: Charlie slept his first full night! But both my boys were exhausted after PT...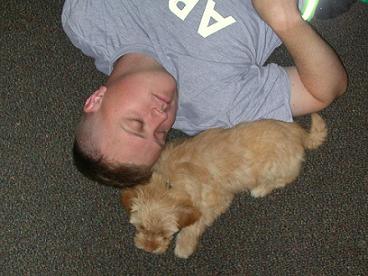 And we just can't stop taking pictures of him.
It's funny that we wanted the Tibetan breed because we wanted a couch potato dog, but Charlie takes it to extremes! He's the only dog I've ever heard of who hates going on walks. When he sees the leash, he hides. When I try to get him out the door, he plants his feet and resists. What a hoot he is.
Posted by: Sarah at 04:00 AM | Comments (5) | Add Comment
Post contains 124 words, total size 1 kb.
June 22, 2005
SWIMMINGLY
A Charlie update: He's now lived with us for a week and is doing much better. Most of the crying has stopped, and he sleeps through the night (except for when we take him outside). He went on his first walk yesterday and after he finally stopped imprinting on me, he had a blast! We started working on "sit", which he enjoys because he gets a treat when he does it. I don't guess I'll throw him out the window after all...
Posted by: Sarah at 01:28 AM | Comments (3) | Add Comment
Post contains 84 words, total size 1 kb.
June 19, 2005
SIGH
Our dog is driving us a little batty. We're trying to crate train him, which means we're getting very little sleep. Charlie, on the other hand, apparently doesn't need any sleep at night and instead prefers to pass the time howling and yelping. He keeps pooping in the neighbors' yard instead of ours, he has destroyed the boxes we put in to make his crate smaller, and he thinks that moss and weeds are the best food around.
It's a good thing he's cute, 'cause he's about to get thrown out the window!
Posted by: Sarah at 03:49 AM | Comments (13) | Add Comment
Post contains 95 words, total size 1 kb.
June 16, 2005
PUPPY
We got our puppy yesterday! So far he's doing really well: he's learning his name and has already gotten the hang of "come". And even though we only got about three non-consecutive hours of sleep last night from all the whining, we still love him to death.
Now Charlie and I are off to practice crate training...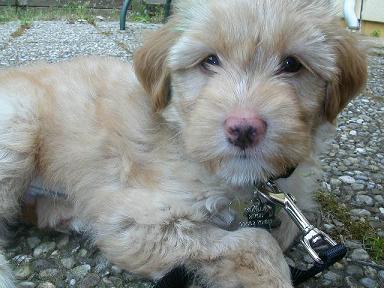 Posted by: Sarah at 02:27 AM | Comments (10) | Add Comment
Post contains 59 words, total size 1 kb.
June 15, 2005
THREE YEARS
Two years ago we had just moved to Germany. We had no house and no car, and since we'd gotten "lost in the system", we had no income for two and a half months. Last year we were thousands of miles apart. Here's hoping that our third anniversary works out a little better than the previous two!
Posted by: Sarah at 01:16 AM | Comments (8) | Add Comment
Post contains 61 words, total size 1 kb.
June 02, 2005
WASTE
You know what blogs are good for? Griping. So here goes.
My parents opened a bank account for me when I was a baby. They couldn't afford to sock away much, but all three of us kids had accounts that were to be used for college. Since I didn't need it for college, I got it as a wedding present, so I withdrew the majority of the money three years ago when I got married.
Guess what I found out today? That account, which has been open for like 25 years, went under "new management" in 2001. They charge an inactive fee when the account doesn't have any activity for a year. And guess who hasn't accessed her account since 2002? Guess who just found out she lost $240 to bank fees?
I'm so mad I could scream, but there's no one to scream at. I've never touched that account before my wedding, and I don't even get balance statements for it. It's a fluke I even found out about it now. I thought about emptying all the money out when I got married, but my parents thought it would be good to keep the account open. They didn't know anything about this new inactive fee; they've had an account there for decades too! The girl on the phone sounded sorry for me, but she said there was nothing she could do about it. I'd better go warn my brothers to check on their accounts.
So there goes lots of money down the toilet. Fantastic. You know what's the biggest load of bullcrap ever? A savings account where you lose money because you don't touch it. Don't ever open one of those for your kids.
Posted by: Sarah at 11:19 AM | Comments (11) | Add Comment
Post contains 287 words, total size 2 kb.
DOGGY UPDATE
Only two weeks until we get to bring him home...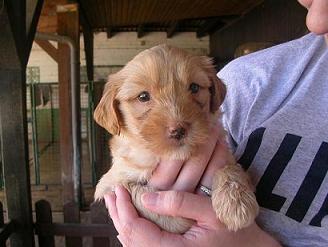 Posted by: Sarah at 06:10 AM | Comments (4) | Add Comment
Post contains 14 words, total size 1 kb.
75kb generated in CPU 0.0268, elapsed 0.0829 seconds.
54 queries taking 0.0707 seconds, 240 records returned.
Powered by Minx 1.1.6c-pink.