October 26, 2005
BEDTIME
Ever since I wrote about my school dreams, I haven't had any. I have, however, participated in a plane crash, a bizarre conversation with a girl from my Brownie troop, and a Chinook ride to Taco Bell with my husband and Mike Penca. (RHS alums: I have no idea why Mike was with us. Haven't thought about him in nearly ten years.)
I've always hated bedtime. When I was a kid, I could never fall asleep. I'd read entire books, play games with a flashlight, and count up into the thousands. I was always that kid who was the last one awake at slumber parties. My husband and my best friend from college had a good laugh when they shared stories about how I could talk for hours on end at night. They've both fallen to sleep as I've droned on and on.
Lately I've been having trouble sleeping again, and nothing can help me. I took some NyQuil for my cold at about 7PM the other night and then got up again at 11 and took another dose. Even that can't put me out! And then when I finally do sleep, I have these ridiculous dreams that stress me out, like plane crashes.
My husband thinks I'm insane. The best part of his day is when he puts his head on that pillow. But I wish there were some sort of pill I could take to make 8 hours disappear and make myself feel rested without actually getting into bed.
Posted by: Sarah at 06:47 AM | Comments (6) | Add Comment
Post contains 253 words, total size 1 kb.
October 21, 2005
NIGHTMARES
Besides the dog, who drives me absolutely batty with his chewing and barking at construction workers outside our house, I don't really have any personal stress in my life right now. I don't have a job, I don't have any kids, and my only responsibility is to make a nice dinner and keep the house tidy. So why do I keep having the most stressful dreams?
Practically every single night since the beginning of September I have dreamed about school. Last year while I was subbing I used to have the Sub Nightmares all the time, and they started again about a week before I subbed in September. (Those are the ones where you show up and the teacher hasn't left you any instructions and you have to come up with something to teach all day.) But even after I quit subbing and haven't gotten called in a month, I have continued to have the nightmares. Sometimes I'm the sub, sometimes I'm a student, and once I was college roommates with one of the high school girls I abhored. Two nights ago I was back in high school: I forgot my locker combination and was late to physics. (For some reason, it's always physics when I'm the student, but at least I get to see all my high school buds and even Action Bruce -- jealous, Curt?) Last night I was a teacher trying to teach Moby Dick. No idea why. A few weeks ago I had to teach refraction of light through a prism.
So if I don't have any real stress in my life, why do I keep wigging out in my dreams? Why the constant forgot-to-do-my-homework panic when I don't have anything like that going on in my real life? I don't think that all dreams need to mean something, but I'm in class nearly every single night these days. I wake up all agitated, and I have this Reverse Reality thing going on where I have to calm myself down in the morning and remind myself that my real life is much less stressful than my sleep. What's the deal?
Sheesh, why can't I just build a go-cart with my ex-landlord?
Posted by: Sarah at 05:35 AM | Comments (2) | Add Comment
Post contains 367 words, total size 2 kb.
October 18, 2005
WOW
Albert Pujols + bottom of the ninth = ecstatic husband and grumpy Deskmerc
Posted by: Sarah at 03:01 AM | Comments (1) | Add Comment
Post contains 15 words, total size 1 kb.
October 16, 2005
NEVER FAR FROM MY THOUGHTS
Dear Bunker,
Mrs. Sims believes her husband sends her signs from above that he is watching down over her. I was thinking about these signs the other day when I opened my email junk folder and found an email from "Mike" with the subject line "hello". I knew it was spam, but for a minute I had a warm feeling that you were sending me a sign, just to say hi.
I've been reading The Federalist Papers, just like we discussed. Boy, do I wish you were here to urge me on. Would you mind too terribly if I skipped ahead a bit? I'm wading through the letters about the Articles of Confederation, but I'd rather be reading about the Constitution. Is it cheating to hop ahead to the good stuff?
A few days ago, the husband and I were naming all the places we want to visit once we get back to the US. Coming to pay our respects to you is close to the top of the list.
I miss you.
Sarah
P.S. John misses you too. We had a good talk about it recently. You touched so many of us...
Posted by: Sarah at 06:20 PM | Comments (4) | Add Comment
Post contains 203 words, total size 1 kb.
October 13, 2005
DONE
In a way, I'm a little sad that Charlie won't be able to father any puppies. He's so darn cute himself that I know his offspring would be adorable as well. But what's done is done now.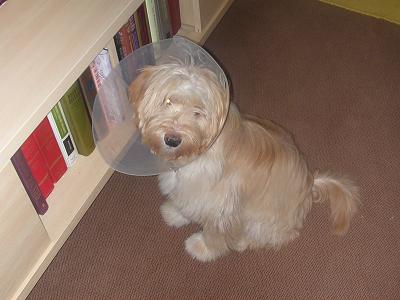 Poor fella.
Posted by: Sarah at 03:10 AM | Comments (3) | Add Comment
Post contains 41 words, total size 1 kb.
October 11, 2005
BORN
Last night I got to participate in The Miracle of Life: my friend's dog had puppies. My husband and I had never seen anything get born before, so we raced over to her house as soon as she called. One pup was on the way out, and three more were to come.
The whole thing was amazing, gross, beautiful, and eerie all at the same time. I got to see animals come to life! We all held our breath when one of them was stuck in his placenta for way too long, and we cheered when he finally broke through. We felt helpless when the pups couldn't find mom's tummy to nurse; it would've been so easy to just pick one up and position him! We laughed, we gagged, and we oohed and aahed.
It was remarkable.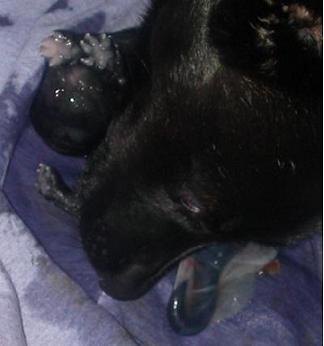 Posted by: Sarah at 08:20 AM | Comments (5) | Add Comment
Post contains 139 words, total size 1 kb.
October 04, 2005
CARDS ARE ON
Reggie Sanders + grand slam = very happy husband
Posted by: Sarah at 03:42 PM | Comments (2) | Add Comment
Post contains 15 words, total size 1 kb.
October 03, 2005
BIRTHDAY
Charlie turned six months old today. He celebrated by losing two more canine teeth. Only one more to go and then I'm free from puppy bites.
It's not fair that I expect him to be perfect already. I get so frustrated when he grabs the end of the toilet paper and runs under the bed with it, or when he eats a hole through the carpet, or when he barks at 0600 because he wants to play. It's easy to forget that he's made lots of progress: he can ring a bell to let us know when he wants to go outside, and he gets in his crate at night all by himself.
And he's always good for a laugh. The other day we were chasing each other around the house and he tried to jump out a window. A closed window.
He's a keeper...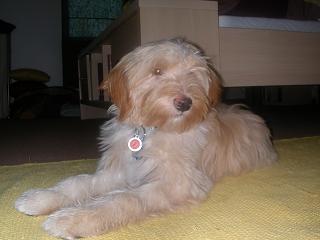 Posted by: Sarah at 02:50 PM | Comments (4) | Add Comment
Post contains 147 words, total size 1 kb.
65kb generated in CPU 0.0238, elapsed 0.0936 seconds.
54 queries taking 0.0792 seconds, 209 records returned.
Powered by Minx 1.1.6c-pink.