July 25, 2007
WHEW
I blogged over at SpouseBUZZ about how we suddenly got our
leave yanked away from us
. I spent the past two weeks on pins and needles, waiting to hear if we really would get to make this trek back to the Midwest. And in the end, it was those
danged baseball tickets
that saved our hide. The unit decided that since we'd made a financial obligation, we could go on leave. Thanks a heap, especially since the husband has a week of use-or-lose vacation that would've been lost if we couldn't go.
My husband should be eternally grateful that my knitting excursion is the only reason he gets a two-week break. I deserve to buy more yarn.
So I guess I'd better pack a suitcase or something. We leave in three days on a 17-hour car ride.
Posted by: Sarah at 08:07 AM | Comments (7) | Add Comment
Post contains 139 words, total size 1 kb.
July 22, 2007
SOME THINGS JUST AREN'T THAT IMPORTANT
I do all of the dishes all of the time. I can't think of the last time my husband washed dishes. He doesn't even do them when I'm out of town; he just leaves a lovely little pile. Regardless, we have one of the best marriages I know of.
How could that possibly be
? /eye rolling
And don't even get me started on "great sex." I can't believe it polls that high. If that's the most important thing that's keeping your marriage together, I feel sorry for you.
Posted by: Sarah at 04:00 PM | Comments (5) | Add Comment
Post contains 100 words, total size 1 kb.
July 21, 2007
GOOD KIDS
A friend of mine from high school was stationed here, and the husband and I went to his going-away picnic before he deployed. His parents were there, and his father paraded me around the unit, telling anyone who would listen about what an upstanding young lady I am. He insisted on telling everyone about what good kids we were in high school and how we never got in trouble and never were involved in any "hanky panky." I'm sure by the end of the night the entire unit was laughing about what dorks we were. But his dad was right; we really were good wholesome kids.
AWTM writes about her first love...and how it ended. I used to think I had a standard adolescence, but the more people I talk to, the more I realize that maybe I didn't. My early boyfriends were perfect. And no one ever asked me to have sex until I got to college. How quant: I never experienced pressure to have sex until I was 20 years old. I never thought much about it growing up, but now I look back and realize what lovely people I associated with as a teen.
My friend's father was right to be proud of us. We were good kids.
Posted by: Sarah at 03:11 AM | Comments (1) | Add Comment
Post contains 215 words, total size 1 kb.
July 20, 2007
I HEART WALMART
I have a pro-Walmart story I thought I'd share since all we usually hear is bad stuff about them.
A few weeks ago I noticed my car was leaking oil. I had gotten my last oil change done at Walmart, but it had almost been three months since, so I didn't think that was the source of the problem. I took the car in to the dealership, and they deduced that Walmart had destroyed the oil filter housing. It cost us $80 to sort it all out.
We went to Walmart and explained what had happened, and they asked us why we hadn't brought the car back to them when we noticed the oil leak. We explained that the car was new and still under warranty, and that we hadn't put 2-and-2 together because the oil change had been done so long ago. But they took care of it anyway and gave us the full amount we'd paid at the dealership. In cash, without filing any forms or waiting for a check to show up.
This is the second time a Walmart manager has handed me cash. The first time was a few years ago when an incompetent employee sold me the wrong fishing license and got me saddled with a $100 conservation fine. (I still can't believe the conservation officers didn't let me off with a warning. I had to go to court and argue my case to the judge; I made for a funny sight, sitting there in a little plaid dress next to a bunch of men in orange jumpsuits.) Anyway, Walmart listened to my sob story about how their guy never asked me what state I was from when he sold me the license, then and split the difference for the blame and handed me half of the money.
Walmart sure keeps me happy with their handing-out-cash policy.
Posted by: Sarah at 06:11 AM | No Comments | Add Comment
Post contains 318 words, total size 2 kb.
July 10, 2007
PLAYING BIG SISTER
My baby brother shows up today for a visit. And by baby, I mean he's 25. But in our family, he'll always be the baby.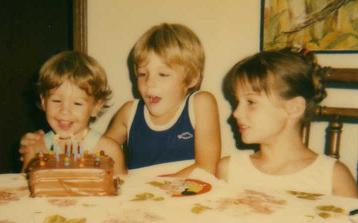 This will be the first time we've really spent any time together since I got married. I have him all to myself for a week.
Posted by: Sarah at 02:53 AM | Comments (4) | Add Comment
Post contains 56 words, total size 1 kb.
July 02, 2007
OUR DIMPLED CHAD
Over the weekend, we were very optimistic about taking a pregnancy test. We thought the fifth month just might be the charm. But if our pregnancy test had been an election ballot, we would've been looking at a dimpled chad.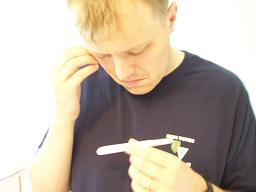 That photo is not staged; that's my husband trying to figure out what in the heck was going on. One line means no, two lines means yes, but what does one dark line and one line that's barely perceptible to the naked eye mean? We wanted to find out if we were having a baby or not, and instead we got "Pat Buchanan."
Incidentally, if something is advertised as 99% effective, why does it need to be sold in two packs?
Another test and two more days later, and we're pretty sure we're not pregnant. I was on the phone with my mother, sniveling about how every month that passes brings more likelihood that my husband will deploy before this baby ever shows up, and my mother said the most perfect thing she could've said in this situation: She said that she would obviously do whatever she could to help me if my husband is gone when this baby comes, but that she wanted us to know how proud she is of us, that we've chosen a very difficult lifestyle and that she admires and respects us for making this family sacrifice for our country.
I thought about what she said later in the day, and I thought about the book report I wrote for SpouseBUZZ that morning, and I realized that she's right. We've chosen this life, and we can un-choose it any time we wish. But what we can't do is stick with this choice and then complain about it. Would I want to get out of the Army in order to have my husband here next year? No. So that's our choice. It's important to us to be in the Army, so it has to be important enough to stop complaining about the situation.
So if he's here, he's here, and if he's not, he's not. That's the way it has to be, and there's no sense in talking about it or dwelling on our so-called bad luck.
But can we at least get some better luck in reading those danged home tests?
Posted by: Sarah at 04:13 AM | Comments (13) | Add Comment
Post contains 392 words, total size 3 kb.
64kb generated in CPU 0.0159, elapsed 0.0794 seconds.
51 queries taking 0.0692 seconds, 208 records returned.
Powered by Minx 1.1.6c-pink.