January 31, 2005
PUPPY
My husband wants a dog. He's wanted one for a long time, but I've been dragging my feet. Dog-owning is a lot of responsibility, and it leaves little room for weekend trips and spontaneity. I have spent a fair amount of time this year dogsitting, and it requires a good deal of work and patience.
I watched my friend's dog for a month at Christmas, and I got him back when she went home for her brother's funeral. I think her dog thinks I'm his new owner. This is the fourth time I've watched him, and he's finally settled in. He doesn't follow me around four inches from my feet anymore. He doesn't beg to sleep with me anymore. And all of a sudden I am more OK with having a dog.
My husband and I spent a long time disagreeing on breed: he wanted a big dog and I wanted a medium-to-little dog. He put his foot down at "yippy" and I put my foot down at "shedding." We found a breed we can agree on, and the breeder near our house will even have a litter of Tibetan terriers sometime this spring.
In a few months, we might be the proud owners of something this cute: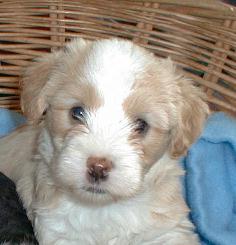 Any advice for first-time dog owners?
(By the way, if looking at photos of new puppies makes you as happy as it does me, then check out this site.)
Posted by: Sarah at 04:13 AM | Comments (15) | Add Comment
Post contains 239 words, total size 1 kb.
January 20, 2005
GRANDPA CARL
My grandfather died 36 years ago today. I really wish I had had the chance to meet him. Based on my mother's stories about him, he's always struck me as an Atticus Finchy man, which is someone I can really see myself liking. He died when he was merely 56; thus turning 56 was a sobering experience for my mother. He died when my mother was only 21; thus turning 21 was a sobering experience for me, imagining the pain of losing my own dad. I remember talking to my mom on the phone on 19 January that year when I was living in France, and I asked her if she misses him. "Every single day," she replied.
Both of my mother's parents are gone now. I can't imagine not having parents.
I'm thinking of you today, Mama.
Posted by: Sarah at 04:29 AM | Comments (1) | Add Comment
Post contains 142 words, total size 1 kb.
January 19, 2005
WHAT'S HOT
It's cruel and unusual to ask a woman whose husband has been gone for over eleven months to describe who is hot. At this point, everyone is. The joke among my friends is that while our guys were in Kosovo, one wife thought the German fix-it guy was attractive, prompting Oda Mae to let out a loud guffaw. Our radars get all goofed up after this long. When you start to think the German rent-a-cops who check our IDs at the gate look good, it's time for the end of the deployment.
So you'll forgive us wives if we squeal a little too much when someone suggests watching Tombstone. Or when we get together to watch American Dreams just for the young man in Vietnam. Or when our hearts stop at the name Sam Elliot. Every movie star looks handsome when your husband is gone. (And sometimes the SSG at the MP station does too.)
John Hawkins is right that something in our psyche can trigger attraction. I could look at Barry Pepper all day long because he reminds me of my 8th grade boyfriend who died in a car accident. My father looks like Christopher Reeve, my brother looks like Robert Redford, thus those two actors have always held a special place in my heart. I always tease Red 6 that he looks like Yul Brynner, which is very lucky for him. My husband doesn't look like an actor, though he does bear an uncanny resemblance to He-Man.
So what makes a man attractive? Allah was partly right that women work "within a framework", though my framework doesn't include height or hair color: dress any man as a cowboy and he doubles in hotness; dress him as a soldier and it triples. (See here: good, better, best) I'm not a sucker for a uniform -- the UPS guy doesn't do it for me -- but I am a complete sucker for cowboys and soldiers.
Hot. Hot. Hot. Hot. Hot. Hot. Hot. So very hot.
The company commander sent home a CD full of photos, including one that stopped my breath: my husband, with his pistol on his thigh and a cigar in his lips, squinting into the sun on a blistering, dirty day in July. Now that's hot.
(this post prompted by RightWingNews, on the debate between Michelle and Allah over Teri Polo's Playboy spread)
Posted by: Sarah at 05:25 AM | Comments (13) | Add Comment
Post contains 400 words, total size 3 kb.
January 18, 2005
ONE OF THOSE DAYS
Today was just one of those days. If it had been my first day on the job, people would've really questioned my abilities. For starters, it was the first day of classes, which means an 11-hour shift. So already I start out exhausted, knowing I'll be there until 1900. Around lunchtime, I had this military document in my hands, and sixty seconds later it was missing. I tore the office apart for five minutes and finally found it under my desk. And the day just got goofier after that. I kept forgetting what I was doing halfway through each task, and I kept asking students to repeat themselves. I introduced the English class as the biology class. I signed someone up for two classes on the same day. And, to top it all off, I left work and went the wrong way down a one-way street. As I was driving, I just shook my head, knowing how representative it was of my state of mind today.
I need a drink and a John Wayne movie.
Posted by: Sarah at 02:39 PM | Comments (2) | Add Comment
Post contains 183 words, total size 1 kb.
January 08, 2005
I WANT IT
We paid off our car yesterday, so now I feel like money is burning a hole in my pocket. All of a sudden I have an irresistible urge to buy
something I've wanted for three years
. What do you think, husband? It could be a Quitting My Job present, or an Almost Done With The Deployment present, or a 5th Anniversary present (coming up in February), or a Gosh You're The Best Wife In The World present. Right? I've almost convinced myself I deserve it.
Today I'm sick. I can barely put out the energy to sit here at the computer. And Oda Mae is a doll: she just brought me gatorade, ginger snaps, and Newsweek. What a gal.
Posted by: Sarah at 06:32 AM | Comments (10) | Add Comment
Post contains 125 words, total size 1 kb.
January 07, 2005
LETTERS
I'm having a weird moment of conflicting feelings: Monday is the last day I can send mail down to my husband in Iraq. Those of you who've been following me for the past year know that I write my husband as frequently as possible. I am about to send letter #180 on Monday -- which comes to roughly one letter every other day -- and then we'll be done. In a weird sense, I am sad to see the end of letter writing.
My husband always teases me that I talk too much when he's trying to go to sleep. I've never been able to stop my mind from spinning, so marriage was so exciting for me: I finally had someone to talk to death so I could try to fall asleep. I substituted letter writing for talking this year; I would write my letters right before bed to try to clear my head. What am I going to do for the next two months?
I can't believe this deadline is making me sad; the last day to send mail means they're coming home soon! But the feeling is bittersweet, because I've really enjoyed writing letters this year. I've enjoyed finding good articles and funny cartoons and romantic cards to send. I've enjoyed yammering on about dumb crap that happens at work or Matrix: Revolutions (Heh, look what I found: Did you know there are people who really believe in that stuff?) I've enjoyed making my husband get more mail than anyone in his platoon.
Red 6's fiancee leaves for Iraq next. I guess I'll have to concentrate my efforts on her now.
Posted by: Sarah at 08:40 AM | Comments (5) | Add Comment
Post contains 275 words, total size 2 kb.
January 05, 2005
JOB
I turned in my final application packet today, so I'm getting excited to move on to a new job. However, today has made me feel sad about leaving. During my shift today I had two different students heap praise on me for explaining our programs clearly, for helping with financial aid, and for making sure they completely understood the application process. One said that she had talked to another representative and had come away thoroughly confused; the other even wanted to know when I would be teaching next and asked if I would consider tutoring her if I couldn't be her English teacher. This is after knowing me for 20 minutes. I'm not trying to toot my own horn here, only to say that it makes me sad to leave these students. My teaching experience has taught me ways of explaining things so that everyone can understand, and it's also taught me to read faces and know when someone is lost. I'm also used to dealing with non-native speakers, so I always have success helping our Spanish-speaking students, even though I don't speak a word of Spanish. I want to make sure that every student leaves our office with a complete understanding of the education system and process overseas, and I'm glad when students notice that I work hard to make life easier for them. I will be sad to leave that aspect of the job.
Posted by: Sarah at 10:56 AM | No Comments | Add Comment
Post contains 238 words, total size 1 kb.
January 02, 2005
DUDE, WE HAVE GOT TO SEE THIS MOVIE
Off to the movies we shall go
where we learn everything that we know
cuz the movies teach us what our parents don't have time to say.
And this movie's gonna make my life complete
cuz Parker and Stone are sweet (super sweet).
Thank god
AAFES is bringing Team America
to this quiet little town!
Posted by: Sarah at 01:54 PM | Comments (3) | Add Comment
Post contains 71 words, total size 1 kb.
January 01, 2005
LOOKING BACK
I liked
Bryan Strawser's 2004 recap
so much that I decided to do one of my own. His will have nicer photos though.
Couples who survived OIF I have told me that timelines are hard to maintain after redeployment. They say it feels like they're missing a year of their life together, and that it's often confusing when they say things like, "Remember last year when we went to Spain?" when in fact it was two years ago. I wonder sometimes if when my husband gets home, 2004 will seem like a weird dream to both of us.
February brought OIF II and my husband's deployment to Iraq. On Valentine's Day, to be exact. We said our goodbyes and parted for 13 months.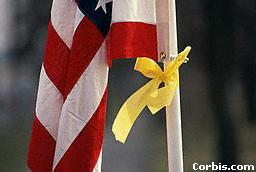 In March I began teaching ENGL101 at the college and have taught four sections of English this year. The experience has been extremely rewarding, and I'm sorry to see it come to an end. But I've decided that once my husband gets home, I no longer want to work nights and weekends; we've been apart enough already.
In April I started hanging out with two girls who have been a blessing during the deployment. (You two know who you are!) They started reading my blog and we found we have much in common, and I have learned a lot from their life experiences. I found that there were people right here in my own backyard who shared my interests in politics and the military, and they've been a crucial part of my deployment experience.
In August, our good friend LT A was wounded in Mosul. He has been in and out of the ICU for months, and he finally went home for good a few weeks ago. He's doing everything he can to stay in the Army and stay combat arms if he can. LT A's injury was my first brush with heartache during the deployment. It wouldn't be my last.
In September, my mother came to visit. We went to France, Italy, and Flossenburg. In France, my relatives asked what I wanted to do there. I said I wanted to see the American soldiers at St. Avold. They said, "Oh, do Americans work there?" To which I solemnly replied, "No, I'd like to see the soldiers who died for us." I wanted to see Joe and Tommy.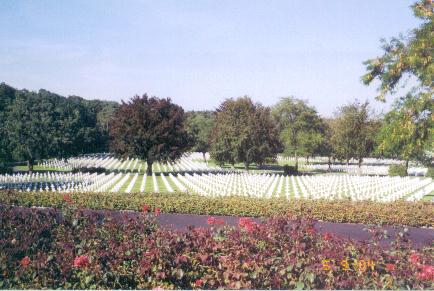 In September my heart broke when one of our students from the college died in Iraq. In November it broke again when my friend's husband was killed.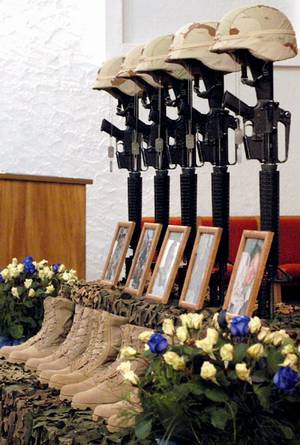 In November my husband came home for R&R. It was wonderful to have him home, and it felt great to have life back to normal for a while. We watched in joy as President Bush was re-elected and as Yassir Arafat kicked the bucket. What a month!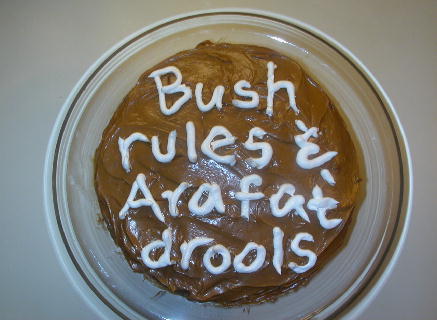 At the end of November, my co-worker picked a fight with me. A combination of my irritatingly low salary plus the fact that I had been reading Atlas Shrugged prompted me to quit my job as a college registrar. I took the rest of December off to use up my vacation days, and I go back to work on Monday and officially give my notice.

Looking forward, 2005 will bring many changes for us. I am applying to be an English teacher at the high school, so we'll see how that turns out. My husband's branch detail came through too, so he'll be switching jobs. For those of you who don't know the system, officers can sometimes be "loaned out" to other branches for their first two years of their commission. My husband's control branch was Armor, which is how he ended up as a tank platoon leader in Iraq. But his basic branch, the job he would be in if he decided to stay in the Army, is...(drumroll)...Finance Corps. That's right, my husband is one of the illustrious 30 commissions per year to become a finance officer. It turns out that the Finance Detachment here needs him, so after the deployment he will be switching branches. Big changes on the horizon for both of us.
If all goes according to plan, my husband should be returning from Iraq in the middle of March. That will conclude OIF II and the year of our life that didn't really exist. I'm anxious to move on to 2005.
Posted by: Sarah at 05:38 AM | Comments (4) | Add Comment
Post contains 725 words, total size 5 kb.
93kb generated in CPU 0.0207, elapsed 0.0973 seconds.
55 queries taking 0.0821 seconds, 241 records returned.
Powered by Minx 1.1.6c-pink.