May 29, 2006
MEMORIAL DAY
Today my family went to one of the oldest cemeteries in our city. There's a section called Soldier's Hill that is the resting place for veterans as far back as the War of 1812. It was humbling to be there today.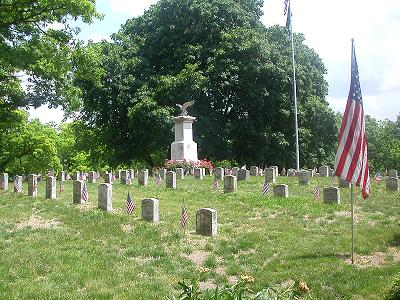 As we were driving towards the gates, my mother's eagle eye spotted a lone marker at the edge of the cemetery. Out of the thousands of gravestones in that cemetery, I was honored to have found this one...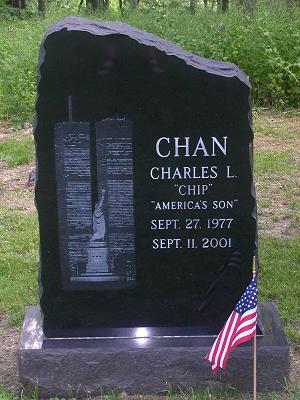 Chip Chan went to my high school. I barely knew him, but like everyone else I heard the news that he had been working for Cantor Fitzgerald in the WTC and was lost on September 11. I was so touched that we found his beautiful gravestone today.
We'll grill out tonight like everyone else does, but I'm glad we spent our Memorial Day the way it really should be spent.
Tomorrow morning we pile into the car and make our way across half of the country. By the time we finally get there, our brand new car will already have 3000 miles on it. But we're ready for the adventure...
Posted by: Sarah at 07:21 AM | Comments (5) | Add Comment
Post contains 193 words, total size 1 kb.
May 28, 2006
FINALLY
We saw X-Men today. Some of the dialogue was cheesy, but you know I'm a sucker for anything Marvel. Now I just can't wait for Superman...
Posted by: Sarah at 10:46 AM | No Comments | Add Comment
Post contains 28 words, total size 1 kb.
May 23, 2006
COACH
Tonight I went to see my old track coach. I graduated from high school ten years ago yesterday, so I wondered what it would be like to be hanging out with him at 28 instead of at 18. But he's still the same wonderful man I remember.
Actually, many at my high school would debate the "wonderful" part. He was rough, the Bobby Knight of high school girls track. He yelled, turned red, and kicked girls off the team. But he was fair too: if you gave track your all, he'd support you to the end. He ran our team a lot like the military, with a strict hierarchy, rigid uniform requirements, and a lot of yelling. That man put so much energy into track that he collapsed at last year's state meet. He's retired now and is just back helping for fun. He's a lot more relaxed now, but I wouldn't have traded what his previous intensity taught me. He taught me dedication and commitment to your team and to your goals. He taught me a lasting respect for my elders. And he taught me to push when I thought I didn't have anything left. And I love him for it.
While I was out on the field talking to my coach, my husband ran into my cousin; she had run track for another high school a few years behind me. She asked what on earth he was doing at a track meet, and he said that I was back visiting my old coach. My cousin was flabbergasted: "That man is a psycho!" Yes, he is, but he's my psycho.
Posted by: Sarah at 05:25 PM | No Comments | Add Comment
Post contains 273 words, total size 1 kb.
May 20, 2006
UPDATE
OK, so here's the deal. We got to my parents' house on Tuesday, only to find that their internet provider can't read mu.nu blogs. My mom has been telling me for months that she can't access my site, and I've been rolling my eyes and thinking that she just doesn't know how to use a computer. But it's actually true! I contacted Pixy Misa and he said that for whatever reason, Insight Broadband can't read anything mu.nu. So I can't post anything or read any of my comments. Needless to say, it's been frustrating. And I'm at my parents' for another ten days...
But right now we're in Des Moines visiting an old friend from college. He was my husband's friend first and mine by default, but he's a really great guy. He's Indian, and it's been interesting hearing the way the pending immigration bill affects his life. He's in the last stages of getting his green card, and if anyone deserves it, it's this guy. Last night my husband threw out some random joke about John Snow, and our buddy not only knew he was the Secretary of Treasury, but also knew who the previous one was! It's wonderful to watch my husband meet his match in global awareness. I wish these two could spend more time together.
Nothing else as exciting as cockfighting to report. I've been spending my time buying yarn and cookbooks. Both stashes have doubled since we arrived. Now I'm starting to panic because we have to fit everything in the car and we've wasted so much space buying warm clothes! Luckily the weather has turned in the Midwest (knock on wood) and we can at least venture into short sleeves.
Forgive me if I can't blog for a while. It's not that I'm holding back! Maybe if something good comes up I can have Erin post it for me again. I think I'll try to call Insight's tech support and see if I can get to the bottom of this mess.
Posted by: Sarah at 02:28 AM | Comments (4) | Add Comment
Post contains 339 words, total size 2 kb.
May 11, 2006
HOME SWEET HOME
Right before we left Germany, we ate at a new Chinese restaurant near post. The food was really good, but two entrees and drinks was $30. We just got to Kirksville and ate at our favorite all-you-can-eat buffet for ten bucks. Man, I love this country.
Our college looks pretty much the same. The students all look like they did before, except they're all talking on cell phones. Husband and I never owned a cell until we got married! But everyone here is gabbing up a storm while they walk through campus.
It's good to hear that the local ROTC program is going strong. We got to say hi to our favorite Major. And now we're off to see our old Iranian neighbors. It'll be interesting to hear what they think of old crazy pants.
Posted by: Sarah at 08:35 AM | Comments (2) | Add Comment
Post contains 141 words, total size 1 kb.
May 10, 2006
UPDATE
Last night we went to a very exciting KC Royals baseball game. They have a fabulous military deal: free admission for the soldier and three family members. We had great seats and a heck of a game.
We've been back to Walmart too.
My mother-in-law also told a good story. My husband and I were out yesterday and she ran out to the drugstore. She was chatting in line when she suddenly remembered that she hadn't put Charlie in his crate. She said out loud, "Oh no, I left Charlie in the backyard! He's only one, but he should be OK since I haven't been gone very long." The store manager almost called the cops until she realized that Charlie was a puppy and not a kid!
Tomorrow we're traveling to Kirksville for the day to visit our alma mater. It'll be interesting to see how it's changed.
And I'm dying to buy a cell phone. This ringtone thing is out of control. I've already got my sights on the Dallas theme song...
Posted by: Sarah at 03:33 AM | Comments (5) | Add Comment
Post contains 175 words, total size 1 kb.
May 04, 2006
HOME
We made it!
Our flight was long, but it was impossible to feel bummed when we knew we were on a one-way ticket! Even when our little headrest TV screens didn't work, nothing could get us down. I managed to knit most of a sock on the way back. At one point I thought the stewardess was going to reprimand me, and I was all set to pull out the FAA regs and then narc on the lady crocheting behind me, but then I realized all the stewardess had said was "Is that a sock or a glove?"
Within 24 hours of being on the ground, we bought a car. My husband had been doing months of research, and we knew exactly what we wanted. As long as it was close to what we imagined it would be, we knew we'd be happy. A test drive later, my husband was ready to talk business. And now we're the proud owners of a Mazda5.
I've adjusted my sleeping schedule fairly well, but my husband is still waking up at an ungodly hour. Light switches seem weird and I keep forgetting how to dial the phone. Charlie is having the time of his life chasing squirrels and birds in my in-laws' backyard. He barely missed us.
I'll try to write more soon. However, my in-laws only have dial-up, so I don't imagine I'll be online much for a while. And having more than eight TV channels is still too overwhelming for me at this point.
Life is good.
Posted by: Sarah at 08:28 AM | Comments (12) | Add Comment
Post contains 258 words, total size 1 kb.
60kb generated in CPU 0.0157, elapsed 0.0913 seconds.
51 queries taking 0.08 seconds, 208 records returned.
Powered by Minx 1.1.6c-pink.