March 31, 2010
MYLICON
P.S. I must be doing something wrong, because we've been using Mylicon and gripe water, and it doesn't seem to help. Or her gas would be phenomenally worse without the two products...
Posted by: Sarah at 07:31 AM | Comments (13) | Add Comment
Post contains 33 words, total size 1 kb.
March 18, 2010
MIA
Quick, before she wakes up from her nap!
I haven't read a news site, watched a news program, or followed any current event at all this whole month. A few days ago, I asked my husband, "Is Corey Haim dead or something?"
I want to get back to my hobby, but it's just so low on the totem pole. But I do need to get back to at least reading the news.
And maybe once I know what's going on, I might have something to say here. In between feedings.
Posted by: Sarah at 11:06 AM | Comments (8) | Add Comment
Post contains 91 words, total size 1 kb.
March 06, 2010
FINDING MY FLOW
I'm still going to finish that blog post that got lost -- I started rewriting it and got sidetracked nine hours ago -- but I just wanted to let you all know that I am doing much better tonight. My fantastic husband took the baby all afternoon and let me take a long nap and do my sitz bath. The two of them drank beer and watched The Godfather all afternoon, which is so adorable. He knew I needed a break, and didn't even ask; he just disappeared with her and let me be alone for a while. I appreciate it so much.
I am feeling much better and ready to face another sleepless night.
And as requested...a photo with cute feet.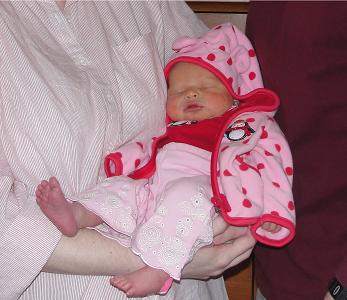 Posted by: Sarah at 10:49 PM | Comments (13) | Add Comment
Post contains 125 words, total size 1 kb.
March 05, 2010
EXHAUSTED
I don't mind sharing the baby's name with people, but I just don't want to post it publicly. If you want to know, shoot me an email at tryingtogrok at hotmail and I will let you know.
When I find time. Which has proven to be phenomenally hard so far. I haven't even found the time in two whole days to take a sitz bath -- something I desperately want to do -- because I feel like I am constantly starting or ending a feeding. I haven't taken a single nap. And most days I forget to take my medicines too.
This is chaos. I am still figuring it out.
Has anything happened in the world? Baby watched O'Reilly with my mom last night, so she's more up to date on current events than I am at this point.
Posted by: Sarah at 01:29 PM | Comments (7) | Add Comment
Post contains 140 words, total size 1 kb.
68kb generated in CPU 0.0603, elapsed 0.1153 seconds.
50 queries taking 0.0883 seconds, 215 records returned.
Powered by Minx 1.1.6c-pink.