January 31, 2007
MY JOBS
I haven't written about my jobs yet because there hasn't been much to say yet. My first job is that I will be the new installation ambassador for
Military.com
. Basically, it will be my job to promote the website and their services in this area. Since my job boils down to getting more eyeballs on their website, maybe you could take a minute to check it out? Maybe read some
opinions
or watch some
Shock and Awe videos
or read
SpouseBUZZ
? And if you're a veteran or a spouse looking for a job, they have a
great employment tool
.
My second job starts this weekend, and I haven't said anything yet because I thought if I said it out loud, I would jinx it. I am going to start teaching the knitting classes at our local Michael's. A knitting job...how can it get any better? And part of my job description is that I have to promote the class by knitting in the Michael's and answering customer questions. So I get paid to go sit in Michael's and knit. I've been in a perpetual Michael Moore "Was it all just a dream?" fog about this job. I can't wait to get started.
So, life is pretty sweet right now. Except for the dead fish.
Posted by: Sarah at 05:00 AM | Comments (5) | Add Comment
Post contains 218 words, total size 1 kb.
FISH UPDATE
One more fish down, the remaining two are hovering near the surface and covered in a mold-like fuzz. Don't expect them to last long. Sigh.
Posted by: Sarah at 03:48 AM | Comments (2) | Add Comment
Post contains 29 words, total size 1 kb.
January 29, 2007
IS IT TOMORROW YET?
We set up an aquarium when we lived in Missouri, and we loved watching our fish. We skipped the aquarium in Germany because I don't know what I would've done if the fish had lived longer than our stay there. And now that we're staying put for a while, we started the aquarium up again. We bought nine tropical fish, three of each type of tetra, and named them 1st, 2nd, and 3rd squad of our "tank" platoon (hardy har). And we loved them dearly...for eight days.
Yesterday, our tank turned into Lord of the Flies.
It started as a silly joke: "Man down in 2nd squad! Medic!" But the joke stopped being funny when the fish wouldn't stop dying. We lost six of them in 24 hours, including one who died during the night and was reduced to a pulpy spine by morning. Today, the fish who had been so happily schooling together for a week were all spread out around the tank, eyeing each other warily.
I went back to the store with all the corpses to ask which circle of hell my aquarium had morphed into. The girl told me that we had way too many fish in the aquarium, which sucks because it's the exact opposite information that a different girl told me when we came in to pick them out. I will go back tomorrow with a water sample to test it out, and if all checks out, I will buy two more fish. Five instead of nine. No more squads, but I guess that's OK.
Oh, and I bought the fish on my credit card, so I had a great sob story for the checkout girl: Not only did five of my fish die, but I bought them on a credit card that's now been cancelled for fraud. And how has your day been?
Posted by: Sarah at 09:38 AM | Comments (2) | Add Comment
Post contains 318 words, total size 2 kb.
January 27, 2007
NEW COAT
Charlie got his hair cut on Thursday, and man, did he get it cut short! He's been walking around the house shivering for two days. I spent all day Friday looking for a doggy coat for him, but the only ones I could find were ones my husband would kill me for putting on the dog. So I found this website with a
Free Resizable Pet Clothing Pattern
. I gave it a shot, and for $5 Charlie now has a handsome reversible coat to keep him warm.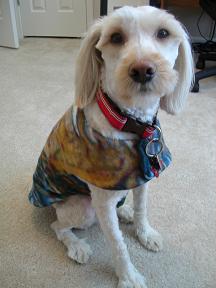 I'm pretty danged proud of myself. And Charlie's only tried to tear it off once.
Posted by: Sarah at 04:38 AM | Comments (2) | Add Comment
Post contains 106 words, total size 1 kb.
January 25, 2007
ARE PLANS REALLY SO STRANGE?
I went to the doctor on Wednesday to ask some questions about prenatal care. I figure if we're going to do this, we need all the info before we dive in. The doctor was incredibly sweet and very encouraging, but she seemed almost surprised that I would bother asking her these questions. She said something like, "So, that's neat that you're planning everything in advance."
I realize that I'm overly anal, but is it really that shocking in 2007 that someone would plan for a baby?
I've been reading What to Expect When You're Expecting. (Remember when I bought it and had to sheepishly explain to the pregnant salesgirl that I wasn't pregnant or even thinking of being pregnant yet?) I was shocked to open the book and find the first chapter was "Are You Pregnant?" Huh? Chapter 21 is called "Preparing for the Next Baby" and starts out with:
In the best of all possible worlds, we would be able to plan life to our precise specifications. In the real world, where most of us live, the best-laid plans often give way to the unexpected twists and turns of fate over which we have precious little control, leaving us to accept, and to make the best of, what comes our way.
To assure the best of all possible pregnancies, we would know in advance when we will be conceiving -- and before we did we'd make all the changes and adjustments in our lifestyle necessary to help ensure the best possible outcome. But such advance planning is a luxury many women -- because of menstrual irregularity and/or the fallibility of contraception (or that of a couple winging it) -- may never be able to indulge in.
If I'm going to do this, I'm going to do it right and "assure the best of all possible pregnancies." I accept the fact that I might not get pregnant the instant I start trying, but I do not accept the fact that I would get pregnant earlier than expected. My husband and I have gone above and beyond to be sure there have never been any oopsies; is that really that strange?
This is the single most important thing I will ever do with my life. Doesn't it make sense to plan for it?
I guess I've just been surprised that a very modern and updated book -- one that even makes sure to include a section about the effects of doing cocaine before you know you've conceived -- assumes that people still don't know where babies come from or how to prevent them. The book that repeatedly makes assurances that you can still get pregnant despite multiple abortions for some reason also assumes that women don't know anything about their own bodies. You have the right to choose, obviously, because it's your body, but heaven forbid you learn enough about your body to prevent all those danged abortions in the first place. Planning for a pregnancy? That's absurd. We'll shove it into chapter 21. But let's make sure to address previous abortions on page 21.
How out of whack are our priorities...
Posted by: Sarah at 04:48 AM | Comments (7) | Add Comment
Post contains 531 words, total size 3 kb.
January 16, 2007
SEEKING ADVICE
"The time has come," my mother said,
"To talk of many things:
Of shoes--and ships--and sealing-wax--
Of cabbages--and kings--
And how you need to get pregnant this year while your husband is in a non-deployable state instead of waiting until this arbitrary date in the future that you picked out years ago which you know darn well coincides with when he will start galavanting all over creation."
I'm scared to death of raising a child. I know it's something I want to do, but I wanted to keep it in the vague future. Someday I would be a mother. But someday is upon us, and my mother is right: I need to start thinking about specifics if we're really going to have a family.
I called a friend of mine from Germany, the least-likely mommy I know. This is the couple who hated being around children and always said there's no way they were up for parenthood. So when they decided to get pregnant, I wasn't sure how they'd fare. They PCSed, so I never saw her pregnant or anything. I knew that she was the one to ask the tough questions about babies, instead of constantly talking to Angie (pbuh), who would come raise my babies for me if I'd let her. I called her to ask her how motherhood is treating her and to get the Real Scoop on things.
She loves it.
I was shocked that this girl has taken to motherhood, and she said that knowing what she knows now, she wouldn't have waited so long; she would've done it years ago. I was just floored. So I figure if they can love it -- the least gung-ho parents I know -- then I can love it too.
Nothing's happening today, dear readers, but inshallah we'll be on the road to parenthood by the end of the year.
My friend called me back today and gave me some tips on things she wished someone had told her. She mentioned back-strengthening exercises, something I never would've thought of on my own. And it made me think that others might have some good advice for me as we start this journey.
So what advice do you have for someone who is thinking of getting pregnant?
Posted by: Sarah at 05:36 AM | Comments (29) | Add Comment
Post contains 381 words, total size 2 kb.
LETTING GO
I don't do spontaneous. Everything in my life must be planned out and written on the calendar or it's not going to happen. Saturday night we got a phone call from a college friend saying that he had planned to fly to Virginia and surprise us by renting a car and driving down, but that his flight out of the Midwest had been seriously delayed and could we possibly drive up to see him instead? We had absolutely no reason not to go, but making plans the night before to take a trip to another state is
so
not something we do.
We did it. And it was wonderful.
We stayed in a historical hotel that one of our other friends from college runs. He comped us a majorly expensive room and let the dog come too. I had no idea I had friends in high places.
Immigrant friends.
As I watched these two buddies of ours, I was so danged proud of them. They both had come to the US ten years ago with nothing, just the Indian dream of making it big in computer science. And now they're our two most successful friends. I have a hard time feeling sorry for Generation Broke when I think of all these guys have had to overcome. And their visas are always in limbo because they come from a country with too many qualified immigrants. So unfair.
We watched the football, and the 24, and then talked for hours about Kashmir and Iraq. Thank heavens we didn't let our organization obsession get in the way of the most wonderful weekend we've had in a long time.
Posted by: Sarah at 03:07 AM | No Comments | Add Comment
Post contains 279 words, total size 1 kb.
January 11, 2007
PUPDATE
I can't really think of any great recent Charlie stories, but we've been setting up the aquarium and he's been extremely interested in the equipment. Maybe there's a lingering fish smell, but he's constantly making off with the net. And the other day I was on the phone with my mom and walked into the living room to find the fishtank rocks completely covering the floor. No sign of them coming out the other end yet, thank goodness. I told my mom what had happened and she said, "I hope you keep a closer eye on your babies than you do on that dog." With my luck, this crafty stinker will figure out a way to
teach
my babies to eat rocks.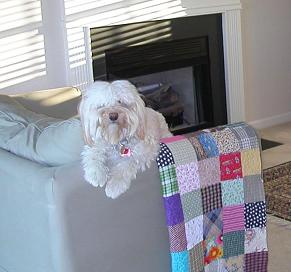 Posted by: Sarah at 03:17 AM | Comments (2) | Add Comment
Post contains 124 words, total size 1 kb.
January 10, 2007
HAPPY
A while back, AWTM was asking for contributions to the
most depressing songs
. I suggested Harry Chapin's "Mr. Tanner" and Jude's "I Do." But tonight as I was dancing around the kitchen with the dog to some Tom Jones, I wondered about the flipside to that question. What songs bring a smile to your face no matter what? I mentioned before that I can't but grin when I hear Elvis' "Burning Love" or that detestably cheerful "Mmmbop." I also can't help but feel happy when I hear The Proclaimers' "I'm Gonna Be." (Go ahead, you know you want to
listen to it
.) I love it so much that we played it to close out our wedding, as we kissed and walked back down the aisle. We thought it was a tribute to all the miles we lived apart while we were dating; little did we know how often we'd live apart for the rest of our lives. I love that song, it's a true love song.
So what songs make you happy?
Posted by: Sarah at 12:57 PM | Comments (9) | Add Comment
Post contains 174 words, total size 1 kb.
103kb generated in CPU 0.0198, elapsed 0.0857 seconds.
54 queries taking 0.0709 seconds, 242 records returned.
Powered by Minx 1.1.6c-pink.