April 29, 2006
WORN OUT
Note to those who are moving: When they say that your unaccompanied baggage will be picked up any time between 0700 and 2100, they ain't lyin'. Nothing like giving you a 14 hour time window to sit in an empty house. Our guys showed up at 1800.
Second note to those who are moving: The vehicle registration office closes at noon the last business day of the month for inventory. That info would've been nice to know when we set up our car shipping appointment for the last business day of the month. They're also closed on German holidays (Monday's Communism Day, I mean May Day), so if we hadn't raced to get there at 1120, we would've been out of luck for clearing.
Third note to those who are moving: Don't get a billeting room with a kitchen when you're outprocessing. Your TLA is double! Woo-hoo. That will offset the money my husband had to shell out to CIF.
Thank goodness this week is over.
Posted by: Sarah at 11:35 AM | Comments (3) | Add Comment
Post contains 170 words, total size 1 kb.
April 26, 2006
DONE
Well, the house is packed. The movers said they had never spent four hours packing a kitchen before. I guess fourteen boxes of dishes and kitchen stuff
is
a bit much. Our household goods are mostly dishes, yarn, and books.
I noticed one thing today. You'd think that people who design military housing would make it conducive to moving. Since people are always moving in and out, maybe twisty staircases and right angles in the hallways are not a good idea. I watched the movers bang my stuff a million times while they were trying to maneuver out the front door and down the huge step. These houses should have ramps!
Posted by: Sarah at 11:59 AM | Comments (9) | Add Comment
Post contains 113 words, total size 1 kb.
April 24, 2006
AFN RULES
Charlie Puppy made it off OK this morning. I think. He was crying up a storm when we had to leave him, but I think he was only crying slightly harder than I was. He still has another 11 hours until he gets to the Midwest.
We're getting ready to take apart the computer. It goes in unaccompanied baggage, along with ma games and trophies. (There's a little AFN humor for ya.) We're staying with Erin for two nights, so I might find the time to hop online at some point before we go.
Now I'm off to organize our school clothes, and maybe a winter coat.
Posted by: Sarah at 10:52 AM | Comments (8) | Add Comment
Post contains 111 words, total size 1 kb.
April 22, 2006
CUTE
Charlie just loves that big bear that his friend Lewis gave him. He drags it around everywhere with him, apparently even when he has to pee. Just a minute ago I heard my husband downstairs say, "Charlie, you cannot take that thing outside."
Tomorrow starts the big moving process. We take Charlie to the airport at the crack of dawn on Monday. Our phone and internet gets shut off on Tuesday, which is when the movers come, so I will probably be out of the blogging loop for a while.
Only nine more days until Dairy Queen.
Posted by: Sarah at 04:58 PM | Comments (9) | Add Comment
Post contains 99 words, total size 1 kb.
April 19, 2006
HAPPY BIRTHDAY, CHARLIE!
Yesterday was Charlie's first birthday. He invited six of his closest friends over to the house. They had Beef Bacon Cheddar cake and Charlie got lots of toys and treats as gifts. And all his friends went home with party favors as well.
The party went much better than you might expect for inviting multiple dogs into your home. We videotaped the event, and this was the one screen shot where we could get all seven dogs in the picture. So here's Charlie being the center of attention...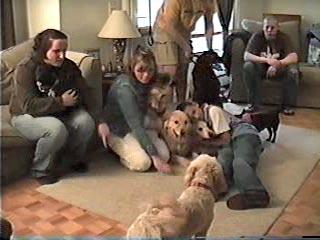 And here's Charlie, worn out at the end of the night, playing with his new birthday bear...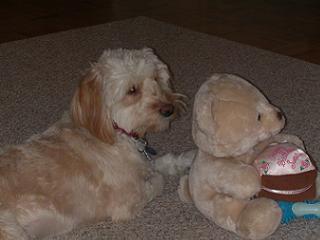 Posted by: Sarah at 02:36 AM | Comments (4) | Add Comment
Post contains 111 words, total size 1 kb.
April 18, 2006
DANG
Charlie likes to sit on our bed and look out the window. Here's an old pre-haircut photo of him doing it.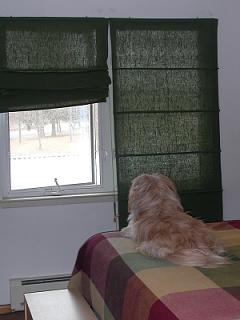 Two minutes ago he was sitting on our bed like this and caught sight of our neighbor going out to her car. He barked once and then leapt towards the window, crashing into the glass, nearly impaling himself on the window handle, and falling to the ground.
Sometimes I think he's brilliant, and other days I'm not so sure.
Posted by: Sarah at 05:31 AM | Comments (2) | Add Comment
Post contains 82 words, total size 1 kb.
April 16, 2006
BAH HUMBUG FOR EASTER
Erin asked me if I was going to write a post about Easter today. My day started out great, with the last Sunday Knitting Club at my house. But it was all downhill from there. My husband needs a military vehicle early tomorrow morning, and we spent over two hours driving all over Bavaria trying to find the soldier who has the TMP keys in his pocket. At that point we were both already quite grumpy, so after dinner we sat down to watch a movie and relax. Of course it didn't help our mood when the disk started skipping and we had to restart the DVD player five times. And then Charlie nipped my husband's hand while they were playing and got him pretty hard on the finger, and I cut my hand on the medicine cabinet and started bleeding myself. We gave up and came upstairs to go to bed and forget about today.
But Happy Easter anyway.
Posted by: Sarah at 03:06 PM | Comments (3) | Add Comment
Post contains 168 words, total size 1 kb.
April 06, 2006
BOOKS
Found this on a knit blog and immediately wanted to do it.
Name 5 of your favorite books:
Alas Babylon
The Cornish Trilogy
Lolita
The Power of One
Contact
What was the last book you bought?:
The First Three Minutes
What were the last 3 books you read?:
War of the Worlds
Just a Couple of Days
Gates of Fire
List 5 books that have been particularly meaningful to you:
Zen and the Art of Motorcycle Maintenance
Atlas Shrugged
To Kill a Mockingbird
Stranger in a Strange Land
Skinny Legs and All
Name 3 books you've been dying to read but just haven't gotten around to:
Taking Science to the Moon
Up From Slavery
The Soul of Battle
My husband and I did some final unpacking from Iraq last weekend. His tattered, dirty, torn copy of Atlas Shrugged fell out. I had promised it to Erin since Amritas gifted me a nice new copy, but when I saw it and thought of how it had kept my husband company for so many hours out at that stupid bridge over the Tigris, well, I just couldn't part with it. I'm buying Erin her own copy.
Posted by: Sarah at 10:45 AM | Comments (14) | Add Comment
Post contains 196 words, total size 1 kb.
QUILT
When my husband left for Iraq, I started a patchwork quilt. That was two years ago. Sewing it all together was fun and easy, but as soon as it came time to actually quilt it, I thought it was too hard. The quilt sat on a shelf for over a year, but I knew I had to finish it before we moved. I finally finished this week; it really wasn't as hard as I thought, though of course there are all sorts of mistakes that I just whatevered and kept going. I tried to take a photo of the finished product today. Naturally, everything in this house belongs to Charlie, so he grabbed it and ran down the hall with it.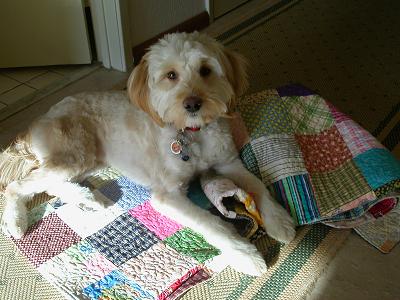 Charlie has chewed on some valuable stuff in his lifetime, but this might take the cake. Unless you count the envelope of $300 I wrestled away from him on Monday.
Posted by: Sarah at 03:19 AM | Comments (4) | Add Comment
Post contains 153 words, total size 1 kb.
76kb generated in CPU 0.0222, elapsed 0.0854 seconds.
55 queries taking 0.0707 seconds, 240 records returned.
Powered by Minx 1.1.6c-pink.