November 29, 2005
PUPDATE
We've got a problem: Charlie loves snow. So much that I can't get him out of it. And he's become a huge faker, ringing the bell that he has to go to the bathroom just so he can go outside and play. Ugh. I think I took him outside six times already today! He likes to burrow in the snow, flip it up in the air with his nose, and then eat it.
What a weirdo.
Posted by: Sarah at 12:25 PM | Comments (6) | Add Comment
Post contains 78 words, total size 1 kb.
November 27, 2005
PUPDATE
Several people have asked about Charlie's Thanksgiving. We're not much for giving him table scraps, but he did hang out in the kitchen most of the day while we were preparing the food, scrounging what fell on the floor -- a bit of ham here, a crumb of bread there. But when we all sat down at the table, we heard an ominous noise from the living room. The husband remembered that our platter of summer sausage and cheese was still on the coffee table. I raced in to find Charlie wolfing down as much as he could before we caught him.
About an hour later, Kelly's son came in the kitchen and whispered, "Um, Charlie threw up." We all had a good laugh at the pile on the dining room floor: three un-chewed pieces of cheese and two un-chewed slices of sausage. No time for chewing when you have to eat as much as you can before someone finds you, right?
Because we had a full house, Charlie didn't get any naps that day. When everyone left after dinner, he crashed for the night. I think he had a pretty exciting Thanksgiving.
Posted by: Sarah at 04:01 AM | Comments (1) | Add Comment
Post contains 195 words, total size 1 kb.
November 24, 2005
STUFFED
We cooked for six hours, and our knees and feet are killing us. And so are our stomachs! But it was worth every minute...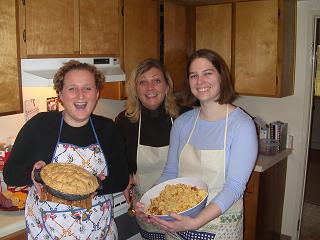 I like what Lileks said about Thanksgiving:
ItÂ's a day that stands aside from the rest, a day on which the simplest and most essential things are revealed as gifts of indescribable worth. And then thereÂ's pie.
Posted by: Sarah at 03:19 PM | Comments (5) | Add Comment
Post contains 63 words, total size 1 kb.
November 23, 2005
CONFLICTING EMOTIONS
Yesterday I wrote a post that I wanted to put up right before Thanksgiving; today it seems absurd to post something so uplifting when I feel so hopeless. Two horrible things happened today to shake my faith in humanity. Sometimes I hate human beings so much, and I fear I'll never be able to grok what makes people do the things they do. I'd never make a good pacifist: some people deserve extinction.
Nothing like heading into Thanksgiving in despair...
But I wrote this cheery post, and I want to still use it. I want to remember that though there are awful, evil people in this world, some people make up for it. And if anyone can make up for it, it's these two.
**********************************************************
Two years ago, I was very frustrated that I was losing all my college friends because of my blog. I went through a very rough patch where numerous friends emailed and said they didn't like me anymore because of my views. When my grandmother died, I learned a hard lesson:
I wish I had friends that I could talk to about how I feel about the world. I have my husband and my mother, and that is basically it...and my mother lives an ocean away and my husband will be gone for a year. We're new to our post here in Germany so I don't have any strong relationships yet, and despite my efforts, I don't hear from my old friends that often. When my grandmother died, I called my mom's best friend to talk about it, and I realized how pathetic I am that I don't have anyone I can count on anymore. And the few relationships I've been trying to hang on to really disappointed me this past week.
But I've been thinking about something lately, something that always makes me smile and know that now, two years later, I do have friends who care.
I met Erin in recycling class here. (Seriously, it's so intense we have to attend a class.) She and I were the only ones who showed up that day, and she gave me a ride home afterwards. We didn't really become friends so much as we became two people who really enjoyed running into each other on accident. When she started working at the commissary, I always was excited to go grocery shopping because I knew I could get in Erin's lane and talk to her for at least a couple of minutes.
I went to the commissary the day after my grandmother died, and when Erin asked how I was doing, for some reason I opened up and told her instead of just saying that I was fine. Erin looked at me and tears started welling up in her eyes. She said how sorry she was and how bad she felt for me. It was so touching because she was just someone I ran into in the grocery line, while friends I'd known for years had failed me. I knew that day that there was something special about Erin.
When the deployment started, Erin got a new and much better job working with a girl named Kelly. Kelly had the morning shift and Erin the afternoon, so when I got off work I would always pop next door for the last half hour of Erin's shift. One evening I stopped by to show off my newly knitted sweater, and it was Kelly in the office instead of Erin. I remember her being friendly but shy, and later Erin told me that Kelly had been so nervous to meet me that she didn't even say anything about the beautiful sweater I was wearing! Hilarious, since that was the reason I was looking for Erin in the first place.
During the deployment, I spent a lot of time popping in and out of their work. I taught them to knit and they taught me to quilt, though they've been much more prolific at their new craft than I have. I shared Thanksgiving with Kelly and Christmas with Erin, which was so generous because Erin's husband came home for R&R on Christmas morning: they opened their home to me on the day of their reunion.
The most exciting day was early in our budding friendship when Erin casually said something like, "I don't know what your views are, but I support the President and the War on Terror." You could hear my heart jumping out of my chest. We began to talk politics, longwindedly and often, and I learned that Erin and Kelly are basically South Park Republicans like me. Kelly and I bought Erin a W t-shirt for her birthday, and I've shared many a Larry Elder and Dinesh D'Souza book with them. Finally I had friends in my life, right here in the flesh and not just in cyber-land, who shared my worldview. And so I opened myself up and shared my blog address with them.
When Bunker died, I went right to Kelly's house. When I read an article that makes me so mad I could spit, I call Erin. Any time my heart hurts, any time I feel happy or sad, any time the dog does something to make me want to strangle him, I call their office. They trade shifts often, but most of the time I don't even care which one of them answers the phone, as long as Erin or Kelly is there to listen to me.
This Thanksgiving, I'm so grateful for my two best friends. I'm grateful that I met Erin, the wonderful girl who cried until Kelly and I let her take home a wounded stray dog, only to find that she's now mothering four unexpected puppies. I'm grateful that Erin introduced me to Kelly, a mother whose heart is so big that she's offered to adopt a relative's children in their time of need. Both of them are such bigger people than I am, and every day I thank heavens that I met them and wonder how on earth I'm going to part from them next year. But for today, I'm simply happy that all three of our families will sit down at the table together and share a fabulous Thanksgiving meal. (And it will be fabulous. We're making everything from scratch, and we even bought matching aprons for the occasion!)
Thank you, Erin and Kelly, for showing me that it is possible to have friends I can completely be myself around, even if Erin does make fun of my Richard Simmons exercise regime.
Posted by: Sarah at 04:18 PM | Comments (9) | Add Comment
Post contains 1099 words, total size 6 kb.
November 22, 2005
ANNIVERSARY
A couple weeks ago I made a note to send my parents an anniversary card. Then I did the mental math and realized that this was their 30th. Yikes, I had to do better than a card! Anyway, I hope you two like what we sent. Congrats on making it to 30, especially in this day and age. I love you...
Posted by: Sarah at 11:29 AM | Comments (1) | Add Comment
Post contains 63 words, total size 1 kb.
November 21, 2005
PUPDATE
Today Charlie experienced his first snow. At first, he wouldn't even leave the sidewalk, but once I stepped into the snow and he saw that it would clump up and he could
eat
it...well, it was on. He was having the greatest time, which was cute, but unfortunately it made forcing him to go to the bathroom nearly impossible. He had a blast romping around, and he's awful cute with a pile of snow on his nose.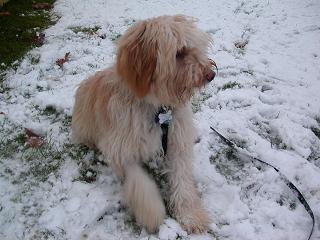 I know I rag on Charlie a lot, but he's been getting much better. This past week has been surprisingly uneventful: he didn't eat anything he wasn't supposed to, save one more knitting needle (I'm just going to have to start putting my projects away while I'm not working on them.) He's been sleeping ten to eleven hours at night, and he no longer fusses in the morning to get out of his crate. He's also getting more attached to us and wants to follow us around the house rather than sneak off and chew on stuff. He keeps improving every day.
Posted by: Sarah at 05:27 AM | No Comments | Add Comment
Post contains 181 words, total size 1 kb.
November 16, 2005
FAREWELL, RED6
Yesterday we said good-bye to
Red6
. Today he moved on to his next duty station, where he will try to get back to Iraq as fast as he can. His wife deploys next week, and he's hoping to end up with her downrange. I'm so glad that he gets to finally be with his wife, but I'm terribly sad to see him go.
I still remember the first time I met him. My husband came home one night at OBC and asked if he could invite someone over to dinner. Since my husband does not make friends lightly, I knew this guy must be someone special. As they sat and cracked up together over The Simpsons, I knew they were going to be friends.
We moved here to Germany while Red6 was still at Ranger school. Once my husband realized that this duty station was pretty good for a 12A, he called Red6 and suggested he try to get switched to come here. A day later it was done, and Red6 was on his way. He showed up while the unit was at gunnery, so I helped him get settled while the husband was in the field.
My husband's company had a strange mission in Iraq, so for the first six months of his deployment, he didn't even have a "home base": they bounced from FOB to FOB to Najaf and back. But Red6 was stationary, and since he had an internet connection in his room, he really helped me through the deployment while my husband was out of communication. We'd chat about TV and tell our spouses' embarrassing college stories and other silly nonsense. We'd try to work as many Futurama references into our conversations as possible. He was a lifesaver for me when I had no way of hearing from my husband, and I am so grateful that he was such a good friend to me.
I'm really going to miss listening to my husband and Red6 talk shop at the dinner table. Most people might find that really boring, but that's how I've learned most of my information about the Army and deployment: I loved being a fly on the wall while they talked about things that either pumped them up or burned them up. The two of them seemed to agree on most things -- the good and bad about the Army and armor and Iraq -- and they just got along so well. We're really going to miss him.
I know we're going to keep in touch, but I hope we run into each other again someday. I'm glad that he and his wife are finally together again, and I hope they kick butt together in Iraq.
So long, Red6.

I have to say goodbye now. There ain't no turtles where daddy's a-going...
Posted by: Sarah at 10:36 AM | Comments (1) | Add Comment
Post contains 472 words, total size 3 kb.
November 09, 2005
PUPDATE
Things Charlie has eaten recently:
a #2 pencil
a Simpsons calendar
another knitting needle, this one wooden
the cover letter to my life insurance policy (whew, only the first page)
the handle of his hairbrush
the handle of his rubbermaid toy box
a chapstick
four coasters
the cordless telephone
And as I was typing this, I realized he was eating a linguistics book.
If you look at a Tibetan terrier from the profile, you can clearly see that his back legs are much longer than his front; Charlie is built like a dune buggy. That gives them great jumping abilities, since their legs are like a kangaroo or a rabbit. I began to get nervous about Charlie's jumping when I first saw him jump from a standstill onto our bed (3 ft). Two weekends ago I was downstairs mopping and the husband was watching Charlie upstairs; he jumped over the baby gate at the top of the stairs to get to me. But last week he wowed us all when a 25 lb dog jumped onto our dining room table to get to Red 6's fries.
This dog will be the death of me.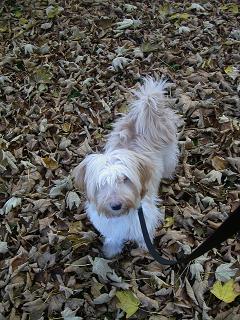 Posted by: Sarah at 09:47 AM | Comments (6) | Add Comment
Post contains 196 words, total size 1 kb.
November 08, 2005
STUPID DREAM
Andy Schliepsiek was in my dream last night. I was in a church and he was at the other end of the pew. We didn't speak, but he looked worried and sad. If he had looked happy or content, this might've been a good dream, but I can't shake the awful feeling I have about the look on his face.
I know I must've dreamed about him because my mom and I were just talking about the trial. Sentencing just came down: the airman who brutally stabbed to death a couple from my high school just got the death penalty.
Maybe Andy was sad in my mind because I can't shake the horror of what happened to him. They were nice to a guy who didn't have many friends, and he came into their home and killed them. The account of their death reads like a horror movie, only it's a sick scenario that could happen to anyone who crosses the wrong person.
I don't like the fact that he was worried in my dream. I'm glad the killer will fry. I even mentioned to my mom that it seems kind of a small blessing that Andy didn't survive after watching some madman repeatedly stab his wife; I'm not sure I could live with that in my mind. If someone murdered my husband, I'd rather go with him. All in all, the Andy in my head shouldn't be sad. So why was he?
I hate dreams.
Posted by: Sarah at 03:24 AM | Comments (2) | Add Comment
Post contains 250 words, total size 1 kb.
November 04, 2005
SLEEPY
I swear, if I have another night of insomnia, I'm starting a fight club...
Posted by: Sarah at 03:47 AM | Comments (2) | Add Comment
Post contains 16 words, total size 1 kb.
73kb generated in CPU 0.0181, elapsed 0.0809 seconds.
55 queries taking 0.0691 seconds, 219 records returned.
Powered by Minx 1.1.6c-pink.