May 21, 2005
OUR PUPPY
We went back to the dog breeder to make the final decision today. It was a long battle between these two challengers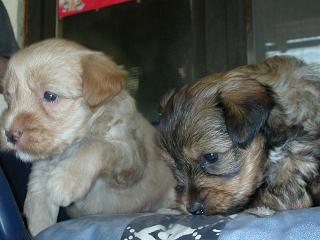 but in the end, one of them was just too timid. Both of them were a little skeptical when we first got there, but one trembled when we held him and cried when we set him down. The other seemed more laid back: he took some time, but eventually he tested out his legs and came over to lick my husband's arm and make friends. In the end, we had found our puppy.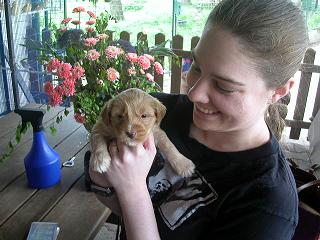 It's going to be a long month until we can bring him home! Now we just have to fix on a name...
Posted by: Sarah at 09:30 AM | Comments (8) | Add Comment
Post contains 121 words, total size 1 kb.
May 19, 2005
COLORS
Theresa's comment on the last post made me smile. I didn't care where we went on vacation, as long as we were together. It's funny because we came home from two and a half weeks at the beach without getting a tan! My husband and I aren't really beach people; we're definitely sunscreen people! This was the front yard of our hotel in Ft. Lauderdale...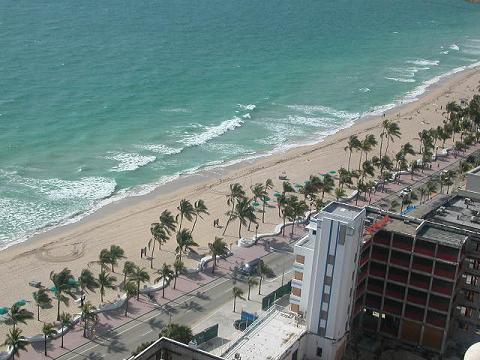 and we spent most of our time inside Arby's and the mall! The real vacation was just being in the US, getting to shop for clothes that we both needed and food that we both craved. On the cruise, we sometimes felt guilty about just hanging out in our room, but Theresa points out another military family perspective: all time spent together is time well spent. And we participated in plenty of cruise activities; we even won trophies for winning four of the six trivia contests.
To me, the highlight of the trip was the colors. I saw colors I had never seen before, shades of blue and green that photos can't really capture. The world was so bright we could barely keep our eyes open for the photos. The world looks a whole lot brighter here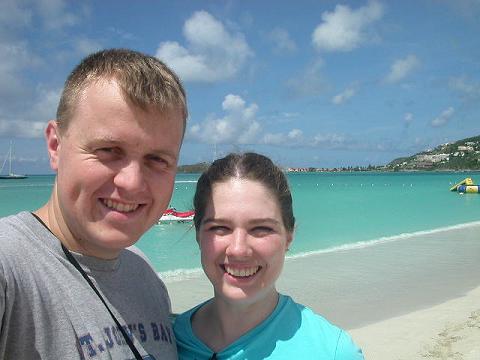 than it did here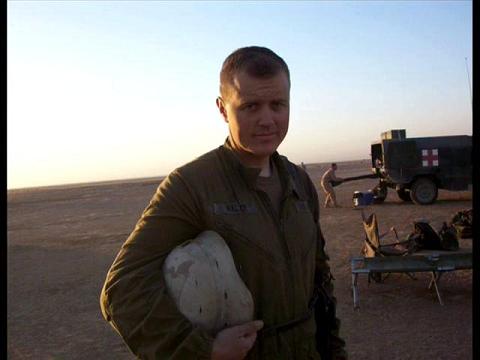 That's what this vacation was all about.
Posted by: Sarah at 03:29 AM | Comments (2) | Add Comment
Post contains 215 words, total size 2 kb.
May 04, 2005
AWESOME
We're having the time of our lives here, eating and shopping to our hearts' content. (And looking at alligators!) I can barely button my pants from all the cheeseburgers and milkshakes I've been having! The USA is a blast...
(And I just saw the heaps of spam I got delivered. Will fix when we return home.)
Posted by: Sarah at 06:09 PM | Comments (5) | Add Comment
Post contains 58 words, total size 1 kb.
48kb generated in CPU 0.0232, elapsed 0.1091 seconds.
49 queries taking 0.0968 seconds, 187 records returned.
Powered by Minx 1.1.6c-pink.