June 16, 2007
NOT A TEEN
Those of you who've met me in real life met me in situations where I was Trying To Look Grown-Up, like at conferences and stuff. Even then I generally feel like a kid at the big table, but at least I try. On normal days, I don't do much for myself. I usually have comfortable basic clothes on and spend most of my time in a ponytail. Sometimes I look with envy at really put-together women, but never enough to put effort into my own appearance for just going to the store or around town.
Today at the library I was looking with interest at a display for a teen crafts class. The girl librarian, who must've been around my age, saw me looking and told me I should sign up. I said I'd love to but that it says it's for teens. "Oh, well, how old are you?" she asked, in a way that suggested she'd fudge a little for me if I was 20. "Um, like 30," I said.
Think I need to update my look?
This story killed my husband. He mused that the target age group when the library organizes something for "teens" is like 13-16. He said, "You look young, but no offense, you clearly don't look half your age."
At least I don't look as young as my Swedish friend, who got offered a coloring book on an airplane when she was 20.
Posted by: Sarah at 10:47 AM | Comments (4) | Add Comment
Post contains 245 words, total size 1 kb.
June 15, 2007
TWO YEARS
Today is actually another anniversary for our little family. Two years ago we brought a little Tibetan terrier home with us.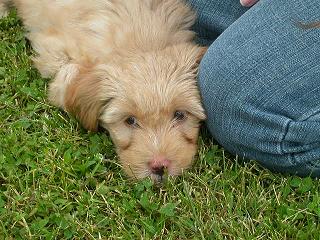 Happy Pupversary, Charlie.
Posted by: Sarah at 08:11 AM | Comments (5) | Add Comment
Post contains 28 words, total size 1 kb.
FIVE YEARS
Five years ago today, I was trying not to barf. I was so nervous that morning, for no good reason at all. People were a tad concerned that I was having cold feet, but I told my husband on the phone that no matter how sick and nervous I looked, it had nothing to do with doubts about marrying him. Once I headed down that aisle, I was fine, and I was even better when it was over.
Greatest thing I ever did.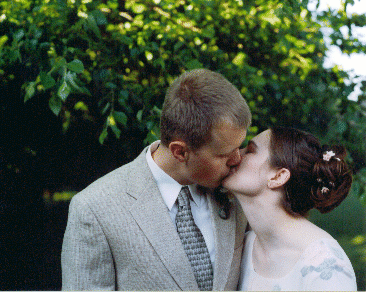 We had such high hopes to return to D.C. today and relive our honeymoon. But as we waited to see how much homework he'd have this weekend, we ran into snags for a dogsitter. The trip back to D.C. will have to wait a little bit. I was quite disappointed at first, but then I finally came to my senses and told my husband that it doesn't matter where we are or what we're doing, we're just so lucky to be spending the day together.
And adding another photo to our collection.
Posted by: Sarah at 03:24 AM | Comments (16) | Add Comment
Post contains 179 words, total size 1 kb.
52kb generated in CPU 0.0208, elapsed 0.0715 seconds.
49 queries taking 0.0544 seconds, 197 records returned.
Powered by Minx 1.1.6c-pink.