June 30, 2004
MEMORY
When I was 15, I arranged a good surprise for my dad: tickets to a Three Dog Night concert in Peoria. I ordered the tickets and hid them behind my sock drawer (as if he would go snooping in my sock drawer anyway). The night of the concert, he drove us downtown while I directed from the passenger seat since I couldn't drive yet. As we rounded the corner onto Main Street, he looked at me and said, "We're not going to the strip club, are we?"
It was a great concert and a great night; I'll never forget my dad's confident look as he said, "The encore has to be Eli's Coming." I'll always remember that father/daughter outing.
Happy Birthday, Daddy.
Posted by: Sarah at 04:51 AM | Comments (2) | Add Comment
Post contains 124 words, total size 1 kb.
June 28, 2004
HOMELANDSICK
My in-laws called in a panic yesterday: since I hadn't done any blogging, something had to be wrong! Nothing's wrong really; I've just been in a funk lately I can't shake. I think I'm homelandsick.
While my husband is gone, I clean up his email and get rid of all the junk. Last week I noticed a folder with my name on it; closer inspection revealed it as Sarah in Sweden. I had no idea he had saved those old emails; I took a trip through the past, reading all my messages from my summer in Örnsköldsvik. And I was homelandsick then too...
I used to think that homesick was only the feeling of missing your family or loved ones. I thought I did not get homesick. But yesterday, I got a different kind of sick. I am homelandsick. I miss the United States. I want to use free bathrooms. I want to drink out of a cup that is bigger than a salt shaker. I want to eat chips and drink Pepsi. I want to drive somewhere instead of walking. I donÂ't want to eat so many fruits and vegetables. I want to watch TV. I want to see baggy jeans and dirty white baseball caps. I want the sun to go down, so I can see lightning bugs. And I want to leave my shoes on in the house.

Today I boycotted Swedish meals and ate pizza and chips and salsa for lunch. Somehow this just hit me yesterday. My friends and I went on a trip along the coast. It was beautiful, and I took lots of beautiful photos.

But I miss corn fields and huge houses and horizon as far as the eye can see.
I think it was this Mudville post that started it. Maybe it's hearing other wives talk about their plans for trips home and knowing that I won't be going until my husband returns. Maybe it's 4th of July around the corner. Maybe it's everything. I just want to go home.
I wasn't kidding when I said I'd rather be golfing with Bunker. And I suck at golf. I think most people here would faint if they knew my husband and I tried to trade our Germany slot for Fort Hood, but I can't think of anything better right now than going to the Alamo. Or to Vegas. Or just to Subway.
I'm such a patriot that I can't stand to be out of my country for this long.
Posted by: Sarah at 11:28 AM | Comments (2) | Add Comment
Post contains 419 words, total size 2 kb.
June 26, 2004
LOVE
For the record, my feelings for Red 6 are not weird. Yes, I did say I love him: he's like a third brother to me, and he says I'm like an extra sister-in-law to him. In our house we jokingly call him my second husband. My husband loves him as well, and he knows I have enough love in my heart at the end of the day for more than one soldier...
Posted by: Sarah at 02:16 AM | No Comments | Add Comment
Post contains 74 words, total size 1 kb.
June 25, 2004
SCOFF
A couple of years ago, before I started reading blogs, I saw a
Dinner for Five
where Sarah Silverman and Michael Rapaport were talking about how hard it is to be a Jew in Hollywood. I thought they were insane. I didn't exactly grow up surrounded by Jewish people, but I knew a few and I had never heard anyone say anything bad about Jews. In fact, I thought the Holocaust had pretty much taught us all a lesson.
Boy, was I wrong.
After two years of reading LGF, I know that I was wildly naive. I can't say if Silverman and Rapaport are discriminated against in Hollywood, but I will never again scoff at the plight of Jews in our world.
And these days I'm inclined to stop a moment and wonder if there indeed is a subliminal message in photos like this.
Posted by: Sarah at 04:27 AM | Comments (2) | Add Comment
Post contains 146 words, total size 1 kb.
June 21, 2004
PURPOSE
I'm still struggling with my place in this world. (Boy, is that an understatement.) I've been stuck thinking about a quote from page four in
my book
for over a week now:
Seen in either geological or biological terms, we don't warrant attention as individuals.
I thought about that concept a lot when I was reading Cosmos too. I don't matter much. In the grand scheme of things, on the universe level, I'm laughable. But even on smaller levels I'm having a hard time figuring out my purpose in life, figuring out how I matter as an individual.
My husband is fighting an insurgency to try to create a stable democracy on the other side of the world. I teach people how to write. The absurdity of those two jobs juxtaposed makes me sick sometimes.
I'm the best military wife I know how to be. I write him a letter every day. Deskmerc said I have to make the country worth defending; I try to do that. I try to stay optimistic and positive, despite the fact that I haven't seen our post flag at anything but half-mast for months now. I can even be Edith Roosevelt if I have to, and I would if it came down to it. But there are many days when I'm simply not satisfied being a just a military wife.
I want to warrant more as an individual.
Posted by: Sarah at 06:24 AM | Comments (8) | Add Comment
Post contains 236 words, total size 2 kb.
June 17, 2004
BEST FRIEND
I just got to instant messenger with the husband's best friend! It's so good to hear from him. He thanked me for being his "surrogate wife"; I told him it's twice as fun to have two soldiers to take care of (I send him two letters per week and I'm constantly running errands for him around here). I really miss him too; he was a regular fixture at 1830 when The Simpsons comes on. I can't wait to have both of my boys back in the house, drinking Newcastle and laughing like they haven't seen each episode a hundred times.
Posted by: Sarah at 05:39 PM | Comments (1) | Add Comment
Post contains 104 words, total size 1 kb.
BEARABLE
As I drove home tonight,
this song's lyrics
hit me
Pride can stand a thousand trials
The strong will never fall
But watching stars without you
My soul cries
Today my husband said that he worries about me. I find that ironic, considering his situation is so much more worrisome than mine. He said he worries I'm bored and lonely without him; I told him I manage to keep quite busy but that I can't wait for him to come home so I can take care of him again. I'm watching stars without him, and my soul does cry at times, even though I wish it wouldn't.
I'm so thankful that blogging has brought me comfort. I have no children or pets, so the house can seem awful big for just me and that houseplant (which I did cut, by the way, and it looks great). But I haven't felt too lonely thus far because I can always run to the computer and visit all of my new friends. I'm grateful for each and every one of you. She who sends me postcards. He who made me a CD. She who wants to be a Marine. He who offered to tape the new episodes of Family Guy for my husband. She who makes commenting blunders. He whose family calls me his "girlfriend". She who thought she wasn't allowed to read my blog without my permission. He who's happy his children want to move to the US. She who IMs with me each morning. He who said I look cute in the tank. And all the rest who simply email and comment to express their support. I'm so grateful to have each and every one of you standing beside me through this deployment.
It makes watching stars without him a little more bearable.
Posted by: Sarah at 05:09 PM | Comments (4) | Add Comment
Post contains 304 words, total size 2 kb.
MONEY
We four families in our townhouse paid a neighborhood kid to mow our yard last night. I realized later that he makes more money than I do. One of my students told me that the baggers at the commissary make more as well. Dang.
Posted by: Sarah at 02:52 AM | Comments (4) | Add Comment
Post contains 46 words, total size 1 kb.
June 15, 2004
HEATHER
Imagine my surprise when I saw this story via Tim:
Two Army wives put careers on hold to aid injured soldiers at Landstuhl
I know Heather Twist; her husband was in OBC with mine. She's even commented a couple of times here on my blog. I'm particularly amazed that she has done this wonderful deed without "bragging"; I didn't even know about it until I read the article. Heather, I'm so proud to know you.
So how can I help?
Posted by: Sarah at 05:28 PM | No Comments | Add Comment
Post contains 82 words, total size 1 kb.
WEDDING
Carla wanted me to talk about my wedding. It was really pretty standard, I would say. We got married outside in my parents' backyard in Illinois. It was raining that morning, which made us all quite nervous, but by the afternoon it was perfect weather. We wanted the wedding to be more like a cook-out than a formal event, and I think it turned out pretty perfect.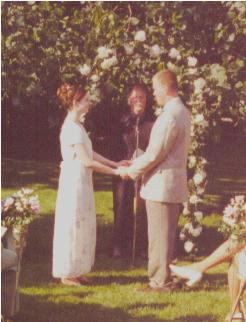 The honeymoon was what was a real hoot, though. Because of scheduling problems that came up after 9/11, my husband was told a few weeks before graduation that he couldn't start active duty right away. We started our marriage with four months where neither of us was getting a paycheck. We paid for our plane tickets and hotel for a week in Washington D.C., and after that we were a little strapped for cash. I was actually just laughing about this the other day because as I was looking back through my planner, I saw all the notes in the calendar for the week of our honeymoon: I had kept track of every dollar we spent. There are notations like "$2 = bomb pops" and "$5 = lunch, hot dogs" that crack me up. We kept track of every cent we spent because we really started out with nothing. We've done well for ourselves, considering, and we don't ever plan to budget bomb pops again.
Those little notations are one of the best memories I have of getting married.
Posted by: Sarah at 05:06 PM | Comments (4) | Add Comment
Post contains 248 words, total size 1 kb.
June 08, 2004
WORKING
I thought I'd try to simulate my husband's workweek by logging 56 work hours this week, 25 of which fall on Monday and Tuesday. I start teaching again tonight, and so I'm swamped.
I had a blog idea last night too, and I wrote it on a notepad by my bed. I'll be darned if I can't remember at all what it was...
Posted by: Sarah at 06:13 AM | Comments (6) | Add Comment
Post contains 65 words, total size 1 kb.
June 06, 2004
SELF-CONSCIOUS
My husband told me that he reads my blog every day when he has internet access. To be honest, that makes me a little self-conscious, since my husband is the smartest man in the world. (Yes, I know I've said the same thing about Den Beste, but we'll just have to live with that paradox.) He also said that, because of the nature of his mission in Iraq, he sees many wedding parties every Thursday, so there's no way the bombing on the Syrian border, on a Tuesday, was a wedding. No way at all.
If you're reading this, Blue 6, know that I love you. Also know that I'm pretty sure you fell asleep while I was telling you a story on the phone, and you're in big trouble, mister. Ha. Get some much-deserved rest and dream of crab rangoon and Captain Morgan. Soldier safe...
Posted by: Sarah at 03:29 AM | Comments (2) | Add Comment
Post contains 148 words, total size 1 kb.
June 05, 2004
WEATHER
I must've been worn out this week because I went to bed at 2300 last night and just woke up at 0930. Wow. I also had a weird dream where I, along with three other people I've never seen before, was invited to give a presentation on the military in front of
Marc Miyake
's class. And the students were booing and yelling at us, and saying things like, "Well, Michael Moore was in the military and he says..." and I was getting so mad. My frustration is seeping into my dreams.
I have also been living in Germany for a full year now this week. Before we moved to Germany, everyone told us that the weather would be really cold, even in the summer. So when we moved over here, we brought mostly long-sleeved shirts and jeans in our suitcases. We even brought sweaters. And it was so hot on the bus ride to our new post we could barely breathe. We spent a miserable two months before our household goods arrived rolling our jeans up to our knees and wearing the same short-sleeved shirts over and over.
And this year the weather is freezing. All week long I've worn sweaters, courderoy pants, and even a jacket. It just figures...
Posted by: Sarah at 04:49 AM | No Comments | Add Comment
Post contains 212 words, total size 1 kb.
June 01, 2004
DRAWINGS
See, I try to stay away, and it's just too tempting. I promised I wouldn't blog anything today, and then the most beautiful thing just happened. My doorbell rang, and I opened the door to four little girls. They handed me two drawings -- a flower and some stars and clouds. "Are these for me? Whatever for?" I asked. They said, "Sometimes we just like to make drawings and give them out to people." I talked to them for a little while, and then they headed off to the next doorbell with their stack of pictures. I put the pictures on the refrigerator and will smile every time I look at them. Those four little girls really brightened my day.
(So as long as I'm blogging, I have to point out that Tim has linked to many wonderful articles today -- especially the mysterious one he just calls "required reading" -- and had a very good post yesterday for Memorial Day.)
Posted by: Sarah at 12:00 PM | No Comments | Add Comment
Post contains 163 words, total size 1 kb.
83kb generated in CPU 0.0286, elapsed 0.1069 seconds.
56 queries taking 0.0873 seconds, 229 records returned.
Powered by Minx 1.1.6c-pink.