April 19, 2011
SIX RAMBUNCTIOUS YEARS
Yesterday was Charlie Pup's sixth birthday. Who would've thought that little
sweet potato
we picked out of the litter would grow to be such a silly mess? We do love him so.
He has proven so good with Baby Grok, better than I could've hoped for. Her new favorite activity is to bring things to him. She brings him things all day long. But when he takes them from her, the game is over...so she is constantly taking toys and treats away from him so that she can give them to him again! The dog is a saint: he will let her take bones out of his mouth, just so she can hand it to him again. She also taunts him with her food constantly, but he never steals it from her grubby little hands.
He's not our baby anymore, as anyone who's had a pet discovers when they have a child...but he's our beloved doggy and an important member of our little family.
Happy Birthday, Charlie! Sorry your new toy keeps getting snatched away...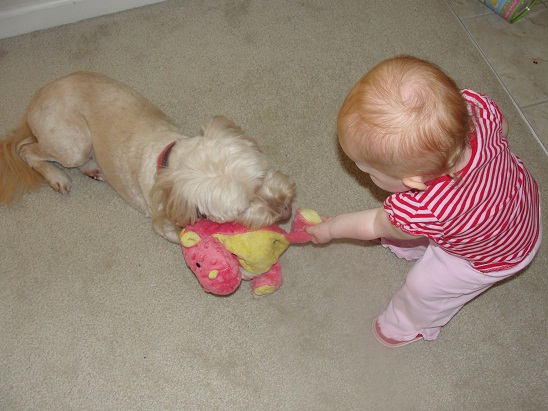 Posted by: Sarah at 06:15 AM | Comments (2) | Add Comment
Post contains 178 words, total size 1 kb.
1
Happy birthday, Charlie!
Charlie is a good Big Brother Grok. That sounds Orwellian ... oops.
Baby Grok will grow into Toddler Grok and talk to him. What will she say?
Posted by: Amritas at April 19, 2011 02:39 PM (5a7nS)
2
Six! Really? I was wondering how they were geting along. Sounds just right.. When my first boy was born we also had a sweet pup about the same age. She was great with him. They had a symbiotic relationship. My toddler would open the cupboard and get out the dog treats. The big doggie cookies. My son would give her one, she would crunch it and the two of them would dive for the bits! He couldn't bite them and she couldn't open the cupboard. My mom wasn't thrilled with this trick!
Posted by: cindy h at April 20, 2011 10:18 PM (ND10h)
Comments are disabled. Post is locked.
42kb generated in CPU 0.0142, elapsed 0.1081 seconds.
48 queries taking 0.0983 seconds, 172 records returned.
Powered by Minx 1.1.6c-pink.