December 04, 2006
WAITING
I'm sitting here waiting for the movers to show up. Back in April, I was so stressed about the move that I started planning and packing about six weeks in advance. This time, I was so loath to go through the process again that I started packing on Saturday. Whoops. But I guess we're ready to go, as soon as the guys get here.
And I just found out that Conservative Grapevine is back in business! I loved this site because it was a great way to read blogs I'd never seen before. Check it out if you're looking for a directory of interesting blog posts.
Posted by: Sarah at 03:51 AM | No Comments | Add Comment
Post contains 108 words, total size 1 kb.
December 02, 2006
FINALLY
I started a
sweater
while my husband was in Iraq, messed it up, and let it sit without touching it for two years. Well, I finally picked it back up, ripped it all out, and started over. I am happy with the final results.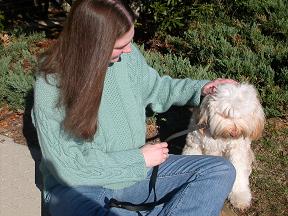 But I'm kinda bummed that I now live in a place where I can't wear sweaters. Two seconds after taking this photo, I had to rip the sweater off before I suffocated. It's so danged hot here. Not that I'm complaining: my parents have been snowed into their house in Illinois for two days. Literally. They can't get out of the driveway.
But now I'm a knitter with a closet full of sweaters and scarves, and it's 76 degrees in December.
Posted by: Sarah at 09:56 AM | Comments (4) | Add Comment
Post contains 127 words, total size 1 kb.
DEMOCRACY
Long ago I
wondered
if we're born with our politics or if we learn them. I still think about this a lot. But now I've thought of a new twist: If I had been born a Muslim, would I embrace Islam or democracy? Some Muslims break away from their religion -- like Ibn Warraq or Nonie Darwish -- but many accept the worldview they were born into as the only way to live their lives. It's very
1984
to me; I can never put my finger on why someone would want to live under sharia when they know democracy exists.
Islamic countries, moreover, are not rejecting Western democracy because they havenÂ't experienced it. They reject it on principle. For them, the presidentÂ's euphonious rhetoric about democratic empowerment is offensive. They believe, sincerely, that authority to rule comes not from the people but from Allah; that there is no separation of religion and politics; that free people do not have authority to legislate contrary to Islamic law; that Muslims are superior to non-Muslims, and men to women; and that violent jihad is a duty whenever Muslims deem themselves under attack Â… no matter how speciously.

These people are not morons. They adhere to a highly developed belief system that is centuries old, wildly successful, and for which many are willing to die. They havenÂ't refused to democratize because the Federalist Papers are not yet out in Arabic. They decline because their leaders have freely chosen to decline. They see us as the mortal enemy of the life they believe Allah commands. Their demurral is wrong, but it is principled, not ignorant. And we insult them by suggesting otherwise.

Democratizing such cultures — in anything we would recognize as "democracy" — is the work of generations. It is a cultural phenomenon. It is not accomplished by elections and facile constitution writing … especially, constitutions that shun Madisonian democracy for the State Department's preferred establishment of Islam and its adhesive sharia law as the state religion.
Having just read about the Constitutional Convention in my A Pocket History of the United States, I simply can't wrap my brain around this.
Posted by: Sarah at 02:58 AM | Comments (2) | Add Comment
Post contains 361 words, total size 2 kb.
December 01, 2006
BAMBOOZLED
AWTM is collecting
holiday cookie recipes
. I have a story to go with my favorites...
I sent lots of cookies to my boys during the deployment. Usually I'd buy those bags of pre-measured stuff and send cookies down to my husband and his platoon, and also to Red6 and his guys. But one time I had to make "real" cookies for an event back home, so I set aside a few and sent a little baggie to my husband and to Red6. And I got the following letter back from Red6:
I used to be bamboozled by the Terminator paradox...you know, Reese being the father of John Connor but also being sent back by John Connor? Well, now I'm bamboozled by your cookies. How the heck did you make those? They were incredible. I couldn't figure 3 cookies 16 ways, so I ate 'em all myself.
So now we lovingly refer to these as The Terminator Cookies.
2 sticks butter, softened
1 cup creamy peanut butter
1 cup light brown sugar
1 cup sugar
2 eggs
1 tsp. vanilla
3 ½ cups all purpose flour (sifted)
1 tsp. baking soda
½ tsp. salt
1 package Dove candies
Combine the butter, peanut butter, and sugars using a mixer on a medium to low speed until light and fluffy. Slowly add eggs and vanilla until thoroughly combined. Then mix in flour, salt, and baking soda. Cover and chill dough for 2-3 hours. Unwrap all the candies. Remove dough from refrigerator. Divide into 1 Tbsp balls and flatten. Place a candy in the center of each piece of dough and form the dough into a ball around the candy. Place on a greased cookie sheet and bake at 300° F for 15-17 minutes or until tops of cookies start to crack. Let cookies cool on a baking rack or waxed paper.
Enjoy the bamboozling deliciousness.
Posted by: Sarah at 10:47 AM | Comments (4) | Add Comment
Post contains 314 words, total size 2 kb.
SO COOL
My friend sent me this game, and it's completely addictive. Click on this clever
wallpaper at Virgin Digital
. There are 74 names of bands or musicians represented. Can we find them all? Some are fairly obvious (Gorillaz) and some take a more discerning eye (Dead Kennedys). What do you see?
Posted by: Sarah at 04:40 AM | Comments (4) | Add Comment
Post contains 54 words, total size 1 kb.
57kb generated in CPU 0.0148, elapsed 0.0905 seconds.
52 queries taking 0.0815 seconds, 221 records returned.
Powered by Minx 1.1.6c-pink.