July 26, 2008
RECOVERING
I have to wear metal eye protectors to sleep in. I told my husband they make me look like Spiderman. Just in case he didn't truly believe me...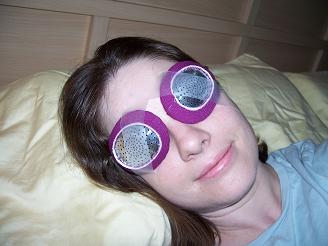 Incidentally, I took eight of these pictures of myself lying in bed, hoping that one of them would be decent. So today when I was picking out which one to put on the blog, I felt like I was back in the eye doctor's office: Which is better, #1 or #2?
Also, notice that they have to be taped to my face. I cannot for the life of me get the sticky residue off; I've tried soap, exfoliator, and even rubbing alcohol. I am certain that by the end of the week, I will have two tape lines of pimples in an X on my face. Lovely.
So, yesterday was not so great. My friend and I decided that we did this all backwards: we hung out this week and culminated with the surgery, but we should've started with the surgery and then hung out, since I can't do anything but sit. Because my vision is blurry, I can't watch TV and I really ought to limit my computer time (so hard for me). Did I mention that I can't watch TV? Yesterday I sat alone listening to a book on tape. Lame.
Today my vision seems a little better, which is reassuring. But just in the hour I've been on the computer, I swear it's gotten worse, so I'm going to get offline now. I'm not sure what I'm going to do with myself all day. One thing I can do is gab on the phone, so I think I might catch up with old friends. Like non-internet friends. Yeah, I still have a couple of 'em.
UPDATE:
I just called six people and none of them answered. Lame.
Posted by: Sarah at 04:57 AM | Comments (7) | Add Comment
Post contains 310 words, total size 2 kb.
Posted by: jck at July 26, 2008 07:58 AM (d6k/G)
Posted by: Ruth H at July 26, 2008 08:00 AM (zlUde)
Posted by: Debey at July 26, 2008 09:24 AM (NP11N)
Posted by: awtm at July 26, 2008 05:10 PM (5A+rY)
Posted by: Pamela at July 26, 2008 08:21 PM (s34Jo)
Posted by: Guard Wife at July 27, 2008 07:59 AM (ccp31)
Posted by: jiimionad at August 14, 2008 06:15 AM (RPWsr)
Comments are disabled. Post is locked.
44kb generated in CPU 0.0088, elapsed 0.0692 seconds.
48 queries taking 0.0624 seconds, 177 records returned.
Powered by Minx 1.1.6c-pink.