September 07, 2006
PARENTING SUCKS
You know what's scary about parenting? I think sometimes you can do everything you're supposed to do, and things still don't turn out the way you want.
I've spent the last month playing Gregory House to our dog. When we moved here, we decided he was old enough to start trying to sleep out of his crate. He loves being under our bed, so we started letting him sleep there. He began throwing up occasionally in the middle of the night, but I read online that this can be normal if it's not too frequent. I didn't think too much of it until I started feeling like it was happening too often, so I started marking the calendar every time he threw up. Turns out it was happening every other day. Our dog trainer suggested switching to a sensitive tummy food, but that didn't do any good. Finally I made a vet appointment, but the earliest we could get in was in a week. We decided we were tired of getting up at 0400 to clean up puke, so we put him back in his crate. No barf for a week.
Today was our vet appointment, and though the vet was super-nice and super-cheap, I don't feel good about the visit. I wanted tests run and MRIs and sonograms and pushing 100 cc's of something. Instead, the only thing we can come up with is that we crate trained Charlie so well that he is neurotic about sleeping elsewhere.
I really think I did a Houseworthy job of diagnosing the pup. He can't be allergic to the carpet because he naps on it all day and only throws up at night. I know he's not getting into anything because we sleep with all the doors shut, and anyway I'm such a light sleeper that I wake up every time he rolls over and his collar jingles. It doesn't seem likely that he has acid reflux or something that only affects him at night because he would've gotten sick at least once in his crate. So that leaves us with two possibilities. One, he's allergic to something or has a stomach condition, but there's no way to figure out what it is without a major investigation that the vet didn't seem to think was necessary, and so he can't sleep with us. Two, we turned our dog into a nervous wreck and now he can never sleep with us. Either way, I don't like the way this turned out.
We did everything we were supposed to do. You're supposed to make the crate a happy place for your dog. You're supposed to crate train them until they're responsible enough to be left alone. And now that we want to feel close to our dog and let him sleep with us, he yaks every night. How utterly sad.
How could we not want to sleep with this stinker?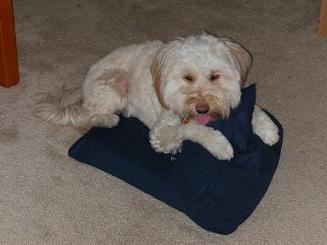 Posted by: Sarah at 10:07 AM | Comments (6) | Add Comment
Post contains 490 words, total size 3 kb.
Posted by: CaliValleyGirl at September 07, 2006 10:23 AM (deur4)
Posted by: Ruth H at September 07, 2006 11:04 AM (eWQeg)
Posted by: Teresa at September 07, 2006 01:22 PM (o4pJS)
Posted by: Lara at September 07, 2006 01:52 PM (qNwer)
Posted by: Nicole at September 07, 2006 02:49 PM (nTCFk)
Posted by: Tink at September 07, 2006 03:31 PM (WyoPk)
Comments are disabled. Post is locked.
47kb generated in CPU 0.0361, elapsed 0.1597 seconds.
48 queries taking 0.1344 seconds, 176 records returned.
Powered by Minx 1.1.6c-pink.