May 29, 2006
MEMORIAL DAY
Today my family went to one of the oldest cemeteries in our city. There's a section called Soldier's Hill that is the resting place for veterans as far back as the War of 1812. It was humbling to be there today.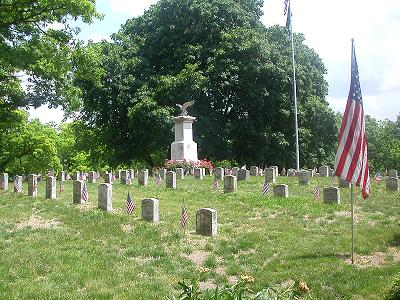 As we were driving towards the gates, my mother's eagle eye spotted a lone marker at the edge of the cemetery. Out of the thousands of gravestones in that cemetery, I was honored to have found this one...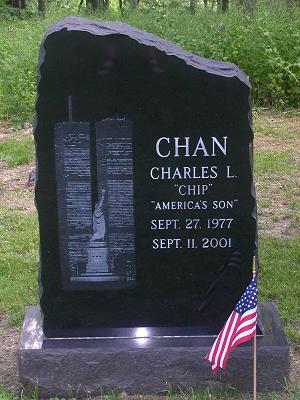 Chip Chan went to my high school. I barely knew him, but like everyone else I heard the news that he had been working for Cantor Fitzgerald in the WTC and was lost on September 11. I was so touched that we found his beautiful gravestone today.
We'll grill out tonight like everyone else does, but I'm glad we spent our Memorial Day the way it really should be spent.
Tomorrow morning we pile into the car and make our way across half of the country. By the time we finally get there, our brand new car will already have 3000 miles on it. But we're ready for the adventure...
Posted by: Sarah at 07:21 AM | Comments (5) | Add Comment
Post contains 193 words, total size 1 kb.
Posted by: Will at May 29, 2006 07:24 AM (eIQfa)
Posted by: Sarah at May 29, 2006 07:27 AM (DfR+h)
Posted by: Mrs.Oz at May 29, 2006 11:03 AM (Rk8mi)
Posted by: Sarah at May 29, 2006 06:17 PM (DfR+h)
Posted by: Erin at May 30, 2006 12:38 AM (ffuZn)
Comments are disabled. Post is locked.
42kb generated in CPU 0.0098, elapsed 0.0666 seconds.
48 queries taking 0.0612 seconds, 175 records returned.
Powered by Minx 1.1.6c-pink.