August 17, 2008
I HEART CORN
Seems to me out here,
it's all about the sky.
Clouds are pure art,
migrant birds flying by.
&nbsp&nbsp&nbsp--Allette Brooks
Apparently I'm supposed to be able to dodge flying rocks while driving. What? Phone or no phone, how in the heck was I supposed to do that?
And I was on a bluetooth, people.
But I threw caution to the wind when I noticed what a beautiful day it was. I love the Midwest so much that my heart grows two sizes when I drive here. You can take your mountains and oceans; I'll take my corn and clouds.
So I pulled out my camera and started indiscriminately snapping pictures of the road without looking through the viewfinder or bothering to focus. I took a ton, and a few actually came out great.
I called AWTM and told her I was thinking of her. Apparently she also drives through the Midwest with a camera in hand.
She challenged me to a Plains-Off.
Nebraska...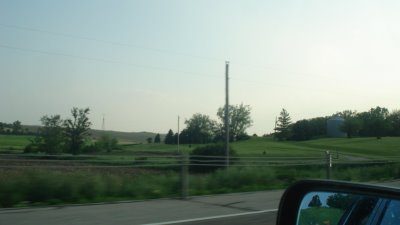 Illinois...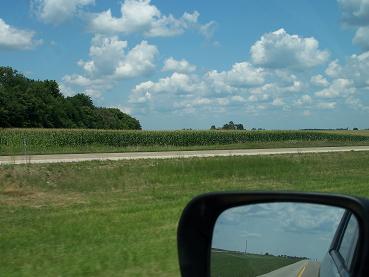 AWTM, I'll see you your barn pic and raise you a farm plus a big honkin' American flag.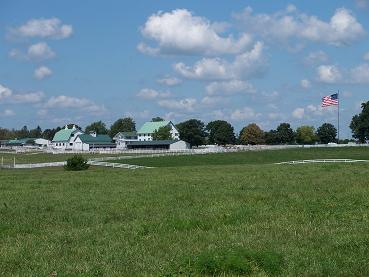 Also, you mentioned cows. I managed to snap some.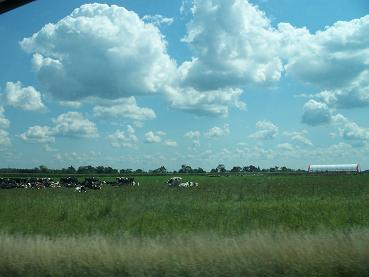 Man, I love driving in this state. What a view. Horizon as far as the eye can see.
It's home.
Oh, and a photo of the new crack in my windshield, for good measure.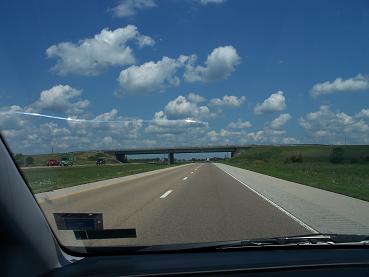 Posted by: Sarah at 05:55 PM | Comments (5) | Add Comment
Post contains 231 words, total size 2 kb.
Posted by: Nicole at August 17, 2008 07:11 PM (sBJ2p)
Posted by: blueshift at August 17, 2008 07:13 PM (crTpS)
Posted by: liberal army wife at August 18, 2008 12:44 AM (rcqzY)
Posted by: Ruth H at August 18, 2008 04:31 AM (4u82p)
Posted by: Kasey at August 18, 2008 08:06 AM (cACJz)
Comments are disabled. Post is locked.
44kb generated in CPU 0.05, elapsed 0.1802 seconds.
48 queries taking 0.1561 seconds, 175 records returned.
Powered by Minx 1.1.6c-pink.