July 04, 2006
HOME FOR THE 4th
Today was a special day because our pup became an American. Since Charlie was born and raised in Germany, we have been joking since we got home that we should officially make him a citizen. So we chose today to have his naturalization ceremony. He raised his right hand and swore an oath of citizenship, which was uproariously funny at the time.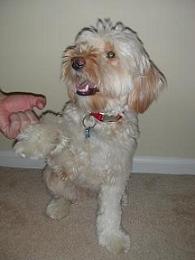 And because it was such a special day for him, we let him eat with us. Charlie got to eat a waffle and a hamburger! What a day...

And then this evening my husband and I did the most American thing we know: we went to a baseball game. The Blowfish played a great game, and then they had fireworks over the stadium. I know we had fireworks on post in Germany, but these were close enough to smell! And it just felt so good to be in a stadium full of people wearing red, white, and blue and listening to Lee Greenwood. I couldn't wipe the stupid smile off my face the whole fireworks display.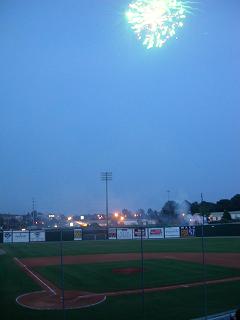 It's so good to be home...
Posted by: Sarah at 05:20 PM | Comments (6) | Add Comment
Post contains 192 words, total size 1 kb.
Posted by: Stephen Macklin at July 04, 2006 05:34 PM (DdRjH)
Posted by: R1 at July 04, 2006 08:06 PM (Mn1rm)
Posted by: Kelly at July 04, 2006 08:46 PM (cSsHp)
Posted by: Erin at July 04, 2006 09:00 PM (2rtYS)
Posted by: Subsunk at July 11, 2006 03:18 PM (PaSM8)
Posted by: MaryIndiana at July 14, 2006 04:33 PM (YwdKL)
Comments are disabled. Post is locked.
43kb generated in CPU 0.0156, elapsed 0.1517 seconds.
48 queries taking 0.1434 seconds, 176 records returned.
Powered by Minx 1.1.6c-pink.