January 21, 2008
HELLO, SPIDER
We had one day to spend in the nation's capital. We went out to a celebratory breakfast for AirForceSon's birthday and then took him to the Udvar-Hazy Air and Space Museum. We got to see the Enola Gay, which is much bigger than I imagined, for some reason. I guess it makes sense -- Little Boy was pretty darned big -- but for some dumb reason, I always imagined the Enola Gay to be the size of the Spirit of St. Louis!
Afterwards, my husband and I made the two hour trip (ugh) into downtown. We went to see the WWII memorial (which hadn't been built the last time we were in town, for our honeymoon), took those ridiculous pictures, and then hoofed it to the opposite end of the mall to go to the, um, Air and Space Museum. AirForceGuy looked at us incredulously when we returned, saying, "You mean you didn't get enough Air and Space this morning?"
There is no such thing as too much Air and Space.
What we didn't know was that the Smithsonians close at 1730, and we arrived brokenhearted at 1710. There was only enough time to run and see the one thing that made it all worthwhile.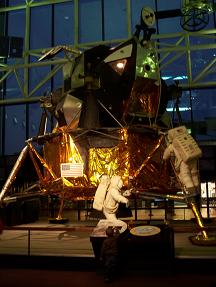 And then we turned around and returned to AirForceHouse for pizza and birthday cupcakes.
One day in DC is highly inadequate, but at least I got to see some of the coolest stuff, like the lunar module and Jay Irwin's spacesuit covered in moon dust. I didn't make it to Arlington to pay respects to Grissom and Chaffee, but I guess that just means I'll have to go back.
Now, if I could just go to the moon itself...
Posted by: Sarah at 04:08 AM | Comments (2) | Add Comment
Post contains 288 words, total size 2 kb.
1
well. next time you come into town, let me know. H will living in the next set of apt buildings to me.. so we are already planning yarn parties... DH is wondering if we'll do it when the driving range is open ;-))) LAW
Posted by: liberal army wife at January 21, 2008 09:22 AM (R+g0A)
2
I played in the Lunar Module when I was a kid. My father was working on the project next door.
Posted by: David Boxenhorn at January 28, 2008 12:48 AM (LKLcc)
Comments are disabled. Post is locked.
42kb generated in CPU 0.011, elapsed 0.0701 seconds.
48 queries taking 0.0623 seconds, 172 records returned.
Powered by Minx 1.1.6c-pink.