July 31, 2005
HAIR
I've only donated blood once. I was in college and it was quite an ordeal. First, they said I was borderline anemic, so they had to run some tests to see if they even wanted my blood. Turns out it was OK, so they hooked me up to the bag and started draining my arm. I guess they need the bag and also three little vials of blood; on the third vial, somehow the needle popped out of my arm and blood squirted everywhere. After that unique experience, I was leery about giving blood, and then I started hopping back and forth to Europe every year or so, so it was never an issue. So I don't really donate blood.
But I can donate hair.
When I had been dating my husband for a week, I cut my hair short. Like short short. After the look on his face, I didn't cut my hair again for five years. At first it became a Lord of the Rings joke: I was going to look like an elf. After Return of the King was over, I turned to him and said, "Now what?" I guess I had grown so attached to the hair that it scared me to cut it.
I had always intended to donate my hair, but then it became a quest to donate as much as I could. It grew and grew, and the more it grew, the more annoyed my husband and I grew towards it. It was always in our mouths, getting pulled, clogging the drains and the vacuum, and driving us nuts. In May I decided I was ready for a cut, but I told myself to wait a month and see if I was still ready. A month passed and I got cold feet, so I let another month go by. And I knew I was ready.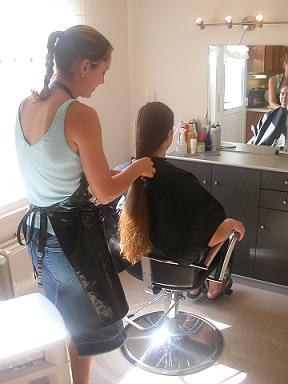 We chopped 18 inches off, and bagged it to send to Locks of Love. I hope some little girl gets a beautiful wig from it.
Everyone keeps asking me if I'm going to start all over again. I don't know; I'm really enjoying the short hair:
1. no more marathon blowdrying
2. no more sitting on the hair
3. no more rolling over in bed and suffocating
4. Charlie was biting and tugging on it when it was long
5. less money spent on Draino
But since my hair grows so fast, maybe I'll get to another wig. We'll see. The husband likes it short, so for now I'm happy.
And now that I've kept you in suspense for long enough...here's the new and improved Sarah. And the getting-too-big-to-cuddle Charlie.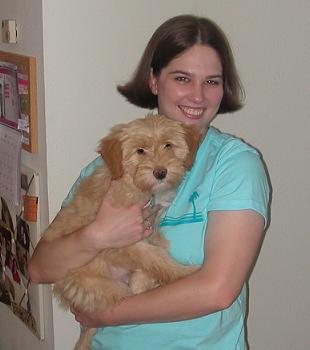 Posted by: Sarah at 03:28 AM | Comments (13) | Add Comment
Post contains 444 words, total size 3 kb.
Posted by: H. Sims at July 31, 2005 10:24 AM (t5Jhh)
Posted by: Jamie at July 31, 2005 11:23 AM (dsFoT)
Posted by: J and Erin at July 31, 2005 12:08 PM (p/w9O)
Posted by: Ruth H at July 31, 2005 02:07 PM (iKlAZ)
Posted by: CaliValleyGirl at July 31, 2005 03:12 PM (zTqcv)
Posted by: Nancy at July 31, 2005 05:46 PM (DljPa)
Posted by: Barb at July 31, 2005 06:21 PM (g9qHI)
Posted by: JCK at July 31, 2005 06:50 PM (J9ixV)
Posted by: Angie Dente at July 31, 2005 06:55 PM (TdD4k)
Posted by: Kathleen A at July 31, 2005 07:58 PM (If3eX)
Posted by: jenn and casey at August 01, 2005 03:25 PM (Ka9I5)
Posted by: heidi at August 05, 2005 03:39 PM (wB07F)
Posted by: NYgirl at August 15, 2005 10:34 PM (JEAUq)
Comments are disabled. Post is locked.
46kb generated in CPU 0.0189, elapsed 0.1007 seconds.
48 queries taking 0.0884 seconds, 183 records returned.
Powered by Minx 1.1.6c-pink.