June 04, 2008
CARRYING THE WEIGHT
I haven't been blogging because I've been so busy. My mother and I have been gardening like crazy. Or, I should say she has, because I am not allowed to lift anything heavier than 20 lbs. She is a stickler about this. So my poor 61-year-old mama has been dragging around bags of mulch and soil all week.
But I did carry something today that was a little heavier than 20 lbs. Charlie Pup had to go to the doggy emergency room. We think he got bit by a spider or bee or something, because his paw was all swollen and he was limping all day. They knocked him out and gave him meds and an IV. The vet was awesome, but our poor pup is still woozy and melancholy. Luckily he just got shaved down the other day, so checking his paws was a little easier.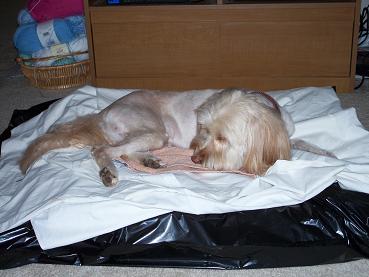 I had a doctor visit this morning, and I told my husband about it in an email. Then I emailed about the dog. He immediately called home and wanted to know all about the pup's health. You see where the priorities lie, right? Heh.
Husband, the pup is doing fine. Watching a dog wake up from anesthesia is hilarious too.
Posted by: Sarah at 02:57 PM | Comments (6) | Add Comment
Post contains 213 words, total size 1 kb.
Posted by: airforcewife at June 04, 2008 03:03 PM (mIbWn)
Posted by: Oda Mae at June 04, 2008 09:11 PM (xze1f)
Posted by: Ruth H at June 05, 2008 04:39 AM (w9ltj)
Posted by: T at June 05, 2008 08:16 AM (KV0YP)
Posted by: Erin at June 05, 2008 01:30 PM (y67l2)
Posted by: Sarah at June 05, 2008 01:45 PM (TWet1)
Comments are disabled. Post is locked.
43kb generated in CPU 0.04, elapsed 0.1684 seconds.
48 queries taking 0.1493 seconds, 176 records returned.
Powered by Minx 1.1.6c-pink.