October 11, 2005
BORN
Last night I got to participate in The Miracle of Life: my friend's dog had puppies. My husband and I had never seen anything get born before, so we raced over to her house as soon as she called. One pup was on the way out, and three more were to come.
The whole thing was amazing, gross, beautiful, and eerie all at the same time. I got to see animals come to life! We all held our breath when one of them was stuck in his placenta for way too long, and we cheered when he finally broke through. We felt helpless when the pups couldn't find mom's tummy to nurse; it would've been so easy to just pick one up and position him! We laughed, we gagged, and we oohed and aahed.
It was remarkable.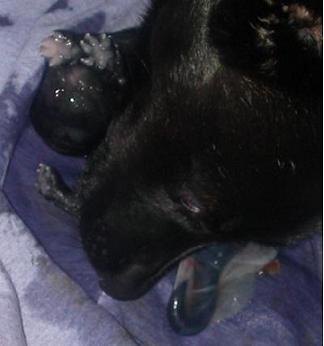 Posted by: Sarah at 08:20 AM | Comments (5) | Add Comment
Post contains 139 words, total size 1 kb.
Posted by: Erin at October 11, 2005 12:26 PM (6R9eT)
Posted by: ME at October 11, 2005 07:00 PM (4buuu)
Posted by: Ruth H at October 11, 2005 07:06 PM (YDuHX)
Posted by: Nancy at October 12, 2005 01:38 AM (7lHJp)
Posted by: Lane (from Peoria) at October 13, 2005 12:49 AM (DSs6h)
Comments are disabled. Post is locked.
44kb generated in CPU 0.04, elapsed 0.1302 seconds.
48 queries taking 0.1143 seconds, 175 records returned.
Powered by Minx 1.1.6c-pink.